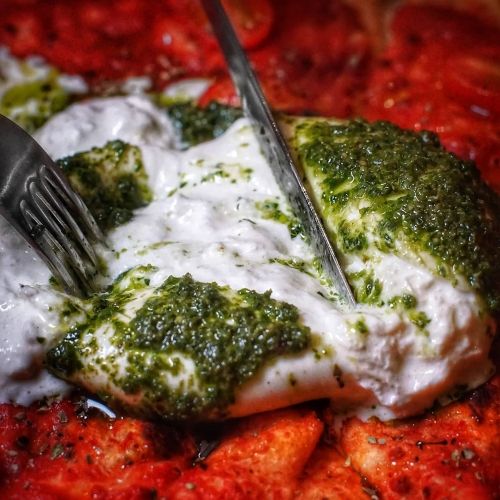 Best Artisan Pizza Joints in Singapore For Decadent & Smoky Crusts
Just years ago, many Singaporeans' favourite pizza was Pizza Hut's Hawaiian Pizza but our Artisan Pizza scene has been on a roll in recent years, growing faster than ever as the best artisan pizza joints in Singapore start getting the recognition they deserve.
Gone were the days when Domino's was the superior alternative to Pizza Hut (it's not really) and affordable good pizza can now be found all around the island. Undoubtedly, there are some subpar concepts joining the fray so scan through this for good pizzas truly worth budgeting your calories on.
Wild Child Pizzette
Cicheti Group's swanky new concept is easily one of the best Pizza joints in Singapore, if not just for creativity and diversity. It's simply impossible to find any other places you'd find an unorthodox Cavolo Nero ($18.50) kale pizza and the elusive fried pizza on their menu.
Their phenomenal Crispy Fried Margherita ($21) sported the most sublime texture that was gently crispy and beguilingly fluffy while not carrying a hint of grease. Deep frying imparted a punchy depth of flavour to the dough that immaculately bolstered the rousing umami party of stracciatella, San Marzano tomatoes, and aged parmigiana.
Reserve your seats here.
Wild Child Pizzette
Website | Facebook | Instagram
Address: 50 Circular d, Singapore 049405
Hours: (Mon–Sat) 12pm–2:30pm, 6pm–10:30pm
Chooby Pizza
Chooby Pizza is the one place in Singapore that's best adapted to escape the trappings of traditional pizza craft. Despite a tendency to lean towards unorthodoxy, their execution in the dough is still faultless, given an appetising orange hue and a lush congregation of leopard spots.
If you want simple, you can't be disappointed with the fierce crimson of their Pepperoni Pizza. Alas, the better utilisation of stomach space would be to load up on the unique Pulled Pork Pizza ($17) with pulled pork, bulgogi and kimchi or the exotic fragrance of the Spiced Coconut Chicken Pizza ($18).
Reserve your seats here.
Chooby Pizza
Website | Facebook | Instagram
Address: 125 Owen Rd, Singapore 218929
Hours: (Wed–Fri) 6pm–9:30pm
Sonny's Pizza
Good affordable pizza was almost extinct in Singapore until the snazzy neon lights here came on a few weeks back. You wouldn't believe that pizzas start from a mere $5.50 per slice —a thicc New York style one at that— here.
You can find provocative ideas such as the Vietnamese-influenced Saigon Stunner ($7) with fish sauce and the GM Pizza ($7) that's blanketed in warm, comforting hollandaise. Still, the true star here is the more ubiquitous Pepperoni Pizza ($6.50) that's possibly the best in Singapore with decadent discs of Pepperoni made specially to their specifications.
SONNY'S PIZZA
Website | Instagram | Facebook
Address: 17 Circular Rd, Singapore 049373
Hours: (Tue–Sat) 12:30pm–10:30pm
Drunken Farmer
There's no Pizza restaurant quite like Drunken Farmer in Singapore, best described as a lucid dream of wine and pizza. The intoxicating vibes of their groovy wine and pizza bar make it a hotspot for an afterword romp after work in the CBD.
Drunken Farmer's dough is almost perfect — blissfully fluffy in the insides while sporting a satisfying crackle on the crust and perfumed with irresistible smoke. More importantly, the Stracciatella on their Margherita ($18) was impossibly flavourful but still retained that beautiful dairy cleanliness. Unbelievable quality for just $18, really.
Reserve your seats here.
DRUNKEN FARMER
Website | Facebook | Instagram
Address: 11 Stanley St, Singapore 068730
Hours: (Tue-Sat) 6pm-10:30pm
Blue Label Pizza
Instead of the heartier Italian dough that many other top pizza joints in Singapore prefer, Blue Label Pizza's creations are best described as swanky American pies complete with glorious crackling pizzazz.
Gatekeep all you want for red sauce but I would die for the Bechamel base on the Wish I Was a Baller ($40) — lush, overflowing umami and zing that's married to the bold flavours mushrooms, onions and beef. On the other hand, the Summer in Sebastian ($38) articulately expresses their no-bullshit attitude with an off-the-wall combo of Ragu, Aioli and Octopus.
Reserve your seats here.
Blue Label Pizza
Website | Facebook | Instagram
Address: 28 Ann Siang Rd, #B1-01, Singapore 069708
Hours: 12pm–10pm (Daily)
Amo
Part of the same Il Lido Group family as modern Italian outfits such as Braci, Amo is a casual and intimate joint that pushes out pizza known for its understated ingenuity.
Red sauce is cool and all but Amo doesn't follow the textbook. Some of my favourites here include the intoxicatingly fragrant Truffle Mascarpone Pizza ($35) and their signature Pumpkin Pizza ($28) where a spirited pumpkin sauce is slathered onto their soft and fluffy pizza dough.
Reserve your seats here.
AMO
Website | Instagram | Facebook
Address: 33 Hongkong St, Singapore 059672
Hours: (Tues-Sun) 12–2:30pm, 6–10:30pm
Yeast side
I don't dare claim that Yeastside has the best dough amongst all the best pizza joints in Singapore — they're restrained by a lack of a wood-fired oven, after all. However, they still manage to churn out some nice crisp dough that's sexily punctuated with leopard spots.
Other than that, they also overcome the handicap of a conventional oven by sprinkling creative ideas all over the pizzas. From the now-removed Octopussy that had a never-seen medley of octopus, chimichurri, and grapefruit, to their new crowd-favourite of Aburi Scallop Mentaiko ($28) — expect the unexpected here.
Reserve your seats here.
Yeast side
Website | Facebook | Instagram
Address: 9 King Albert Park, #01-09, Singapore 598332
Hours: (Wed–Sun) 9am–10:30pm
Lino
Perhaps one of the best-known pizzas in the Singapore foodie circles due to its affordability in tandem with Burpple Beyond's 1-for-1 deal , the Burrata Pizza ($26) is a great steal at that price.
All eyes will be drawn to the pristine sphere of gooey cheese where the clean and lightly rich cheese notes melded seamlessly into the piquancy. A garlicky kick from the pesto then rounded it off nicely as burrata is spread all over the soft chewy dough.
Reserve your seats here.
Lino
Website | Facebook | Instagram
Address: 7 Binjai Park, Singapore 589821
Hours: (Daily) 12pm–2:30pm, 5:30pm–10:30pm
Pipi Pizza
Pipi Pizza is the pizza place for Japanese lovers, being the best in Singapore at incorporating Japanese elements into their pizzas in a way that's fun and intuitive and not at all contrived like many "fusion" pizzas can turn out.
As far as unadulterated beefy flavours come, not many can beat their Aged A4 Wagyu & Truffle ($42) that's a riot of lavish umami. What really caught my attention though, was the dessert pizza of Beni Haruka Sweet Potato ($30), a luscious sweet dream perfect for cutting through the heaviness of their heavier offerings.
Pipi Pizza
Address: Order online here
Zazz Pizza
While I haven't visited Zazz Pizza's new home at Cross Street, I still have vivid dreams of the Burrata Pizza ($29). It was well worth the price tag, completely stealing my heart with its mild crust that hid a fluffy and chewy texture and charming whispers of woodfire smoke.
The dough itself already makes it one of the best Burrata Pizzas you can find in Singapore but it's further elevated by a glorious mix of fresh burrata silkiness and boisterous ham umami built upon a balanced red sauce that just had the inch-perfect richness.
Reserve your seats here.
Zazz Pizza
Website | Facebook | Instagram
Address: 18 Cross Street, #01-108 Cross Street Exchange, Singapore 048423
Hours: (Mon–Thurs) 12pm–2:30pm, 5:30pm–10pm, (Fri) 12pm–2:30pm, 5:30pm–10:30pm, (Sat) 11:30pm–10:30pm, (Sun) 11:30pm–10pm
Bar Milano
Way before Wild Child Pizzette burst into the scene, Bar Milano had already made a name for itself as one of the best pizza bars in Singapore to get a slice of the unique fried pizzas, "Frittas".
While there are quite a few permutations of Frittas available here as compared to the newcomers, I strongly recommend the Parma & Burrata ($22). This stood out with its inspired use of vodka-infused red sauce and Calabrian chilli for a medley of sharp, intense swagger and herbaceous notes.
Reserve your seats here.
BAR MILANO
Website | Instagram | Facebook
Address: 55 Keong Saik Rd, #01-02 KeSa House, Singapore 08915
Hours: (Daily) 11am-10.30pm
*For more indulgent foods to hunt for, check out my guide for the best gourmet burgers in Singapore.