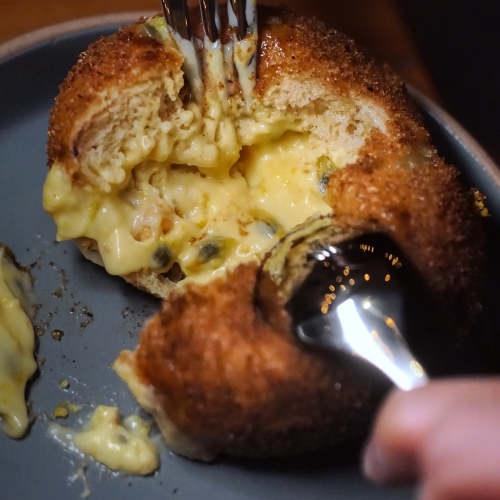 Anna's Proofs sourdough can Make everything from bomboloni to pasta
It's an indelible fact that sourdough has generated an incredible amount of buzz in the cafe scene in recent years. Even with the deluge of scrumptious bakes, pastries, and pizzas, I don't think any other establishment has been able to utilise wild yeast fermentation as holistically in Singapore as the newly opened Anna's Sourdough.
The new Punggol opening has obvious infatuations with sourdough — Anna's is impressively equipped with a sprawling range of grains, an on-site grain miller, and even a dedicated cold-proofing room.
There's no doubt that this bakery is devoted to the art of fermentation but they also want to share the passion with other aficionados — so a retail space grants access to an array of ingredients that would aid like-minded bakers in setting up a thriving starter, ranging from Buckwheat to the queerly named Black Forbidden Rice.
While the choice of Punggol may be a curious one, Anna's is undoubtedly quite the quaint hangout situated right by the waterfront — the alfresco area is airy and relaxing, plus easily accessible for cyclists who roll through the area.
Not to mention its location at night promises plenty of cool breezes while lines of festooned lights make it feel as chic and elegant as any cafe in town. The interior is also very tastefully done up too with wooden fixtures and rustic tiles, adding a cosy European bakery flair.
A Self-Starter's Cafe
The foremost tenet of sourdough baking is pouring all your love into a starter, one that will serve as a formidable progenitor for all your bakes — and it's a tenet that Anna's has taken as dogma. They rely on the same trusty mother dough that Anna herself started during Circuit Breaker, affectionately named "Audrey".
Their inventiveness actually came right out the gate with an unusual method of utilising the starter with the Pink Mint Fizz ($7), a fermented drink similar to kombucha. Unlike kombucha, it uses starter as the catalyst to brew up a more refreshing final product with only the slightest touch of tartness.
Of course, the paramount deciding factor at any sourdough bakery has to be the loaves, so starting off with the Diversity Board ($18) was the best way to gauge. The proof is in the pudding and biting into a sourdough slice was all the proof needed to show that Anna's knows how to proof.
Veritably, the rustic and tangy sourdough in all its moist, chewy glory made an impression with a resounding crunch. However, great bread is only half the battle — its accoutrements won just as much favour.
Condiments like the butter that's cultured in-house, miso beetroot hummus, and mushroom pate imbued plenty of character into the carbs.
While the price of $18 might throw you off for a breadboard, it did come with a staggering amount of goodies and this platter should be shared between people. There's a lot to work through with six slices of bread, sourdough crackers, and mixed nuts, along with the condiments.
However, say you aren't the biggest fan of bread. Unlike most sourdough bakeries, Anna's has one remarkable distinction — they mould their precious dough into a wide permutation of dishes, including pasta.
Their signature, a Red Sea Prawn Aglio Olio ($32) tossed in a flavoursome green chilli pesto, is the best proof of concept. It was tremendously potent and salty, while given the right amount of heat — pronounced but not arduous.
A very good fusion pasta that incorporates Asian influences very deftly, partly due to a slightly limp Pappardelle that might have enhanced this dish but strays from the al dente golden standard.
In contrast, the Ravioli with Burnt Butter & Sage ($25) was quite a disappointment. It might have all the components of a classic Italian pairing —pumpkin and Ricotta filling and all— but regrettably fell flat when it presented itself with an overt chewiness and coagulated core.
Though there should be brownie points for handmade pasta, Anna's needs to fine-tune the duration of submerging its sourdough pasta. While it added a homely charm to the Aglio Olio, it was less endearing for the Ravioli.
Almighty Utility
Besides the rare sourdough pasta, Anna's also puts its own stamp on the trendy sourdough pizza. Though its dough slightly deviates from other established brands who have mostly adopted a style of dough more akin to the traditional chewy Napolitano.
Here, the dough itself was chewy and supple but the crust packed less air — basically less poof and intricate caverns in the crumb. Comparatively, it also crackled in a way reminiscent of rustic sourdough and not like typical NY-style pizza.
Admittedly, the Margherita ($24) at Anna's wasn't quite up to specs as a regulation Margherita, as internet gatekeepers would foam at the mouth to educate you on, but nonetheless a decent sourdough pie — authenticity aside.
You still get a pleasant dose of basil sharpness amidst red sauce richness and clean Mozzarella notes, albeit with congealed Mozzarella slices as opposed to silky morsels of dairy. It's a dish of simplicity but it did feel decidedly mundane, which isn't a huge disservice but also means not quite worth your gastric real estate.
Why? Because of the Forest Forager Sourdough Pizza ($32), an original creation at Anna's that's endowed with gratuitous amounts of earthy mushroom musk, a faint trace of truffle, and punctuated with complementary nuttiness.
The use of sourdough also extends to Anna's dessert menu, mostly represented by their voluptuous Sourdough Bombolini ($5.90) filled with passionfruit cream and lemon zest and coated in a light jaggery sugar and cinnamon mixture — a somehow "healthy-tasting" donut that wasn't oily and more rustic with moisty bready innards.
There's something very charming about a sourdough restaurant not merely fixated on being a bakery. There's a lot more to sourdough than bread and pastries and Anna's is doing its best to spread the gospel of natural ferment and its prebiotic-rich products.
Anna's
Website | Facebook | Instagram
Address: 681 Punggol Dr., #01-04 Oasis Terraces, Singapore 820681
Hours: (Mon–Thurs) 8:30am–5pm, (Fri–Sun) 8:30am–10pm
*This was an invited tasting.