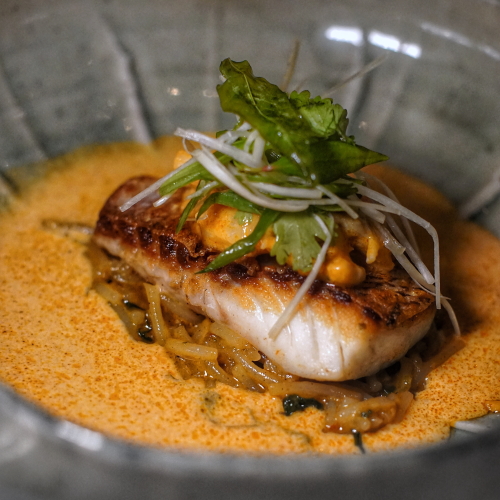 Spago is a luxurious soiree in the clouds atop Marina Bay Sands
Rooftop bars are an experience that is having its vogueish minute in the spotlight right now in Singapore. Maybe gimmicky, and even contrived, to some but when you sit in a lavish place like Spago atop Marina Bay Sands, you will relish every moment high up in the sky.
My night began behind a queue of people on the ground story of the world-famous hotel. Slowly, the ushers inched me towards the lifts and sent me to the 55th floor, before I hopped over to transfer to the 57th.
As the glitzy elevator doors slide open, I'm greeted by the sight of the most spectacular vantage point in Singapore.
A sprawling congregation of imposing skyscrapers, a sleek line formed by the iconic Marina Bay Sands infinity pool, and the chic decor of Spago lit up my eyes. It was a soiree in the clouds.
Such a display of grandeur might be hand waved away by most people as mere showboating but don't be mistaken, Spago has plenty of culinary finesse up their sleeves.
This swanky outfit is helmed by Greg Bess, the same maestro orchestrating the kitchen at the esteemed Cut by Wolfgang Puck.
Starting with Style
One of my favourites way to gauge a restaurant is through the little things — namely the bread course. It's something so simple, so unassuming, but genuinely euphoric when given the attention it deserves.
And Spago worked their magic, absolutely pampering me with piece after piece of fastidiously made bread. Starting with the golden spheres of Cheese Buns that overflowed with cheesy fragrance while sporting an immaculate mochi-esque bite.
Another furtive touch of finesse was in the accompanying butter with a moreish kale compound butter that sublimely elevated the rest of the carb ensemble.
Looking through Spago's 3-Course Dinner Menu ($79) also presented us with many dilemmas, as you navigate through an impressively comprehensive menu that bestows upon you the freedom to choose from a whopping 9 Starters, 9 Mains, and 5 Desserts with price top-ups when required.
Still, it was a no-brainer to order the Big Eye Tuna Tartare Cones, a seminal dish of the restaurant's success which is such a simple but efficacious indulgence. You get a robust tuna richness which was charmingly bolstered by charming whiffs of heat from wasabi and chilli aioli, and a speck of umami from bonito flakes.
While it sounds like a tough act to follow, the subsequent "Kaya Toast" (+$10) that hit the table sucked up all the attention — this inventive twist on the local favourite is indubitably Spago's showstopper dish.
How does anyone resist getting besotted by the melt-in-mouth foie gras perched atop a bed of fragrant kaya, with everything combining together with enchanting textural interplay? This moving reimagination of the quintessential local breakfast just comes to life with abetment from accoutrements of jammy egg yolk and espresso-foie-gras mousse.
Mains As Luxurious As the View
After promptly devouring the starters, I indulged in a long, wistful look out the window to take in the immaculate ambience. I didn't need any tipples — the vibes were enough to get drunk on.
While still revelling in Spago's allure, a bowl containing only fish and noodles was served to us. But it didn't stay like that for long as a deluge of silky orange broth filled the vessel to complete their signature Japanese Sea Bream "Laksa".
One wouldn't normally expect good Laksa from a Mod-European restaurant but Spago did justice to the local classic and made it the star of the dish with heady coconut oomph and silky texture. The soft Sea Bream took a backseat as the supporting cast alongside entrancingly chewy fried rice noodles, making a solid medley that felt so familiar yet very novel.
In contrast, the Iberico Pork Pluma was probably a lot more conventional but it got the star treatment here — making it blissfully succulent and fork-tender. With luscious apples adding a complementary dimension, this was the favourite main of the night.
We opted not to swap out the dessert dish since we stuffed nearing the end but the default course of Salted Caramel Souffle did not disappoint. Spago's one was a textbook example that's delightfully fluffy and moist and was a satisfying end to the meal with its nostalgic comfort.
Overall, I don't think many dinners can beat the value of Spago's luxe experience for just $79. You've got good food, warm hospitality, and breathtaking ambience — what more can you ask for?
Make your reservations here.
Spago Dining Room by Wolfgang Puck
Website | Instagram | Facebook
Address: 10 Bayfront Ave, Marina Bay Sands SkyPark, Tower 2 Level 57, Singapore 018972
Hours: (Sun–Thu) 12pm–2:30pm, 6pm–10pm, (Fri–Sat) 12pm–2:30pm, 6pm–10:30pm