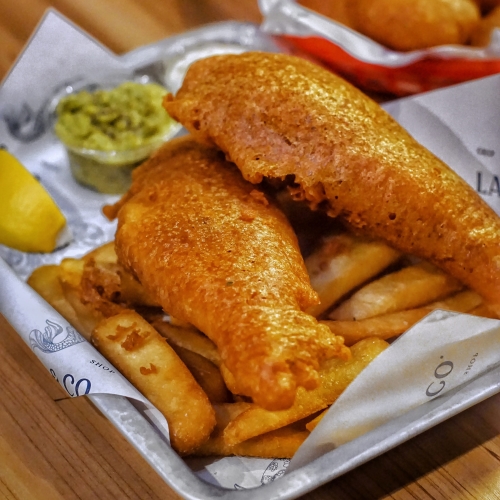 QUaint Alfresco Vibes and Spectacular Fish & Chips at Lad & Co
My hunt for good fish & chips in Singapore can be considered cursed. Other than Cheek Bistro, which had sadly transformed into Fool Wine Bar, most disappointed. Unexpectedly, it was Lad & Co, the new Tanglin outlet of hawker-turned-bistro Lad & Dad that provided me with the Fish & Chips lovin' that I so craved.
Unlike their OG Tanjong Pagar outlet, an unassuming diner located under an HDB block, Lad & Co is a much more refined concept.
Similar to the Lad & Dad outlet, this Tanglin outpost is fully alfresco. However, unlike the original, this comes much more nicely dressed up with quaint fairy lights and rustic picnic-esque touches.
While slightly out of the way, it also makes for a more charming dinner spot, sitting at the cusp of the bustling Orchard area where nearby bars like Manhattan are at the ready for post-dinner tipples.
Brain-Frying Decadence
Food reviewing convention dictates foreplay focusing on a restaurant's various items but unlike most places in Singapore, I must jump straight into Lad & Co's star of Fish & Chips ($19/$29) headfirst. It's that good.
What are Fish & Chips, exactly? To Singaporeans, it's a motley of slightly crispy dory fish with fries and coleslaw at the side. However, Lad & Co focuses on the quintessentially English Fish & Chips, which can be a harder find in Singapore.
Cutting through the beer-battered Atlantic Haddock yielded a beautiful crackle. The crusty biscuit-like batter was insanely rich and slathers of the twangy tartare sauce deftly complemented the succulent flesh.
That said, there were some dry spots plus even their mushy peas weren't able to convert me. However, Lad & Co's Fish & Chips were astoundingly good as a whole — perhaps the best and most affordable in Singapore.
Other than their Bangers & Mash ($16), most of the menu consisted of unadulteratedly decadent fried bar grub. Since the large Fish & Chips looked more than sufficient for two, we settled for more sides to accompany the mains.
Lad & Co's Scotch Egg ($12) was a good, classic rendition kept simple. A delightful mix of flavours between the soft, jammy yolk, light airy panko crust, and succulent pork.
Oyster Nuggets ($18) are decidedly one of the signatures at Lad & Dad's original Tanjong Pagar spot but we decided to go for Lad & Co's less-talked-about Scampi Nuggets ($18) instead.
Like the scotch egg, these were kept simple and allowed for the golden-brown batter to shine. Ultimately though, it was the plump and juicy shrimp inside that really tied the components together. Very addictive.
After trying out authentic English places supposedly famous for the finest imported Fish & Chips in Singapore and leaving disappointed, I have to say Lad & Co really impressed me. No frou-frou, no pretensions, just frying up some extremely satisfying batter — definitely worth a try.
Make your online orders here.
Lad & Co
Website | Facebook | Instagram
Address: 56 Tanglin Rd, #B1-02, Singapore 247964
Hours: (Tue–Sun) 12pm–10pm