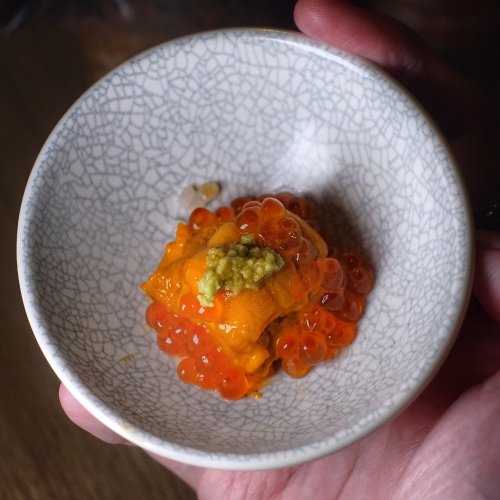 A Well-Received journey to the West for Igokochi Dining Bar's Fine Sushi Omakase
How many people have heard of Igokochi Dining Bar, a hidden gem nestled at the anterior of the far-flung NEWest? Jurong West isn't a common location to expect when looking for your next Omakase — the best sushi restaurants are usually located in the central region of Singapore.
But make no mistake, Igokochi isn't the garden-variety casual Japanese restaurant prevalent in the less glamorous hoods. The space is as tastefully done up as any CBD Izakaya.
The restaurant itself is divided into two segments. Upon entry, a rowdy little bar space reminds you of a watering hole with no holds barred but move a little deeper to the right and you'll find yourself in a little alcove set with plush booth seats and a marble-topped counter.
The former is conducive for a casual get-together over beer but the latter, where I was seated, was meant for greater things — it's a stage for Igokochi's chefs to host a carefully curated Omakase.
Slow Start
My Igokochi Kuma ($138) Omakase started off decently with a luxurious dyad of Shirako and Ankimo, two rather queer sashimi items that aren't to the liking of many people.
Thankfully, I am a huge fan of both especially the former, which I proudly proclaim to be my favourite Sashimi varietal. Ultimately, the Ankimo was decent and the Shirako was creamy and clean. A pretty solid way to kick things off.
Following the outlandish duo was a simple platter, characterised mainly by striking red and pink shades where three types of Sashimi took centre stage — Yellow Tail, Sea Bream, and Seabass.
The knifework was sound and each sliver of fish came deftly carved up, not too thick or not too thin, and provided quite a rousing mixture of umami richness and progression of textures from buttery soft to tender and bouncy.
My only gripe was the lull between the dishes at the start where I found myself staring longingly at the chef between some untimely halts. Perhaps it's because the pair beside were served a different menu but it those abrupt breaks were nonetheless jarring and disrupted the flow, an salient facet of an Omakase.
Grew Into it
The service started making some headway as Igokochi started gracefully moulding and serving their Sushi on a green ceramic plate, adorned with slices of pickled ginger and radish for palate cleansing in between.
On the matter of the Shari, the vinegar came through brightly without overwhelming but didn't contain the same depth of the more exquisite Sushi-Ya — fuss-free and no unnecessary flair, basically. The first few pieces showed repetition with Sea Bream and Seabass but I was quickly smitten by the dreamily sweet and silky Sweet Shrimp that almost felt like it gently dissolved on the tongue.
Igokochi then proceeded with a few more great pieces, including a fatty, luscious Striped Horse Mackerel and mellow buttery Greater Amberjack, before the perennial favourite of Medium Fatty Tuna came about.
Chuutoro's reputation speaks for itself and that unalloyed iron-tinged umami burst forward with a majesty, underscored by its signature decadent melt-in-mouth texture.

At this point, we'd reached the climax of Igokochi's Omakase where the pieces started to be feted with the bright auburn sheen of Uni and Ikura. This started with a bowl buried in Ikura and later magnificently crowned with Uni. The hedonistic flavour bomb every Omakase needs.
Following that came a more toned-down and sweeter-leaning combination of Prawn and Ikura before a steaming bowl of Asari Clam Soup swooped in to alleviate all that heaviness.

After giving the palate a soft reset, the next piece came with Sea Eel perched atop. Unlike the more widely-known Unagi, the flavours in Anago are subtler, fresher, and a tad sweet — so it isn't as potent as its fatty freshwater cousin but comes with more nuance, especially when lightly torched.
The final item of the night was a simple one as Igokochi opted to finish with the familiar Minced Tuna Handroll, where the creamy Negitoro was contrasted against light pickle zestiness to prevent it from cloying.
Dessert was nothing to shout about but the Yuzu Sorbet was nonetheless a solid progression from the light zest in the handroll, capping off the hearty meal with some much-needed levity.
There could certainly be improvements made, in particular with the pacing at the start, but Igokochi proved that it's capable of orchestrating a respectable Omakase despite my doubts about its unconventionally remote location — a journey to the west well worth it.
Make your reservations here.
Igokochi Dining Bar
Website | Facebook | Instagram
Address: 1 W Coast Dr, #01-98/99 NEWest, Singapore 128020
Hours: (Mon–Sat) 11am–11pm
*This was an invited tasting.