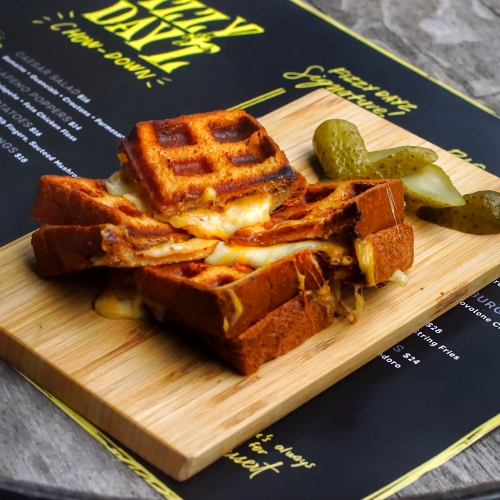 Fizzy Dayz serves $9.90 Happy Hour Highballs to bring dive bars back in Vogue in Singapore
"Soft reset" is a trend I'd attribute to Singapore's bar scene in 2022 — the scene seemed to have developed swanky speakeasy fatigue and new bars were getting more and more ratchet as dive was coming back in trend and Fizzy Dayz is leading the charge in 2023.

The neon-lit den just popped up at the end of last year, a few doors down from its more refined Purvis Street siblings, meant to be the Nutmeg & Clove Group's best attempt at the less refined.
And they mean it. Fizzy Dayz was built with that one purpose of havoc in mind — well, at least as much of a dive bar as an establishment in Singapore's CBD could try to be.
It'll probably take a few moons of wear and tear to break into an optimum state of squalor but they'd got the gaudy neon lights and shady dim lighting down. None of those luxurious marble counters and esoteric spirit collections can be found here either.
The distinction from your typical Singaporean "dive bars"? Save for Skinny's Lounge, most quintessential dive spots are smack-dab in places like Golden Mile or Orchard Towers. Only Fizzy Dayz takes on the "atas siam diu" challenge as mischievously.
Happy Days
Fizzy Dayz is no bullshit, their main selling point is in their name, the highballs. $9.90 happy hour highballs from 4pm to 8pm to be precise, marked down from the regular $15 a glass.
The high balls section is a convenient mix-and-match of a spirit and a mixer to give drinkers some control over their tipples. A timeless Suntory Kakubin whisky with Soda? Easy. A Barcadi Carta Carta white rum with Sprite? Ain't no one stopping you.
Besides highballs, happy hour at Fizzy Dayz allows for a much larger range of poison than you'd expect — prosecco, red wines, and lager all at $9.90.
For the cultured drinker, a more extensive menu also comes up at the side where you can find get inelaborate Classic Cocktails at only $18, ranging from the lethal Long Island Ice Tea to the effervescent Dark & Stormy.
Cheap, unpretentious drinks choices aside though, Fizzy Dayz's food menu is where it gets a little awkward. At least during their soft opening last year, there was a mismatch of prices vis-a-vis the drinks.
If they fix the prices though, they'd have some solid greasy bar grub to really get you into the mood for some no-holds-barred dive bar nights. A substantial, hearty, oozy Grilled Cheese ($16)? Not immaculate but I'll also be too inebriated to second-guess its hefty comforts.
Unlike their flagship concepts, Fizzy Dayz doesn't walk the path of elegance and that's completely fine. It's always a breath of fresh air to see affordable watering holes pop up, run by esteemed bar groups — sometimes it's hard to justify the prices for the most sophisticated cocktail bars in Singapore.
While there are tweaks to be made, and decor to be worn down, the concept is endearing. A bar in Singapore's expensive CBD with this good of a happy hour deal? I'll pay $9.90 for a quick and convenient unwind. Any cheaper, get a bottle of Suntory yourself.
Make your reservations here.
Fizzy Dayz
Website | Facebook | Instagram
Address: 24 Purvis St, Singapore 188601
Hours: (Mon–Thurs) 4pm–12am, (Fri–Sat) 4pm–1am