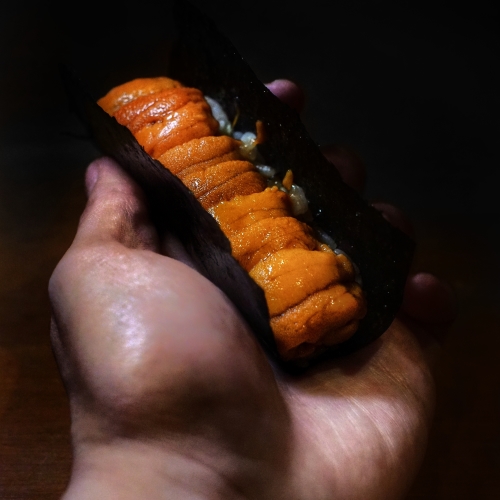 Deft Hands and Good Prices at Shinsora Create one of Singapore's Best Affordable Sushi Experiences
The inherent artistry of Sushi is well-settled. Crafting sushi demands elegance, finesse, and intricacy. The journey to becoming a Sushi Chef is an arduous one that few can resiliently traverse. That alone speaks boundless volumes about Shinsora main man Chef Sky Tai's pedigree as a former World Sushi Cup champion.
More importantly, prices are kept reasonable at Shinsora. Exorbitant prices are endemic to Sushi since Japanese cuisine is characterised by conscientious chefs who work tirelessly to hone their craft and Sushi is its crowning jewel.
To streamline that rich experience into a beautifully structured Omakase, which can be multi-hour affairs where turnover is slow, prices are reasonably nudged higher.
In an era long forgotten, there were the likes of Ryo Sushi at Tanjong Pagar hyped up for unmatched $38 Omakase but prices have since normalised, as the cruel reality of inflation and rising costs caught up.
It's only fitting that Shinsora is concealed away inside the Standing Sushi Bar premise at Odeon Towers, one of the foremost stalwarts in bringing affordable casual Japanese dining to the forefront of Singapore, with Sushi in particular.
Despite its size, the intimate ten-seater feels deceptively spacey as you're given ample arm room from neighbouring diners when you're seated around the regal wood counter.
Although Shinsora is run by a Singaporean group and helmed by a Malaysian chef, there's no mistaking the utmost reverence for Japanese traditions in this private sanctuary, cleanly accoutred with wood and the simplest embellishments. More importantly, it's how they use their scale to keep Omakase affordable, starting from just $90.
No Cut Corners
Despite touting a mighty reasonable price point for their lunch 9-Piece Menu ($90), Shinsora does not cut corners. Even with just nine simple pieces, Chef Sky plots out a brisk but immersive journey through the art of sushi, greatly respectful of seasonality, as tradition dictates.
The prices are not telling of the craft on display — it's therapeutic watching Chef Sky's hands deftly dance across his counter, gently progressing from skillfully carving up the fish to fashioning pristine balls of rice through a mellifluous sequence of hand movements.
Lunch at Shinsora starts off light, first with a clean and silky ensemble of seasonal Barfin Flounder strips then transitioning into Nigiri proper by presenting Japanese Horse Mackerel perched atop the Shari, soothingly delicate and lightly tinged with the smoothest acidity.
Then there's a sudden dramatic uptick in richness as the choice of Neta switches to the tremendously fatty Chutoro that dazzles with its decadent depth of umami.
A majestic Scallop from Iwate then chased the medium-fatty tuna, dyed in a plush shade of ebony and bifurcated to expose the most luscious cross-section.
Shinsora shares one of my favourite executions of Hotate in Singapore — silky, bouncy, and blissfully sweet while perfumed with matching florals. Just a dab of Wasabi, for that crisp vegetal aroma, and it turns into a perfectly rounded dish.
Chef Sky then hit us with a sleek triple run of clean-tasting Red Tilefish, delightfully smoky torched Japanese Barracuda, and a Shima Ebi awash in delicately sweet brine and shiso sharpness.
These were three rather different profiles but the sequence showcased that Shinsora had a good range in its lunch Omakase despite its affordability, with pieces cannily planned to avoid monotony.
Food Comakase
As the penultimate piece before Shinsora's heftiest item on the lunch Omakase, the deep piercing crimson of Lean Tuna finally made its cameo for the afternoon.
Unlike the indiscriminate umami of its fattier counterparts, the Akami is carefully marinated in soy sauce to bring out the full brunt of its depth. It's smooth but snappy and also endowed with the most iron-rich intensity — a good contrasting precursor to the headliner.
Tuna makes its final appearance in Shinsora's courses, as dreamily velvety Minced Fatty Tuna is encased within a crispy seaweed sheet grilled ala minute. Negitoro's allure is obvious as the creamy mince smoothly fills into the crevices of the palate in all its fatty splendour.
Heralding the final change in tempo of the lunch Omakase, the Negitoro Handroll is less articulate, delicate, and measured but also makes for a gloriously exuberant climax.

At this point, if there is still stomach capacity, Chef Sky recommends a handroll to supplement the sushi. The selection ranges from Aburi Ootoro Handroll ($45) for fat-tuna-crazed fans to the Uni Handroll ($45) in case anyone feels the need to opulently cap your Omakase with sea urchin.
I belong to the latter crowd so Chef Sky gleefully jazzed up the handroll with a bounty of resplendent Uni, which I decisively devoured in two bites to revel in that creamy euphoria, as intoxicating sweetness and brackish funk slowly flooded in to mark the end of my sushi dream at Shinsora.
The epilogue was rather by-the-books — a hearty bowl of Miso Soup to freshen up then a premium Seasonal Fruit to end. Chef Sky's choice of fruit to end it all off was a slice of Japanese Musk Melon, brimming with juicy melon fragrance and leaked suggestively with spurts of juices.
Affordable Omakase isn't the hardest find. However, it's hard to find a Sushi joint where you can be graced by the masterful craftsmanship of a World Sushi Champion for this price point.
For any non-connoisseurs who don't need to be satiated by premium, esoteric Neta of the upmarket Michelin-starred establishments, a lunch at Shinsora easily provides one of the best sushi Omakase experiences for its undemanding affordability.
Make your reservations for Shinsora here.
Shinsora
Website | Facebook | Instagram
Address: 331 North Bridge Road, #01-04 Odeon Towers, 188720
Hours: (Tues–Sun) 7pm–10:30pm
*This was an invited tasting.