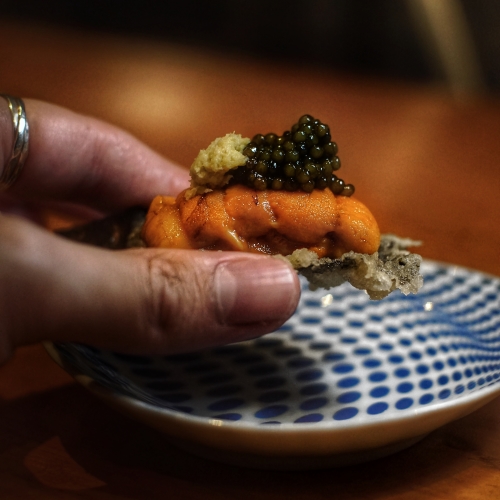 Ippoh Tempura Bar by Ginza IPpoh puts on a Graceful Dance With Blistering Oil for its omakase
COVID-shut borders exposed one particularly fascinating trait of Singapore — our locales are besotted with high-end Japanese food. It was a period that saw the most exorbitant Sushi Omakase affairs prepare for year-end chaos as their books overflowed with reservations.
While the refined artistry of Sushi puts it at forefront of the Omakase wishlists, many other Japanese culinary branches also started garnering attention. A list that included luxury Yakiniku, Robatayaki, Yakitori, and, of course, Tempura — a niche in which Ippoh Tempura Bar by Ginza Ippoh perhaps dominates the conversation in Singapore.
The erstwhile expectations of Tempura in Singapore were very much affixed to casual, mass-dining settings. That's why there is a certain mystique to an Omakase so wholeheartedly devoted to Tempura. Alongside that, a strong curiosity about how Ippoh Tempura Bar can convince the public of elevated artistry in deep-fried food.
On the facade, Ippoh's quaint Dempsey dwelling is rather striking. Despite a rather by-the-numbers wooden shack blueprint, it was enlivened with sharp modern touches in the form of braggadocious cobalt accents and edgy graffiti strips. Maybe a bit too unorthodox for an upmarket Omakase leader?
Alas, any concerns were quickly allayed as I was shown to my seat at the traditionalistic wooden counter, deliberately positioned in front of the Singapore outlet Chef Yamamura Katsuhiko and the heart of Ippoh, the Tempura fryer.
After I made myself comfortable, Chef Katsuhiko then provided a concise but enlightening introduction that explained the facets of operation and even elucidated the meticulous provenance of the flour and oil. Greeted firsthand with fastidiousness, you couldn't convince my heart to beat slower as I waited for the first of many courses.
A Cut Above The Rest
The Ippoh Tempura Bar voyage was led by an array of Assorted Appetisers to mark the start of the Yuki ($230) dinner menu. Light bites such as the Vinegared Mozuku Seaweed helped whet the palate but the star was unequivocally the Seasame Tofu with Sea Urchin.
Bearing just a mellow brine on the Hokkaido Uni, its textural interplay with the superlatively silky sesame tofu was pure bliss. There's nothing heavy-handed about and it served as a most delightful opener.
As we've been conditioned to expect, an Assorted Sashimi platter followed as the customary appetiser to the Omakase. Despite its designation as a Tempura specialist, Ippoh's sashimi was definitely a cut above your standard Japanese restaurants.
What would first arrest your gaze would be the thick, iron-rich Hon Maguro in its crimson glory but the unassuming slivers of soft, buttery Hirame were what etched the deepest impression.
Ippoh Tempura Tamed the Tides
The Ippoh name is a legendary one — there's perhaps no more puissant Tempura restaurant in Osaka. Naturally, there are lofty expectations attached to that name, and even palpable excitement for the batter attached to the ingredients.
Divergent from the usual expectations of heavy, crackling suits of batter, the Osaka style is a much more elegant one. The batter is more delicate, less greasy, and doesn't detract from the premium ingredients it encases.
Besides that, unlike many Japanese cuisine specialists, Chef Katsuhiko is a savant adept in more than one form of frying. Hence, the Tempura batter at Ippoh can be tailored to specific appetites, though I was offered the default, the "heaviest" style that, all things considered, was still beatifically dainty in texture.
Leaping right out of the fryer, the first item was an Okinawan Prawn Tempura that I think most articulately encompassed Ippoh's culinary principle — it's balanced, refined, and gives ample space for the fresh produce to shine with an impossibly crisp sweetness.
In a similar principle, the dishes that reap the most benefit are the oceanic catches, especially the unostentatious fillets of fish, elegantly trapped in batter to be assiduously tempered in the hot oil. Temperature control is key and each piece leaves the dancing oil in pristine condition, recommended being paired with simply lemon and salt.
Comprising three fishes, the ones that I adored were the Butterfish and especially the off-menu Tilefish with the latter flaunting a mind-blowingly soft texture that felt almost weightless. Only meekly supported by a spiff of lemon and salt, a gentle bolstering crunch, this was simplicity made an art.
Ippoh Tempura Bar's fate seemed to be deeply entwined with prawns since there was an abundance of the crustacean — though that's no complaint. Aside from a more boisterously sapid prawn and a beautifully complex Shiso-wrapped prawn, they also have a Shrimp Toast they claim as a signature.
With its thin, wafer-like build, this was the dish that was calling out for the blistering oil which bestowed it a stupendous crackle that would rival the best Bikini Sandwiches. All while filled with a glut of juicy shrimp.
Enhancing Vegetables
Vegetal produce might have the strongest claim to being mankind's greatest bane but Ippoh makes such unreasonably sumptuous Tempura renditions of them to win me over, though it might not be enough to assuage even more vehement doubters.
One that has enough charisma to charm doubters would be the Maitake Mushroom, unapologetically musky and earthy but easily balanced out with simple lemon and salt. It's served cut to peacock its glistening centre — one that bounces with a fierce tenacity when bitten.
Eggplant is tricky to handle, unprejudiced by cuisine type, but Ippoh does a good job turning the Japanese Eggplant into a luscious Tempura. Often maligned for being slimy when mistreated, I can't help but feel blessed to have it served so immaculately tender and lacking funk.
One vegetable I have to put on the chopping block, however, was the Sweet Potato. Perhaps it's down to preference but it felt heavy-handed in starchiness and its subduedly sweet profile definitely requires a decent amount of external accentuation from condiments.
The Big Bang
Eventually, that continuous barrage of Tempura pieces culminated in Ippoh's chef-d'œuvre of Sea Urchin Tempura, assembled with vivid orange tongues of Uni adorned atop a Tempura seaweed and embellished with deep olive crowns of caviar.
Quite the self-explanatory dish — a dish that evoked euphoria as layers upon layers of umami start salaciously flooding the palate, whereas buttery licks of Uni and crackling fragments of seaweed fondly caressed the tongue like a playful lover. A supremely decadent indulgence.
With the Tempura selection properly running its course, my pre-loved tray was cleared and swapped with one with a bowl perched atop. Inside the bowl was Ippoh's impressive Soft Boiled Egg Tempura Rice with Shaved Truffle.
The dish is decorated around a delicately battered egg, a ravishing specimen that introduces itself with a deluge of orange-gold lava, and truffle shavings that exuded a luxurious perfume. Unfortunately, while expertly done, I could already feel the monotony creeping in halfway through it.
Following it up with premium Japanese Fruits did serve to ease the bloat with some acid but I knew my gastric real estate was already overpopulated. Nonetheless, fresh and juicy fruit? The perfect refreshing end to a hearty Tempura meal.
As a candid caveat, I can't suggest that Ippoh escaped Tempura's inherent pitfall of inevitable surfeit. What they did splendidly was to skirt around it with finesse and cushion the fall. Regardless, the techniques are artful and the produce is meticulously sourced — I would revisit in a heartbeat, perhaps for a smaller course menu.
Make your reservations for Ippoh Tempura Bar here.
Ippoh tempura Bar by Ginza Ippoh
Website | Facebook | Instagram
Address: 17B Dempsey Rd, Singapore 249676
Hours: (Sun–Thurs) 12pm–3pm, 6pm–10pm, (Fri–Sat) 12pm–3pm, 6pm–11pm
*This was an invited tasting.