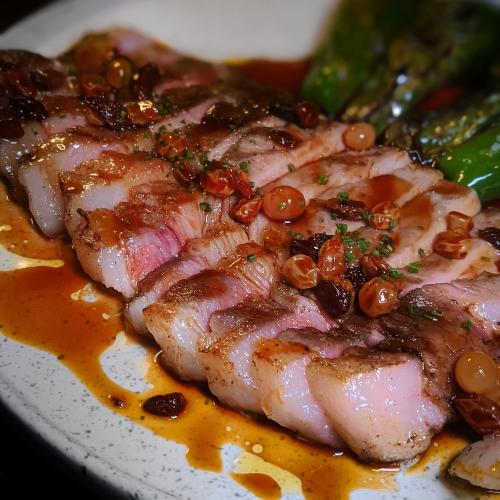 Revel in LUMO Bar & Restaurant's Exquisite Japanese Scandinavian Atmosphere
There's an enigmatic restaurant settled right in the corner unit of the junction connecting Carpenter Street and South Bridge Road. One affixed with tall glass panes but also paradoxically enshrouded within pale white drapes, providing little clues besides a sleekly stylised "LUMO" stencil on the windows.
A curiosity is ingrained into anyone walking past that inconspicuous facade that faced the busy main road— what exactly is "LUMO"? Is it a bar, a restaurant, or maybe one of Singapore's hipster fashion boutiques?
Given the opportunity to be privy to the secrets behind those reticent curtains, it's in essence a bar and restaurant hybrid that's furbished with svelte touches of "Japandi" minimalism familiar to luxury boutiques.
The initial foray past LUMO's entrance draws your attention to the central fixture of the restaurant's dining room — bottles of liquor amassed upon a tiered shelf resting against the slate wall, a simple wooden panelled counter, and flourishing shakers frolicking behind the bar.
Glossy black tables dominated the remainder of the space, standing on slender frame legs while marble veins burrowed through the sheeny finish. At the side, dried floral arrangements flanked a duet of plush booth seats snuggled to the right of the door.
I'd describe it as a welcoming and cosy atmosphere that's also effortlessly chic and unpretentious. Even at the more confidential chef's table at the back of the restaurant, it's that same genial ambience, just supplemented with a rousing view of the open kitchen in motion.
Start Light
LUMO is a progressive restaurant whose heart is equitably divided between the mixological and culinary sections, which explains why the bar is put front and centre. With new bar manager Aaron on board, the menu has been refreshed with a slew of understated but unique creations.
As an alumnus of Singapore's most storied classics bar, Aaron's finesse is undoubted and reflected through the delightful balance in the sweet and grape-forward Lumo ($20) though the adventurous Clover ($23) had me smitten with its complex blend of smoke, spice, and heat.
After picking my poison, I was then guided to a slow, graceful start with an assemblage of ice plant and Scallop Crudo ($20) linked in a dainty circle.
Even for just a salad starter, this was remarkably one of my favourites off LUMO's new menu — scallops were dulcet and silky while the velvety ice leaves added a refreshing bite that allowed them to serve as felicitous bedfellows for the scallops.
Marginally intensifying in flavours was another seafood entree built around the Norwegian Fjord Trout ($34), supine over a resplendent pool of creamy Salmorejo tomato soup with embellishing morsels of Serrano ham and sea asparagus to give it a vivid pop of colour.
Put through curing and sous vide, the luscious trout was teeming with a magnificently clean and mellow sweetness, harmonising bewitchingly with the piquant soup for a subdued and lightly briny richness that played the perfect foil to the intensity of the ham.
Shine bright
A quick peep into LUMO's kitchen will probably hint at the highlights to expect and the leading meat dish of Tasmanian Lamb Kofta ($30) gave a good account of the grill's prowess.
Handled exquisitely, the lamb is served tremendously tender and clean with the faintest sliver of game, then it's given a contrasting prick from sharp, herbaceous mint tzatziki to lighten the profile. Simple, uncomplicated, and just well executed.
Prior to the menu upheaval, LUMO was one of the cult favourite restaurants in Singapore for grilled pork. Moving into this menu, the iconic Sakura Pork Chop will be replaced by the Canadian Prime Rose Pork Rack ($48/200g)
Depending on your decadence tolerance level, the fattier cut of the pork rack will probably bring you to cloud nine as its sapid juices are released while you work through the supple fat-rich meat. Smear it with the whisky raisin jus for some treacly acidity, or even request for a leaner cut to tone it down.
Though another popular choice was the Angus Braised Beef Cheek ($40), rendered into a plush, almost melt-in-mouth sensation. Apart from the splendid textures though, it's perhaps one of LUMO's more routine big plates, at least flavour-wise.
Similarly, technical proficiency is evident in the sexily browned Hokkaido Scallops ($36) for another timeless Modern European staple. Pristine Maillard Reaction sheen aside though, it was overcooked by the slightest of margins, leaving it a tad tougher than I'd like — personally preferred the execution on the raw scallops.
Ending off the night with a creamy Burnt Cheesecake ($14) was just fitting, it's elegant, refined, but largely uncomplicated, basically a beautiful embodiment of the sleek minimalist atmosphere.
LUMO is simply a restaurant all about providing the most uncluttered dining experience — it doesn't try to be overtly inventive and instead focuses on sound execution and the little details.
Make your reservations here.
LUMO Bar & Restaurant
Website | Facebook | Instagram
Address: 50 South Bridge Rd, #01-00, Singapore 058682
Hours: (Tues–Thurs) 4pm–12am, (Fri) 4pm–1am, (Sat) 6pm–1am, (Sun) 6pm–10:30pm
*This was an invited tasting.