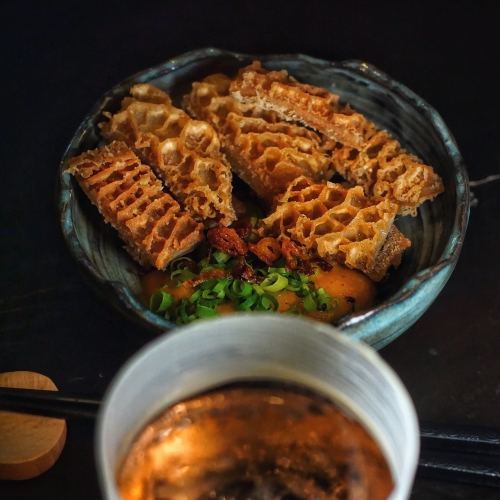 GRLA is Fun, unrehearsed Bar mayhem by A kooky Chef & bartender Duo
Guerilla /ɡəˈrɪlə/ adjective — "actions or activities performed in an impromptu way, often without authorization."
And that, my friends, is precisely what GRLA is. A surprise collaborative concept that's been secretly stewing in a seedy Club Street shophouse attic space , popping up right above Low Tide till 29 January 2023.
In some ways, it's homely with a peppering of disorganisation — a simple set-up revolving around a small counter where ingredients, both food and tipples, jostle with each other for a scrap of real estate on the glossy black countertop.
Honestly, the only adjectives that really come to mind for GRLA are "cosy", "intimate", and "fun".
There isn't much polish to it, it's a guerilla operation. It subsists entirely on human capital, created by a talented duo who decided to take up a short residency at Ghost Writer, Low Tide's incubator.
The driving force behind the tipples is a familiar face, June Baek who's formerly one of the star bartenders at MO Bar, while the gastronomical challenges are handled by Chef Son Pham, a culinary jack-of-all-trades adept at both facets of fine-dining and casual fast.
Happy Together
As far as bar food goes, GRLA is right up there. Certainly, these bar bites don't inspire divine revelation but Son's flavours go straight to the heart, inspired by his Vietnamese heritage.
Not speaking in a patronising "homely and simple is the best for an Izakaya vibe" manner too, mind you.
GRLA's Fried Tripe ($16) is genuinely a blockbuster of a dish. Despite being a peculiar cameo at a cocktail bar, the offal is immaculately balanced and impishly plays with both flavours and textures.
On the first bite, you are received by a gratifying crunch and silky, gelatinous shreds of tripe. On the second, your taste buds start reacting to the sapid seasoning and potently funky sauce. And on the third, you're smitten — it's simply that addictive.
In this collaborative environment though, the tipples play an equally crucial role. June's popular Bingsu Fizz ($24), one of the most talked about concoctions at GRLA, is a good indication.
It's a sweet, agreeable medley — dainty touches of slightly acidic strawberry and faint earthy red bean make up its dulcet foundation while felicitous richness of coconut and white chocolate are sneakily introduced through a rim coating, providing more layers of distinct sweetness.
On the other extreme, the Voyage Revival ($24) is built on a blend of tequila bianco, acidulated apple, and earthy celery sharpness to give it an edge.
Compared to the former, this is a less cordial drink that demands more sipping introspection. Nonetheless still a congruent and harmonious concoction, like the rest of GRLA's drinks, and also strangely refreshing, even with a less-accustomed mixology basis.
Well, yes most of what you are served is planned out — not very guerilla, right? But the highlights are those slightly off-kilter moments where the duo make it look like it's effortless fun to run a kitchen.
Like when June spontaneously fixed up some soju bombs for the table, the bona fide Korean way, for a quick shotting round.
Or when Son offered a piece of his Miso Madeleine experiment as a complimentary drink accompaniment, a rich and savoury bake with an orgasmically crunchy outer rim.
When it comes down to it, GRLA is June and Son. Their conviviality and kookiness, combined with their understated refinement of craft, make the concept so, so, so endearing.
Make your reservations here.
GRLA (Pop Up at Ghost Writer Until 29 Jan 2023)
Website | June Baek's Instagram | Son Pham's Instagram
Address: 98 Club St, Singapore 069467
Hours: (Mon–Sat) 5pm–12am