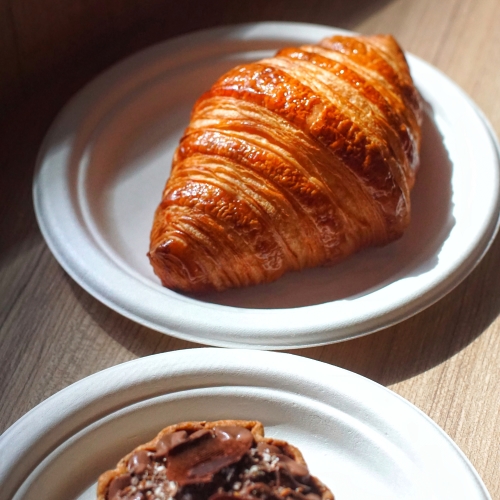 Mooi Patisserie — The Quaint Hidden Gem with Pistachio Tarts & Croissants by A Michelin-Starred Pastry Chef
Unsurprisingly, we've seen a growing stable of chefs venturing out into their own cafes and F&B operations of late. Singapore's pastries and cafe scenes are thriving after all, maybe growing even more robustly than the restaurant ecosystem. Inserting itself into the ranks of personally headed projects is Mooi Patisserie by Chef Gail Ho, a pastry chef who'd previously earned a Michelin star at Meta.
Unlike many of the trendy new cafes that pop up every week, Mooi Patisserie is unique in its voluntary choice of seclusion, snuggled deep within the entrails of Alexandra Technopark — it's not the easiest trek. But it's conveniently within reach of its sibling companies under the Naked Finn collective.
Though if you're willing to work your legs, you'd find the patisserie very quaintly settled at the anterior of The Hub, where a multitude of food options are in its proximity. If you're working in the area, it's a great all-in-one spot for you to grab some grub along with nibbles to boost your post-lunch productivity,
While the outlet can be described as "barebones", the decor is nonetheless tastefully set up. Plain, light birch shelves are shunted to one corner and laden with readily packed bakes whereas the cafe forwent with seats and instead sets up standing space in the form of an L-shaped wooden tabletop intimately flushed against the glass windows.
At the heart of it all is a stretched-out counter where all of Mooi Patisserie's action happens — a full suite of pastries strutting about behind the displays on one end whereas the espresso machine and the coffee station find their niche at the other end.
Worth the Trek?
Many people would latch onto that Michelin star pedigree and one of the best ways to test a pastry chef's mettle is through the timeless viennoiserie. Mooi Patiserrie's Plain Croissant ($4) passes the eye test remarkably — crafted tantalisingly, shimmering with eggwash and dyed in an alluring orange.
As the adage goes though, "it's what's on the inside that matters." Cutting it open unveils a decent cross-section and while it wasn't the fluffiest, it was overall one of the better croissants around, flaking effortlessly and having a somewhat light chew with a dainty touch of butter fragrance, though perhaps a little too dainty.
On the flip side, I think Chef Gail's expertise in the kitchen fleshing out elaborate desserts for restaurant service lends heavily to Mooi Patisserie's tart selection. The chocolate-thronged Mokasha ($12) tart is one of the best indications of that.
The chocolate buckwheat tart is a riff on a Naked Finn classic dessert, gratuitously loading a whole universe of chocolate —chocolate coffee cream, chocolate shavings, cacao nibs— into a toasty buckwheat sable base. Despite running a risk of cloyingness, this was very well-rounded with luxurious chocolate oomph, an earthy depth, and toasty malt-ish touches.
Not all would be keen on the ever-pervasive chocolate tart routine and it's no surprise that Mooi Patisserie's less commonplace Pistachio Tart ($14) sells like hotcakes. Who can resist that deluge of chopped pistachios embedded into fluffy chantilly cream?
Granted its appearance might be taken as a sign of crazy nutty exuberance but the overall profile was carefully balanced. Most of the profile consists of elegant pistachio notes, distinctly overarching over frangipane and praline richness. Pretty satisfying but not the hard-hitting decadence that some might expect.
Is Mooi Patisserie worth the trek, really? Maybe not as a standalone stop but with hey, there's a popular sando shop just next door. The cafe definitely does a pretty solid job with pastries, especially the tarts, and you'll be hard-pressed to find a pistachio tart in most other cafes in Singapore.
Make your online orders here.
Mooi Patisserie
Address: 438C Alexandra Road, #01-06/07 Block C, Alexandra Technopark The Hub, Singapore 119976
Hours: (Mon–Fri) 8:30am–4:30pm, (Sat) 9am–1pm