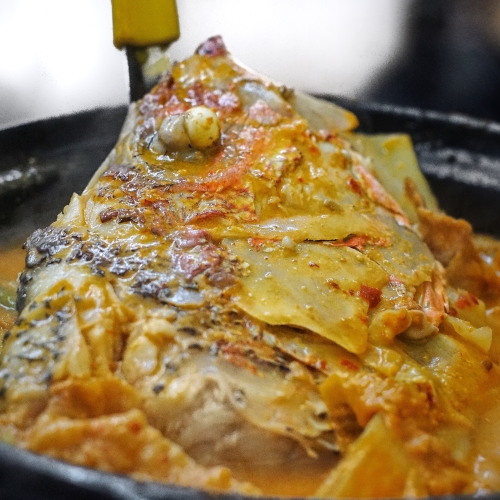 Kam Long Curry Fish Head is Every Singaporean's quintessential comfort hawker food when in JB
When Singaporeans travel to Johor Bahru, there are always a few hotspots that everyone tends to hit up. Be it the trendy minimalist cafes of Mount Austin or the much-better-tasting KFC at City Square, there's one perpetual hawker haunt that's constantly on top of itineraries — Kam Long Curry Fish Head.
Kam Long Curry Fish Head is an establishment where the queue is seemingly unending and the stoves are never empty, save for closing. Its unparalleled wealth of flavours is just that deeply comforting.
And unlike many of the top hidden gems in JB, often seen in a dingy setting that many Singaporeans aren't used to, this hawker legend is a lot cleaner and homespun in that aspect.
If anything, you wouldn't bat an eyelid if you chanced upon a storefront looking like it in the more rustic purlieus around Singapore. Classic retro Kopitiam tiled walls, time-worn swathes of eggshell-hued paint, and the instantly-recognisable round tables and stools.
In a way, Kam Long Curry Fish head is the perfect first stop for those who are a little wary of venturing out of their comfort zone, feeling very much like home.
Lots of Warmth
In comparison to certain styles like Ipoh curry, there are many similarities to what you'd consider a quintessential Singaporean curry fish head — Kam Long Curry Fish Head's rendition is generously enriched with the ambrosial kiss of coconut milk.
But the generosity doesn't end at the coconut milk dosage, since prices are kept extremely affordable compared to Singapore, where a Small would cost you RM$31, a Medium RM$44, and a Large only RM$60.
I'd say the signature curry here is on the safer side. There are no boisterous flavours or overtly complex spice undertones but it's a supremely smooth comfort that will warm your heart.
Extracting flesh from the fish head is effortless since it's so soft and tender and the yield is decent but not quite impressive. Though the true icon of Kam Long Curry Fish Head isn't the fish itself but the Tau Kee (RM$7).
On their own, these sheets of fried beancurd skin are devoid of many flavours and left to turn limp in the open. Given time to bathe in the curry though, they start going through a spectacular metamorphosis.
Endowed with the full depth of coconut-milk-sweetened-richness, they just burst out when bitten upon, releasing the most delightful streams of flavour.
Of course, a curry fish head meal isn't complete with the standard supporting cast of Rice ($1/2) that's the best no-frills conduit to contain Kam Long Curry Fish Head's liquid gold, if you aren't fond of soy.
This quintessential JB itinerary darling earned its status — it's a place with great price points along with comforting and familiar flavours, all wrapped up in a convenient and bare-bones shop near the central. It's no wonder so many Singaporeans make this a pitstop right after they pass through the causeway.
Kam Long Curry Fish Head
Address: 74, Jalan Wong Ah Fook, Bandar Johor Bahru, 80000 Johor Bahru, Johor, Malaysia
Hours: (Mon–Fri) 8am–4pm, (Sat–Sun) 9am–4pm