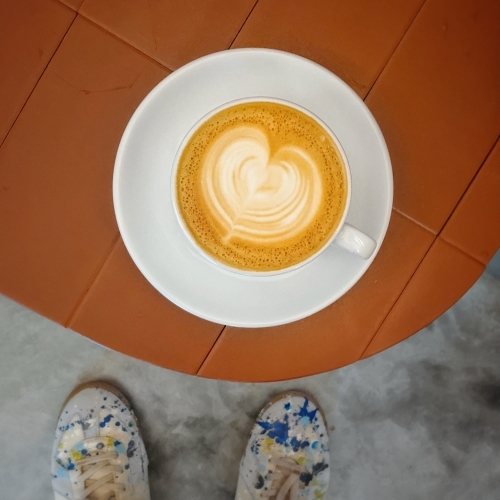 Nylon Coffee Roasters, the evergreen icon of Singapore Speciality Coffee
If you were someone getting into coffee during the 2010s, there's one name that wouldn't have escaped you — Nylon Coffee Roasters. The Everton Park cafe was, and still is, one of the most respected names in Singapore's speciality coffee scene, and for a good reason.
It's been a decade since they set up shop at a corner of the HDB estate, operating out of a cramped, quiet shop space that still kept its retro shophouse doors.
While Everton Park has seen quite a transformation over the years, it wasn't the same thriving cafe hotspot back when Nylon Coffee started out.
As with the area, the stalwarts of Everton Park also changed with the times. Nowadays, you'll find the space spruced up and modernised — walls set with rustic clay tiles, a sleek backlit counter, and generous streams of sunlight flowing in.
Thankfully, it still retains much of the endearing aspects of Nylon Coffee we'd grown to love. There's still the sprawling communal table suited for a quick stand-and-sip and the same nondescript benches set outside for those who prefer to relax in the open air.
Consistency is King
There's one thing you must know about Nylon Coffee — it only sells coffee. It's run by bona fide coffee geeks who assiduously roast their own beans in-house.
That alone is a testament to the coffeehouse's competency in brewing the most satisfying cuppas, keeping a healthy flow of customers over the years even without any food options.
In a way, Nylon Coffee is an institution. They were one of my first introductions to speciality coffee in Singapore and till today, they remain one of my go-to's for a comforting cup of White ($5/$5.30).
This cup of white isn't mind-blowing but what's mesmerising is how they kept it consistently good over all these years. Always been immensely smooth and balanced with elegant floral notes, ever since my first cuppa from them.
Similarly, Nylon Coffee's Filter Brew ($6-$9) curation isn't inherently flashy and exotic tasting notes don't make cameos regularly. What the cafe has though, is finesse. Most cups I've had turned out extremely well-extracted and balanced. They rarely miss.
My last memorable cuppa was a few months back from them — an Ethiopia Bensa ($7) which was impossibly clean and crisp, with the mellow but pronounced fruitiness of tangerines coming through clearly.
As the sign at the back of the shop says: "life is too short for bad coffee." Nylon Coffee Roasters is the epitome of that. Reliable. Consistent. Perpetually improving.
There may not be many bells and whistles here compared to the trendiest new cafes but what they have is sincerity and a passion for coffee, and they have those in spades.
Check out their online shop for their house-roasted beans and other brewing accessories.
Nylon Coffee Roasters
Website | Facebook | Instagram
Address: 4 Everton Park, #01-40, Singapore 080004
Hours: (Wed–Fri) 8:30am–4:30pm, (Sat–Sun) 9am–4:30pm