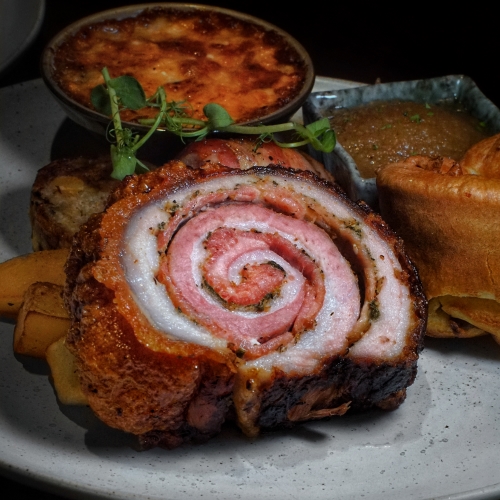 Thirty Six Brewlab & Smokehouse welcomes Christmas with a Jovial Sunday Roast Special
Sunday roasts are perhaps one of the most under-represented gems of British cuisine in Singapore. While fish & chips are getting plenty of coverage, only a handful of swanky restaurants indulge in the heartiness of a Sunday roast. Getting in the mood for the festivities, Thirty Sixty Brewlab & Smokehouse are inviting guests to feast over the Christmas weekend with a Sunday roast special on 24 Dec 2022 and 25 Dec 2022.
There are perhaps not many places as suited for this uptake as this rustic gastropub hidden out of sight in a quiet cranny branching out from busy Club Street, a spot that could easily be missed.
Marked to be a hangout for Lion Brewery Co's fans, Thirty Six Brewlab is as intimate and homely as a pub would get on this glamorous side of Singapore. Here, the focus is on beer and having a good time as fresh craft beers rushed out of the taps into a mad flurry of pint glasses throughout the night.
While rustic and unostentatious, the Thirty Six Brewlab decor isn't really your typical pub either — for a restaurant in Ann Siang Hill, it'd obviously be expected to be lightly dressed up, as unpretentious as it might be.
But there's nothing elaborate and flashy in its DNA. The space just has the plushest seats and minimally embellished tables, with the ambience bolstered by some simple neon signs and quaint al fresco fairy lights that blend in naturally without distraction.
A WHo-Ho-Holesome Feast
Our jolly Thirty Six Brewlab Christmas Menu ($136/pax) is a four-course menu that starts off with some bite-sized amuse bouche in a set of three — Prawn Cocktail, Beetroot Caviar Tart, and Wild Mushroom Bruschetta.
Given these were just the pre-show, there's nothing too complex to them but the zing of beetroot caviar and refreshing shrimp cocktail crispness were perfect for priming your tastebuds for the meal proper.
The starter section gives you a choice between Hamachi Tartare, Foie Gras Duck Terrine, Jamon Iberico Bellota, and Heirloom Cherry Tomato Salad to fill up your table with a diverse range of flavours.
All of these are great for sharing but the Foie Gras Duck Terrine and the Jamon Iberico Bellota were what tickled my fancy, both featuring immense umami in the main protein which was harmoniously synchronised against a fruity vibrancy — fig jam for the former and rock melon for the latter.
But I'd argue that the mains, inspired by the hearty Sunday roast, were where Thirty Six Brewlab really shined in this year's Christmas special. Naturally, not all focuses are executed with equal proficiency but it's always great to try to satisfy everyone's festive cravings between the New Zealand Ribeye, Slow Roasted Turkey Breast, Gammon Ham, Crispy Rolled Pork Belly, Slow Roast Leg of Lamb, Norwegian Salmon or Nut Roast.
Of the bunch, the Crisp Rolled Pork Belly was easily the one that stole all the hearts as its crispy outer layer snapped raucously and its echoes bounced about the room. Seasoned pretty well too, this is a decadence that won't disappoint if you're looking for a simple jolly good time.
Our biggest surprise though was the Nut Roast. Given that vegan options are almost always an afterthought, Thirty Six Brewlab's nut roast was a stunning amalgamation of various nuts, resulting in a soft, spongey main tinged with a gentle sweetness that balanced out against the heavier earthy undertones.
While not as exceptional, the Roast Lamb and Gamon Ham are also rather decently done proteins that fit in perfectly with the tried-and-tested Christmas flavours. Good for sharing in a big group, together with the sides like Yorkshire pudding and cauliflower cheese.
Desserts were rather straightforward — a Christmas Fruitcake with Chocolate, Black Forest Cake, or 36 Beer A Misu to end. The latter two were pretty enjoyable routine Christmas desserts but the Fruitcake stood out, given a heady dose of premium Cognac sauce that spiced things up quite a bit. And hey, a little more booze to finish your Christmas feast will never be a bad idea.
As its decor and concept suggest, Thirty Six Brewlab & Smokehouse isn't a place with abstract haute cuisine concepts. Ultimately, that's what makes this Club Street gastropub a felicitous location for a Christmas feast where you can just let loose — and get your mid-riffs ballooning for a realistic Santa Claus cosplay.
Make your reservations here.
Thirty Six Brewlab & Smokehouse
Website | Facebook | Instagram
Address: 36 Club St, Singapore 069469
Hours: (Sat–Thurs) 11:30am–12am, (Fri) 11:30am–2am
*This was an invited tasting.