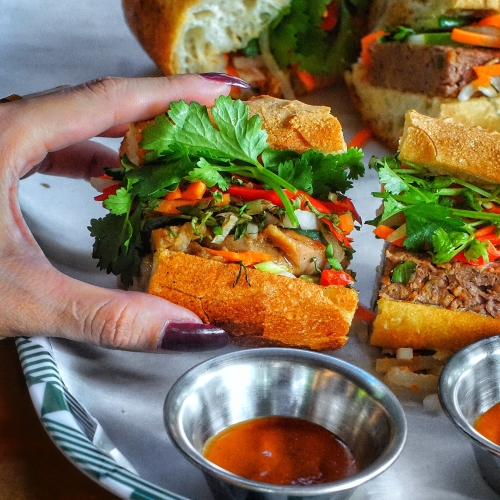 Nonette Banh Mi sets up in Singapore at Tiong Bahru Bakery, from Paris with Love
It's well known that the French can be somewhat uppity when it comes to their proud culinary heritage. Hence it's no small feat that Nonette, a Parisian Banh Mi deli, has become a huge hit on French home turf.
Vietnam has a long entangled history with France and, for better or worse, many aspects of French cuisine remain important. Banh Mi, one of the most iconic street foods, heavily features Baguette, after all.
Helmed by Chef Khánh-Ly Huỳnh, a MasterChef France champ, it focuses on serving the most elevated but authentic flavours, stuffing the sandwiches full of ingredients made from scratch.
For a weekend only, Nonette has flown over to Singapore for a quick vacation, setting up shop against the backdrop of Tiong Bahru Bakery's idyllic al fresco setting located at the foot of Fort Canning.
From 25 November 2022 to 27 November 2022, you'd find them slinging sandwiches out of Tiong Bahru Bakery's Foothills outpost, accompanied by chic natural wines from Drunken Farmer.
Paris Meets Saigon
The Tiong Bahru Bakery pop-up will feature three delectable variations of Nonette's Banh Mi, each distinct in their own right, slapped on with a price tag of $12. Considering the premium AOP Butter used in their Baguettes, it's not the most outrageous price tag for an upscale cafe in Singapore.
All Banh Mi start from the Baguette and the foundations here were solid. It's not the most exceedingly crunchy but its crumb held the right amount of chewy without exhausting the jaws. Not to mention, it's jazzed up with a layer of Bordier butter, which some claim to be the most exquisite artisan butter from France.
While pork is often the de facto star in these Vietnamese sandwiches, Nonette surprised me with their #31 Poulet Roti ($12), a Banh Mi built around succulent soy and garlic roast chicken thigh.
Splendidly juicy and dosed with a gratifying layer of umami, the heartiness is then evened out by the ensemble of fresh veggies and a complementing garlic egg mayo. Simplicity is beauty.
To fit the Singapore context, Nonette also decided to incorporate minced jackfruit into their Banh Mi for the #13 Jacquier a la Citronelle ($12). Not much in the way of intricacy, just a straightforward suite of veggies to accompany the star of jackfruit.
The minced jackfruit block, enriched with a spiff of lemongrass, wasn't much characterised by the fruit's inherent funk and instead made for an easy chow down as the familiar Southeast Asian flavours peeked out.
Interestingly, it's the #21 Dac Biet Chef Special ($12) that appeared the most unexciting, even with the gamut of homemade cold cuts neatly folded onto the Baguette base.
Not to say it's bad —it's pretty solid— but there's a lack of je ne sais quoi. I suspect that, for an unobtrusive timeless classic such as this, it's more likely to impress when you dig in fresh out of Nonette's Parisian bistro instead of the brief Singapore pop-up.
Nonetheless, it's fair to say Nonette has put forward a solid account of its Banh Mi at this pop-up at Tiong Bahru Bakery. Pop-ups cannot essentially replicate the true quality and even still, this was easily one of the better Banh Mi you'd be able to find in Singapore.
Nonette Banh Mi x Tiong Bahru Bakery Foothills Pop-Up
Website | Facebook | Instagram
Address: 70 River Valley Rd, #01-05 Fort Canning Park, Singapore 179037
Hours: (25 Nov to 27 Nov) From 9am until sold out
*This was an invited tasting.