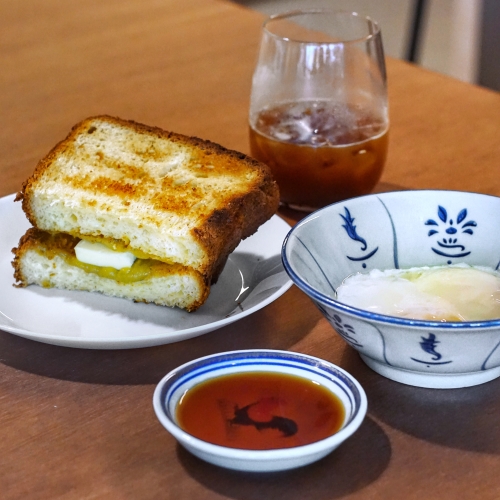 Balestier Market Collective Provides Epigram Books, Specialty Coffee & Kaya Toast
Despite the name, you'd find that Balestier Market Collective isn't located in the Balestier neighbourhood — or a location bearing any semblance to a market. In fact, this specialty coffee bar is actually hidden within the uppity vicinage of SAM at Tanjong Pagar.
While the general trend of specialty coffeehouses is to be slightly artsy-fartsy, Balestier Market Collective really takes it to the extreme — they are also partnering with Epigram Books for their new book cafe nest.
What results from that is a nicely decluttered space with simple communal tables squared in front of an austere white counter. Most of the decor takes the lead from the technicoloured literary collection at the side, masquerading as furniture.
Of course, no amount of book-centrism can take away from the core utility of Balestier Market Collective. It is a specialty coffee parlour given the full support of local roasters Quarterlife Coffee.
The local roastery is a prolific supplier in the local cafe scene and the owner Byron is quite the enthusiastic aficionado, so you can expect top-notch brews here.
Kaya Toast & Specialty COffee?
There is no doubt that kopi is the beverage of choice when it comes to kaya toast. With their combined nostalgic, rustic flavour, it's almost illegal to not pair them together.
However, there is a peculiar niche of elevated kaya toast that actually works exceedingly well. It is a small niche though, so Balestier Market Collective's entry is a welcome one.
What Balestier Market Collective serves is a very simple soft Kaya Toast ($6) variety. Pretty much what you'd expect from a solid kaya toast — fluffy bread, slight char, smooth and fragrant kaya, and a chunk of rich butter.
On the side is a bowl of soft-boiled eggs given a sous vide spa to ensure flowy, jammy yolks. Add a dash of Yuzu soy sauce but don't go overboard because it does get a tad too salty.
On the flip side, the other medium-sized dish of Otah Musubi ($10) threw a bit of meat into the mix to be slightly more hearty.
Some tender, chunky otah embedded within seaweed but it's pretty one-note. The additional furikake and lime seasoning didn't quite come through, so it was rather monotonous.
Coffee is King
All the kaya toasts and otahs aside, a trip down to Balestier Market Collective's quaint SAM hideout isn't complete without indulging in a cuppa or two.
There is a diversity of roasts on display that stretch the filter coffee spectrum — Quarterlife Coffee procures some rather interesting beans to suit different palates, even mixed heirloom varietals.
From what I tried, the most memorable of the wares available at Balestier Market Collective is the Santa Teresa Mexico Single Origin.
Stemming from its natural processing, there's a quirky funky touch in the middle but its overall profile is quite an interesting full-bodied chocolate.
Overall, it mellows out quite well with dilution to achieve a winier fruity body — and that kind of dynamic profile is what shows Balestier Market Collective is more than just your run-of-the-mill cafe.
Ultimately, Balestier Market Collective is a concept focused on brewing the best cuppas. Still, the endearing snacks, charming bookstore ambience, and quiet space make it even better to chill.
Balestier Market Collective
Address: 39 Keppel Road, Tanjong Pagar Distripark, #01-02 Singapore Art Museum, Singapore 089065
Hours: (Mon–Sun) 11am–6:30pm