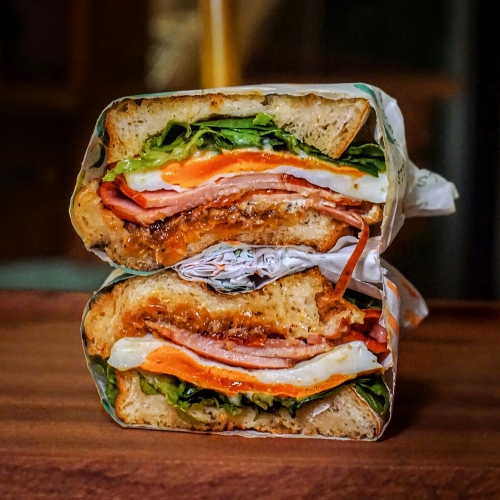 Surrey Hills Deli is A Wholesome Sandwich Deli perfect for quick lunches in the CBD
Lunch hour in the CBD is the epitome of disorganisation where snaking queues and tissue-packet placeholders make their cameo and the office mob struggles to find a place to settle down for lunch. If you're one of the CBD denizens looking for a quick fix, the new Surrey Hills Deli would check all the boxes.
Easily accessible from Raffles Place MRT, the sandwich deli is the newest venture by the popular all-in-one lifestyle shop and cafe, Surrey Hills Grocer.
As with the two outlets that preceded it, the rustic deli is decked in cosy and inviting farmhouse-esque fixtures, given a splash of greens, and bathed in warmth wafted by an array of free-hanging lightbulbs.
The space isn't big by any means but there's plenty of space, especially for solo diners, who might wish to snuggle into one of the window counter seats and watch the world pass by.
Simplicity does the job at Surrey Hills Deli — no-frills, homely, but still tasteful. A perfect spot to grab and go or have a quick lunch, with a plethora of hearty sandwiches and coffee ready to perk you up.
A Wholesome Lotta Heart
There's no doubt that sandwiches can be compact packages but also tremendously hearty. However, Surrey Hills Deli straddles that fine line with finesse in creations such as the Truffle Up ($22).
Truffle sandwiches, more often than not, end up incredibly decadent. This here was immaculately balanced, tasting wholesome and rich while perfumed with a tasteful hit of truffle. Not overwhelming and just enough to complement the richness of caramelised onions and smoked ham.
Bearing similarities in layering, the Seize The Moo-ment ($24) also presented itself with some fine balance, even if it was a decadent pastrami sandwich at heart.
The Surrey Hills Deli signature pastrami sandwich is packed with tight folds of pastrami so expect plenty of umami oomph. But the brilliance in this sandwich came from its chemistry with its bedfellows of pickles, sauerkraut, mustard mayo, and toasted rye bread.
It didn't only introduce contrast to cut through that heft but a range of nuanced acidity that added layers so it wasn't one-note. That said, I felt it lacked some overall flair to make it one of the most memorable pastrami sandwiches, well-balanced as it might be.
Through it all, one admirable observation was that Surrey Hills Deli's offerings made me feel full but not overwhelmed — a regular occurrence when it comes to sandwiches. That makes it the perfect quick CBD lunch fix for anyone averse to jostling the crowd in the hawker centres.
Surrey Hills Deli
Website | Facebook | Instagram
Address: 6 Battery Rd, #01-02 Bank of China Building, Singapore 049909
Hours: (Mon–Fri) 8am–10pm, (Sat) 9am–5pm