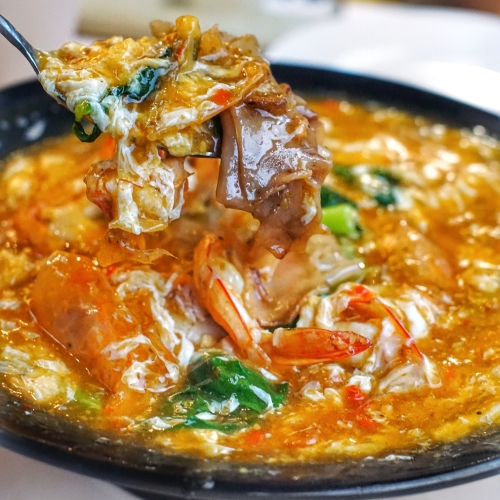 New Era Dawns at the swanky new outlet of Kok Sen, Keong Saik's Iconic Zi Char Restaurant
While on an evening stroll through Keong Saik Road, most sights would naturally gravitate towards the monstrous queue that used to form in front of shop No. 30, the long-time home of Kok Sen, the zichar restaurant that had become an icon of the trendy neighbourhood.
Sadly, for those who'd developed a sense of sentimentality for the nostalgic stripped-down space, Kok Sen has moved its entire operation a few doors down the street to where Fung Kee used to be.
The new restaurant is a lot more modern, more commonly beset with neon signs, and looks drastically different from that dingy Kopitiam vibe many associated with the name. Many would call it the gentrification of an established name but the crowds queueing for it are still as insane as ever.
Before the Move
Simply an imperative order, the Claypot Yong Tau Foo is a dish that I'd indulged in on multiple occasions — it's Kok Sen's smokiest, most satisfying zichar item by far.
On both visits before and after the visit, it was undoubtedly the standout item. A dish with an array of perfectly textured items —including soft, tender eggplant and easily crumbled tofu— and a profoundly intoxicating sauce, imbued with an intoxicating touch of wokhei.
Classic zichar decorum dictates that you'll need to order a plate of carbs and the choice of Dry Beef Hor Fun was a surprising hit. A good plate of hor fun has to be simple, hearty, and, above all, beefy — and Kok Sen's version hit all of those expectations.
Pronounced wokhei comes as the first flavour note before a controlled dose of sweet-umami takes over, underscored by moist, silky rice sheet texture and juicy beef slices made much more tender than your regular Singapore zichar restaurants.
New Year New Me
I hadn't been a regular patron of the restaurant so I'm not an accurate judge of whether statements like "new Kok Sen standards dropped" hold true. Purely based on its merits as a plate of saucy decadence, their signature Big Prawn Hor Fun performed pretty well.
Though I preferred the beef rendition, the supremely comforting gravy exudes plenty of charm, tasting like an amalgamation of hor fun and prawn mee — a touch of spice, a spurt of twang, and loads of richness. Finished with plump, fresh prawns? It's easy to tell why it's one of Kok Sen's all-time crowd-pleasers.
Following the trend of well-prepared crustaceans, the Salted Egg Prawn Rolls was another dish that featured fresh bouncy prawns, just curled up and buried under a lightly fragrant salted egg sauce.
Besides the delightful prawn textures though, the sauce proved slightly anaemic and not punching with that same assertiveness that most other zichar salted egg sauces boast of. Still greatly enjoyable, just probably won't floor you with its richness.
I think Kok Sen doesn't have anything to prove — it's meant to be stripped-down and homely comfort food which they do as impressively as any other restaurant in Singapore.
There are no arguments that prices are steep for a zichar. However, considering the expensive locale, I'm guessing the queues aren't waning soon even with mumbled disgruntlement of "falling standards".
Make your reservations here (5 pax and above only).
Kok Sen Restaurant
Website | Instagram | Facebook
Address: 2/4 Keong Saik Road, Singapore 089110
Hours: (Tues–Sun) 12pm–2:15pm, 5pm–9pm