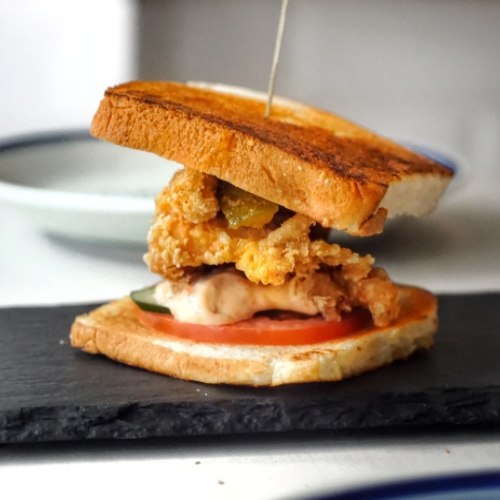 Nutmeg & Clove Marries Singapore Flavours with Sleek Bartending while serving free Chicken Sandos
Nutmeg & Clove is a legendary name in Singapore's bar scene. Love it or hate it, there's no doubt the bar is one of the trailblazers, leading the charge for local speciality craft bars in the early 2010s with its inspired incorporation of regional flavours.
The bar may not be the hippest name nowadays but it's an institution. Along with luminaries such as 28HKS, Jigger & Pony, and Manhattan, it was one of the bars destined to make bar culture chic in a time when the term "speakeasy" barely carried any significance in the Singapore vernacular.
Led by bossman and industry legend Colin Chia, it didn't merely advocate for refinement back at its original Ann Siang Hill operation. It pushed the envelope. Married local flavours to mixology the same way trendsetters like Willin Low did for the culinary scene.
Almost a decade later, Nutmeg & Clove is thriving as a homegrown icon. Take a stroll down Purvis Street, where it's now located, and you'd be greeted by a bevvy of signboards erected by Colin and his group, including the refined Last Word and rowdy Fizzy Dayz.
Even amidst the expansion though, the attention to the flagship never wavered. Colin continued to bolster the cast, adding names such as former HK & Macau Bartender of the Year Shelley Tai and respected local veteran Sim to the roster.
So it's no surprise when the stalwart found its way onto the 2022's Asia 50 Best Bars ranking at the No. 36 spot, even after it lost some of its rustic local charms to the refined whites and pinks spread throughout the Purvis outlet.
Golden Social Hour
Even if all that rambling on its rich heritage didn't convince you, there's one huge upside to visiting Nutmeg & Clove — the Happy Hour deals that run from 5pm to 7pm.
Don't expect breathtaking ingenuity but the range of drinks, including Negroni, Lychee Martini, and Ondeh Ondeh Highball, are more than satisfactory for $15. Getting a solid classic Negroni crafted with house-made vermouth for that price? Undoubtedly great value.
Nutmeg & Clove further rewards early alcoholism with complimentary free-flow Crispy Chicken Sandwiches, each featuring succulent fried chicken thighs as the star and supported by a unique ensemble of sambal mayo and achar.
This is comparable to its regular food menu items, most of which are also imbued with familiar Asian flavours. Can't believe the bar gives them away for free — probably one of the best happy hour deals in Singapore.
Fusion & Love
On the other hand, it's the ingenuity of regional inspirations in its tipples that made Nutmeg & Clove such a household name. So if you're craving a little bit more complexity and flair, you have to dive into Vol. 6: The Cocktail Diaries.
This is the bar's latest menu — a distillation of flavours and memories into original libations. The drinks are presented in a whimsical format through a series of travelogue entries musing historical insights found throughout the island.
Of course, not everything is a bodacious and avant-garde integration. Many are sensible and discreet such as the Lah Leh Meh ($24), an endearing Coffee Manhattan riff jazzed up with green coffee and genmaicha.
Despite its idiosyncracies, it turned out to be a more conventional tipple — smooth, slightly punchy, and heartily accented with a dose of toastiness.
Going down the slider of "weirdness", there's the Can Bubble Gum? ($24) which sees Nutmeg & Clove start flaunting some of its eccentricities with an infusion of distilled tabasco into a medley of mezcal, lemon, strawberry, and bubble gum air.
An extremely easy-to-sip drink, regardless of what the ingredient list might tell you. It congruently ties in faint tabasco with the mezcal base's smoke, further softened by the delightful fruity vibrance of the lemon and strawberry.
But the Pepper Meets Ramos ($24) was undoubtedly the biggest oddball. Regulars know the Ramos is actually one of Nutmeg & Clove's iconic drinks but this variation spices things up, adding a controlled twinge of white pepper to titivate the sweet, creamy base. A slightly acquired taste but not as jarring as expected.
So, here's the thing — the mixology is smart, takes smart risks, but ultimately keeps everything as accessible as possible, even if the ingredient list could be daunting.
The current incarnation isn't a bar of boundary-destroying mavericks but rather creative souls who enjoy injecting a touch of local spice. Everyone can have fun here, especially since happy hour at Nutmeg & Clove is absolutely wonderful — more chicken sandwiches, please!
Make your reservations here.
Nutmeg & Clove
Website | Facebook | Instagram
Address: 8 Purvis St, Singapore 188587
Hours: (Mon–Thurs) 5pm–12am, (Fri–Sat) 5pm–1am