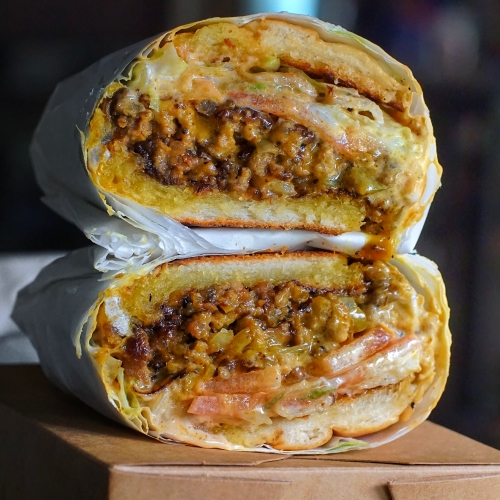 Quality Melts is the Hidden Gem making Singapore's Best Ugly Beautiful Sandwiches
There is always beauty to be found, even in the most humble and stripped-down locales. Singapore may be a luxurious and modern metropolis but that is doubly true for us, a city as impassioned about our humble hawker food as much as our Michelin-starred concepts. Being a sleek transplantation of New York into Singapore, Quality Melts is a concept that thoroughly fulfils this ethos.
Operating out of a quaint shophouse in an awkward midway between Tanjong Pagar and Outram Park, this Cantonment Road newcomer is anything but flashy. It's a rough-hewn concept, a diamond in the rough waiting to be unearthed.
As bodega corner shop delis are to New York, kopitiams are to Singapore — it's accessible grub for the masses, it's the soul of the city. Thus it's unbelievably fitting that Quality Melts brings one of the comfort foods of New York into a coffee shop.
Quality Melts is a new entrant that didn't manage to ride the social media waves as certain trendy new openings did but night owls who partake in the bar scene will tell you this is the hidden gem for late-night chow downs after a wild night out.
It's run by a former Sago House crew member after all. Head honcho Edwin runs the show solo and gets his elbows greased and dirty — just as the essence of its product, the New York Chopped Cheese, demands.
Hard to Explain
Ah, the chopped cheese. A most unadulterated and straightforward comfort. There's not a single superfluous element in this. I adore how the Beef Chopped Cheese ($12) boasted of a flavour profile that's profoundly uncluttered despite being a messy motley crew of ingredients.
It's a no-frills assembly but the toasted milk buns at the base make a great textural difference. The textures are immensely persuasive, as the pillowy buns provide firmness on the edges to hold everything together including the avalanche of cheesy beef — but just barely.
Quality Melt's hearty signature just screamed flavour, and nothing else — the main highlight was simply the torrential juices that haemorrhaged from the mound of charred-up beef. Cheese added another additional dimension of richness but didn't detract from its foundations, and not muddling the profile with unnecessary complexity.
Kewpie mayo, charred onions, and tomato then add a subtle yet noticeable Midas touch of sweet twang, slightly mitigating the bold beefiness all while adding their own distinct brand of decadence. Everything just felt like a congruent whole — Quality Melt had everything tuned with perfect synchronicity towards a singular focus of richness.
Options are also not limited to the beef chopped cheese sandwich. For those not appealed by the distant cousin of the Philly Cheesesteak, Quality Melts also allows for choices of Pork ($11) and Cauliflower ($12) as the hero protein of your chopped cheese.
On the other side of the signboard, the stall also puts up a few sides for those that need a bit of carby boost — $5 Coleslaw and Tater Tots and $15 Loaded Tater Tots and Burnt Ends. The tater tots might not have much to wax lyrical about but they do the job perfectly with the perfect crisp-to-moist-innard ratio.
It's hard to really fully eloquently quantify why this simple sandwich feels so satisfying unless you taste it yourself. As New York rock icon The Strokes put it: "I'll try but you see, it's hard to explain."
But at the end of the day, there's an irresistible charisma to a hawker stall that serves up unpretentious, unostentatious, and heartwarming comfort food. Sometimes, food doesn't need much complexity if the execution is right and Quality Melts surely brings all the earnest comfort you'll need from a sandwich, almost in a way reminiscent of early-era Park Bench Deli.
Quality Melts
Website | Facebook | Instagram
Address: 243 Cantonment Road, Singapore 089770
Hours: (Mon, Wed–Thurs, Sun) 11:30am–9:30pm, (Fri–Sat) 11:30am–3:30pm, 7pm–12am