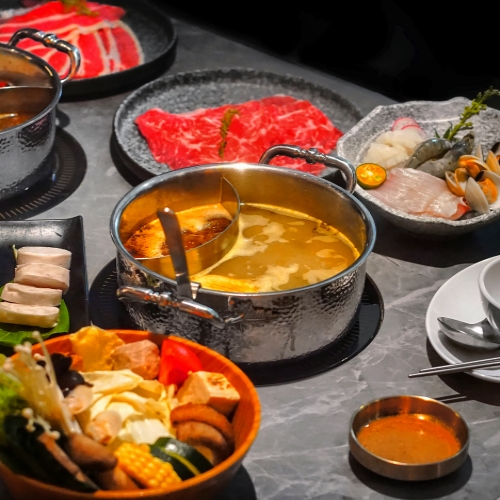 Xiabu Xiabu is Singapore's chic new solo Hotpot Haven with Glorious Milk Tea Options
Hotpot restaurants have become an exceedingly common sight within Singapore's malls. Singaporeans relish the experience of huddling around and submerging their fresh ingredients into a pot of bubbling broth. What about those moments of craving when you struggle to assemble a party? Here's Singapore's newest solution to that problem — Xiabu Xiabu.
Unlike most of the titans in this circle, Xiabu Xiabu doesn't focus on grand social gatherings but instead carved out its own niche of serving individual hotpots.
More than that, the brand is essentially a king of solo hotpots in China with over 1,000 outlets scattered throughout the mainland. Singapore marks its first venture outside of its motherland and local operations are handled by the same folks who initially brought in its highly lauded sibling concept, Coucou Hotpot.
Strategically situated atop Bras Basah MRT and within walking distance of SMU, Xiabu Xiabu can be found housed in a surprisingly sleek unit on the ground floor of the Lazada One Building. Everything felt veritably glossy and modern.
Brushed metal trimmings and warm orange accents filled out most of the floor space while the restaurant's floor space was tied together by a swanky elevated communal counter. The restaurant doesn't feel massive but shrewd space allocation provides a sense of privacy between diners at nearby dining tables.
Elixir for the Soul
Every meal at Xiabu Xiabu starts with a Set Menu (starting from $25) order based on the preferred hero protein. Along with it is a plethora of customisable hotpot components as supporting cast, including a broth base, a beverage, free-flow condiments, and a dessert bar. Diners are granted free rein over the minutiae of their meals.
Each set comes with a wholesome array of greens and miscellaneous items loaded inside a wooden bowl, as well as a mini section in each hotpot filled with their signature mushroom broth.
Broth-wise, Xiabu Xiabu's default Mushroom Soup was the standout for its rich, hearty, and subtly funky profile. The Stewed Pork Tripe and Chicken Soup (+$2) though was almost as comforting and a tad more familiar — it was reminiscent of potent, peppery Bak Kut Teh but flaunting a fuller, creamier mouthfeel.
On the other hand, the Golden Sauerkraut might be an acquired taste but it easily accumulates a sumptuous complexity after an abundance of ingredients is thrown in. This unique broth was sharp and acidic at its base but also carried a mild savoury sweetness — great for imbuing a mellow piquancy onto lighter seafood and veggies.
Xiabu Xiabu understands the importance of sauces as important elements that would enhance the meal and hence the condiments kiosk is efficiently set up to house a plethora of ingredients, including its fragrant housemade sesame sauce, soya sauce, vinegar, and the like.
However, the more captivating fixture here had to be the free-flow fried tofu and variety of noodles left out for diners — talk about decadence.
Da Hong Pao and Aged Pu Er are the default beverage options but the restaurant allows diners to pay the difference in prices to swap them out for a drink that better suits their palate.
My Coucou visit had turned me into a fan so I unhesitantly made a swap for Tea Mi Tea's Da Hong Pao Bubble Tea (S$5.80 a la carte, S$2.20 top-up in set). Still as tea-fragrant and pleasantly milky, while not being cloying in the least — I might not be a bubble tea lover but this has my heart.
You will leave full
Here's the unfortunate fact about Xiabu Xiabu — the fullness surreptitiously creeps up on you. It's an easy trap to fall into between all the free-flow carbs, bubble tea, and desserts. Pace yourself because their headlining ingredients can be rather splendid, like the Australian Oyster Blade in the Popular Beef Set (S$28).
While a cut like the USDA Choice Shortplate might win some over with its higher fat content, the Oyster Blade cut ultimately rumped it for me. It may be leaner but it boasted a terrifically tender beefy bite while also having the blessing of intermittent scores of fat carved into its dainty marbling, and comes up immensely succulent after a brief free-diving trip into the broth.
The Small Seafood Platter that came along in the Seafood & Beef Set (S$38) was alright but nothing too dazzling. Items such as the clams and prawns were decently fresh but otherwise run-of-the-mill.
The soft, mild-flavoured Tilapia Filet and bouncy Squid fared better though, especially when injected with a touch of complexity from the sauerkraut since their milder profiles made them perfect conduits.
Moreso than the protein and seafood, Xiabu Xiabu perhaps astounded me more with the Vegetables Platter. Everything was kept crisp and pristine, waiting to be thrown into the hot broth and it even included bonus items such as clams and meatballs.
As usual, I couldn't stop tossing in the myriad of Mushrooms which consistently resurfaced pregnant with juices. Other than that, the unexpected star in this platter wasn't even a vegetable but the Pork Ball — surprisingly tender, bouncy, and not the stale variety you'd find at some other places.
Seeing how this was so widely ordered, a portion of the Squid Paste (S$10) was also in order. These were similar in texture to the regular squid, except fleshier and more luscious to the bite due to the compactness.
Sadly, that was the end of my meal at Xiabu Xiabu because the fullness crept up on me in a way I'd never experienced at any other hotpot restaurant in Singapore. Even without tapping into the potential of their dessert kiosk, I will say this was an immensely gratifying meal.
Honestly, this new restaurant surpassed my expectations the same way Coucou did. Here, prices are kept reasonable and broths are well-concocted while the ingredients are of good quality. Combined with the hedonistic value of milk tea, free-flow carbs, and DIY desserts, a good time here is guaranteed. It's undoubtedly a conducive spot that both groups and solo diners will enjoy.
Make your reservations here.
Xiabu Xiabu
Website | Facebook | Instagram
Address: Bras Basah Rd, #01-03/04 Lazada One, Singapore 189554
Hours: (Mon–Sun) 11am–10pm
*This was an invited tasting.