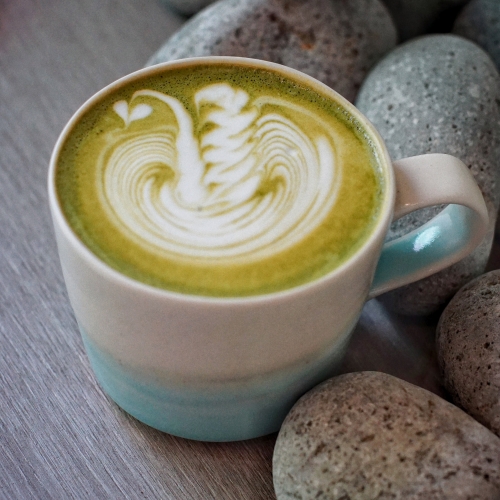 Kurasu — The Specialty Coffee Sanctuary For Dirty Matcha Lattes & Japanese Minimalism
There's not much more needed to be said about Kurasu, a familiar pillar of Singapore's specialty coffee scene. They've always had legions of fans, even from the days when they were hidden out of sight in a co-working space at Odeon Towers.
Some things don't change — Kurasu's relocation last year still sees it hidden out of sight again, just at Waterloo Centre a few streets down instead.
It's traded away the intimacy of the cramped kiosk for a roomier cafe that invites more sunlight to fill up its confines. Also, a space that is more accommodating of the upsurge in patrons.
In many ways, Kurasu is the poster child for wabi-sabi aesthetics. The decor is almost naked comprising mainly uninterrupted stretches of wall, stained in a homogeneous shade of sedate cream, then sparsely partnered with accents of wood.
The stark minimalism is inescapable as your first steps meet its exposed floors, grainy pebbles slotted in snuggly, and your gaze falls upon the group of unostentatious concrete block seats marking the center spot.
A splash of plants, a sprawl of pebbles, and an array of warm lights then imbue that coziness that the coffeehouse was always known for.
Kurasu is simply a great spot to unwind and bask in chic Japanese sophistication — at certain times of the day. Sometimes, it does get very hectic and not quite the bastion of relaxation its appearance may suggest.
Coffee… MatchAs… the Vibes
Kurasu is perhaps best known for one thing — their Dirty Matcha Latte, dubbed as one of the best in Singapore. The cafe stalwarts had finetuned their take on the popular drink long before its popularity boom.
Their creamy Iced Matcha Latte ($7) on its own is a pretty dependable take on the popular green concoction but it does skew slightly sweeter — though not cloying.
However, my go-to drink for the past four years has still remained the Iced Dirty Matcha Latte ($7.50) — it's the most immaculate balance between the veritable bitterness of matcha and the nutty depth of espresso. The best of both worlds.
Where Kurasu stands out is in the gentle sweetening of the drink, helping the two elements blend seamlessly into each other in perfect harmony.
Being a Japanese specialty coffeehouse means Kurasu is also well-versed in the art of hand-drip coffee. With their time-tested coffee program, even serving hotspots such as platform, you get the whole range of well-balanced possibilities.
Though perhaps one of my favourite brews was one that deviated from the spotlessly clean and elegant profile Kurasu is known for, a Guatemala Anotnoio Colom that was bright, floral, and tinged with a beguiling kiss of orange gummy candies, as its tasting notes advertised.
Does it Spark Joy?
The food menu at Kurasu, on the other hand, might have taken Marie Kondo too seriously on stripping things down. Truth be told, the food appears rudimentary at first glance.
That said, the choice of food is more than adequate for a coffeehouse tailored towards brewing pristine cuppas. When space constraints force you into simple apparatus, you can only go with the flow.
If anything, the Pancakes ($8) do spark joy as airy, chewy little discs of what look like exact replicas of the emoticons. There are no embellishments, reminiscent of McDonald's hotcakes.
This is simplicity embodied by a succinct mix of buttery fluff and light golden syrup. Kurasu's execution isn't the issue but a price point of $8 for essentially three slices of plain pancakes might be a hard sell for some. Comparative to other cafes though, the price isn't too ridiculous.
In contrast, the Toast with Butter ($5) wasn't the most agreeable value proposition. I think it's tough to qualify it as "thick milk toast" and, size disregarded, it tasted mostly like mundane slab toast slapped on with French butter. A good companion to coffee though, I won't deny.
At the end of the day, Kurasu is a cafe that does its brews exceptionally well and won't disappoint you with the coffee, matcha, or aesthetics. Food options, while not the best value proposition, are solid and good coffee companions — be your own judge if they are worth it for a relaxing afternoon sojourn .
Kurasu Coffee
Website | Facebook | Instagram
Address: 261 Waterloo St, #01-24, Singapore 180261
Hours: (Mon–Sun) 10am–6pm