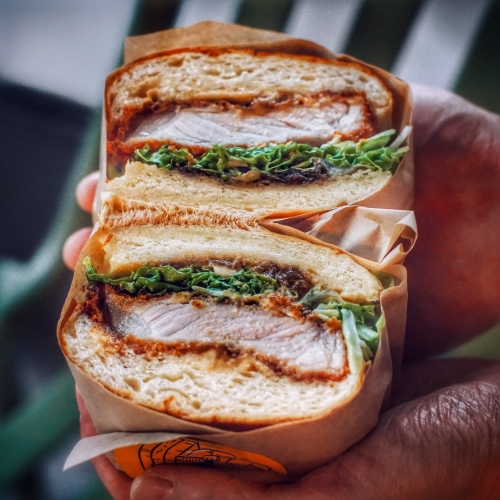 SANDO at Alexandra Technopark — a Hidden gem that personifies affordable, Artisan Excellence
Fate is a strange thing. It often leads you to the most serendipitous moments. My voyage to Alexandra Technopark had only a sole focus towards scouting the new Mooi Patisserie but —call it a coincidence or a stroke of luck— it led me to the quaint little unit that housed Sando, in a reunion of a lifetime.
My last encounter with it seemed like aeons ago —pre-pandemic— when it found a convenient spot in the CBD to open a takeaway kiosk. While I was blown away by their sandwiches, that shoestring Cross Street Exchange space now felt merely like a distant memory.
Instead, it was obvious from the ebb and flow of the crowd at Alexandra Technopark that Sando has found itself a community where it is given the adulation it deserves.
At lunchtime, you'd find ebullient cliques, found huddling about different benches in the space, happily chowing down on their sandwiches. Seats are almost fully taken even on a lazy Monday and the takeaway crowd is replenished continuously throughout service.
It's little wonder why. The space, in all its austere, rough-hewn industrial minimalist splendour, feels immensely cosy while also almost reminiscent of a unacknowledge takeaway haunt rather than a prim and proper cafe.
A pop of greens by the entrance and a smattering of Sando's distinct viridescent-hued aluminium park benches also gives the illusion of eating your lunch at a quiet CBD outdoor plaza — but with the welcomed respite of air-conditioning.
Golden Standardo
As much as this claim reeks of hyperbole, I stand by it — the Alexandra Technopark sandwich maestro crafts the best damn Pork Katsu Sando ($15) in Singapore.
Undoubtedly, the competition for the beef variety is much fiercer in Singapore but this hidden gem assembles a damn good rendition, at an affordable price point too.
Splendidly buttery and toasty buns clasped snuggly around a gratifyingly fried pork katsu, lined with a rich and piquant sauce and finished with a confetti of greens — perfect simple comfort.
It articulately embodies the art of simplicity, which I personally respect as the key tenet behind creating the best Tonkatsu Sandos. Not overwrought and focused entirely on its inherent heartiness.
New Friendos
Right behind the cashier, there's a sign that gets updated frequently — the specials board. Think of it as a licence to experiment. A thought that excited me so much that I eagerly put in an order for a Fish Sando ($15), the February special.
Firstly, the paprika-battered hake fish was given justice, introducing itself with dredges of soft, flaky flesh which were easily peeled off without resistance.
When it came to the condiments though, the ratio could use a recalibration. While the intriguing blueberry chilli jam and vivacious mint sour cream salad were delectable on their own, the overall profile didn't come together consistently between each bite.
That said, it's a special that would pair hitchlessly with their zesty Sparkling Lemonade ($6).
Sandos are indubitably having their minute in the spotlight right now but in my opinion, not many joints handle the balance between elegant simplicity and offbeat flavour flings as proficiently.
It's not hard to find worthy competitors situated in more central locations but, perhaps it's my nostalgia, I think this old dog still stands proudly at the top. No doubt it's a trek but if you're ever near Alexandra Technopark, consider popping by Sando for their artisan sandwiches.
Place your online orders here.
SANDO at Alexandra Technopark
Address: 438C Alexandra Rd, #01-04/04A Alexandra Technopark The Hub, Singapore 119976
Hours: (Mon–Sat) 9am–2:30pm