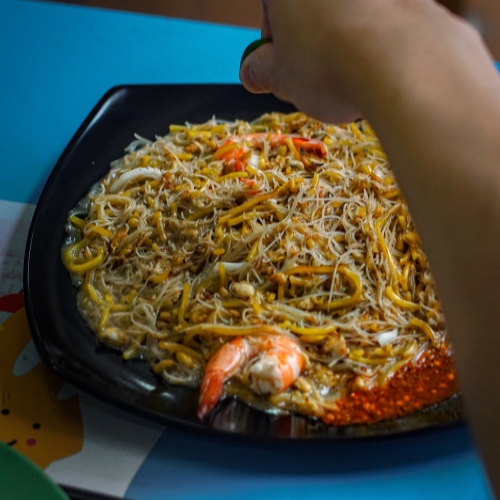 Golden Mile Food Centre's Youfu Fries up one of the best wok-hei-filled hokkien mee in Singapore
For anyone embarking on a crusade to seek out the best Hokkien Mee in Singapore, Golden Mile Food Centre will inadvertently appear as one of the must-visit stops — it's home to two hot contenders, YouFu Fried Hokkien Prawn Noodle and Hainanese Fried Hokkien Prawn Mee
The reputation of the former is settled, highlight regarded as a veteran of Singapore's hawker scene and an expert in the rarer dry-style variation of Hokkien Mee.
Since 2020 though, the basement stall no longer commanded a monopoly on the Hokkien-Mee-loving crowds that flock to Golden Mile Food Centre.
That was the year that marked the meteoric rise of YouFu Fried Hokkien Prawn Mee.
Located on the upper storey, beside another hot-favourite Chilli Pan Mee stall, its unique advantage was, surprisingly, youth.
Contrary to the long-ingrained imagery of a grey-haired Sextugenarian ferociously toiling away over an unwieldy wok, YouFu's magic comes from a young Andre Ong who had made quite a splash when he was only 21 years old.
At that age, the precocious towkay already had the finesse to fry up flavourful plates of the iconic classic that rivalled more established hawker gems. A remarkable feat considering the complex challenge that is frying Hokkien Mee.
Fine-Ageing Spirit
While my previous visit —aeons ago, mind you— told me that the establishment had the potential to become one of the titans, no amount of optimism could prepare me for this recent visit.
YouFu Fried Hokkien Prawn Mee now fries, unequivocally, one of the best plates anyone can get in Singapore. Andre's top-notch wok skills have aged like a fine spirit.
There are marked changes to the profile but the biggest one blitzed my palate immediately — glorious, overflowing wok hei.
As a Hokkien Mee fanatic, my pet peeve is when people throw in cursory statements that vaguely mention "touches of wok hei". The smokiness is usually subdued at best, except at a few select places such as Swee Guan.
YouFu's Hokkien Mee was inundated with intoxicating whiffs of smoke, almost covering over its sapid seafood base — a tad too hard-hitting but that venom will no doubt endear them to many.
That intensity doesn't stop just there, it also bleeds over into the punchy sambal chilli at the side. Single dabs ignite potent sears that perfectly accentuate the smoky base profile — but are still manageably tamed by citrus.
And the noodle texture? Balanced between wet and dry, more of a delightful sloppiness that can satisfy a variety of palates.
There's no mistaking the growth that YouFu Fried Hokkien Prawn Mee has undergone over the years.
Whilst already great, maintaining the current standards might just see them become one of the undisputed best Hokkien Mee stalls in Singapore. Give it a few years.
YouFu Fried Hokkien Prawn Mee
Address: 505 Beach Rd, #01-57 Golden Mile Food Centre, Singapore 199583
Hours: (Tues–Sun) 11:30am to 8:30pm