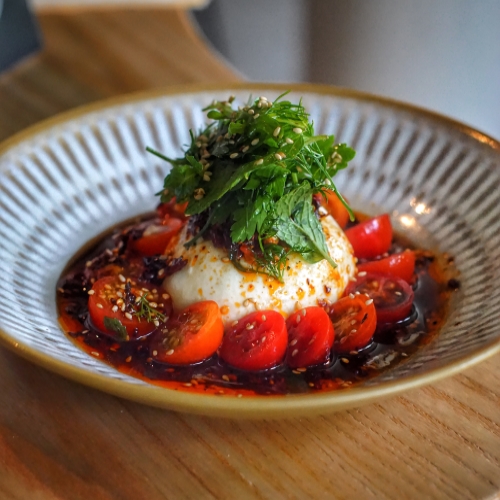 Elixir Coffee and Wine brings a kind of natty Cafe energy to Holland Village
Nothing lasts forever. In a tumultuous Singapore cafe landscape, constant reinvention is imperative in order to halt the taint of obsoletion. Even the most iconic cafes abide by those truths — this includes Elixir Boutique Roasters, a stalwart fixture at Serene Centre since 2019.
Calm your nerves — it's not farewell.
While steakhouse sibling FBG will be assimilating all day-time operations at the Serene Centre stronghold, the brunch spot has also enrooted itself within close proximity of Holland Village, under the new guise of Elixir Coffee and Wine.
Unfortunately, the sequestered location necessitates some inconvenience. But on the upside, the cafe fits snuggly into the posh new combined development at Holland Grove, neighbouring tenants such as gourmet grocer Meatmen Butchery.
The cosy eatery is, unquestionably, significantly more inviting. Here, Elixir Coffee and Wine feels less rustic and more chicly focused, dominated by vogueish rouge ribbed panels and underscored by sleek teaks.
Unlike its predecessor, this operation is a dichotomous concept where the familiar brunches still persist, except now made bedfellows with a newly introduced nighttime alter ego.
The aforementioned new personality is fittingly brought to life through an impressive thousand-cork wall that will feature a projection of a face split into two halves — one clean-shaven, the other scruffy — when the sky turns dark.
Brunch Charm
A complete breakfast to most people, or most cultures even, would probably entail some semblance of bread or doughy construct. This is why it made so much sense that brunch extraordinaire Elixir decided to focus on open-faced toasts as the star of the new Holland Grove outlet's brunch menu, which runs from 8.30am to 3pm.
One particular standout was the Turkish Eggs ($16) — housemade sourdough flatbread, scandalously caked in rich, silky garlic yoghurt and vibrant pops of pomegranate seeds.
It made for quite the sublime combo when the poached egg's yolks were let loose and each mouth was accentuated by Elixir's signature housemade "chilli crunch" — a moreish and aromatic chilli-oil concoction that strikes you as a more refined version of a certain ubiquitous Chinese household-name chilli oil.
That said, every other tartine pales in relativity to the overwhelmingly charming Salumi ($16) that's superlatively robust thanks to copious slatherings of umami nduja paste over a slab of sourdough flatbread.
Unadulterated flavour bombs are not a rare occurrence but it's the deft complimenting touches that made it such a force of nature, as a spate of acidic red onions mercilessly sliced through the heavy spice profile while a potpourri of herbs imbued it with a fresh, sophisticated herb touch.
Continuing down the menu to the smaller plates in the after-brunch section, the Burrata ($24) was the obvious crowd-pleaser. Yes, misfiring with burrata is practically impossible. Alas, that rocksteady guarantee also renders it a safe, almost trite, option.
On the contrary, Elixir Coffee and Wine managed to spice things up significantly, first bolstering the cheese with the chilli crunch, which proved an impeccable buttress to prop up the flavours of the clean-tasting burrata.
Then, it's bathed in a pool of tangy vinegar to give it that extra kick, almost redolent of Shichuan-style chilli oil wantons.
Get a Pizza This
Even when moving into the latter parts of the day, Elixir's menu was still driven by the same simplistic but efficacious blueprint. This time though, it involves sourdough pizza.
While I'd avoid putting this as one of the best pizzas in Singapore, the pies were nonetheless commendably proofed and fired up despite the limitations of the lack of a woodfire oven. Ultimately, the enticing topping ideas were probably the main virtue.
One that can easily be predicted to be a popular option is the Not-Carbonara (S$26) which, as the name suggests, isn't a carbonara. Elixir's caveat is meant to prevent authenticity-obsessed gatekeepers from lambasting the creamy Mornay sauce that makes up the base of the pizza.
Without much of that purist pompousness in me, I naturally enjoyed the blend of ricotta, cream cheese and bechamel for its comforting richness, which was even more delightful with punctuating guanciale decadence and steaks of silky yolk running through it.
Alas, that wasn't my pick as my heart was held captive instead by the Hot Mama (S$28) which completed a trifecta of chilli-crunch-improved dishes that I was absolutely besotted with.
This one was inelaborate but funky, embedded with slices of Calabrese salami, covered in an avalanche of onions and fennel, and then doused in Elixir's magical chilli crunch. All the pieces of the puzzle just came together so seamlessly, it's hard to not swoon.
More bougie get-togethers can also get themselves a platter of apricots and walnuts with the more-exotic Tete de Moine ($22). This is where the wine part of the name "Elixir Coffee and Wine" comes into play.
Brunch, pizza, and wine — could you be more prepared for the demographic of Holland Village? While it's sad to see them leave Serene Centre, there's no doubt that they are a perfect fit for its swanky new neighbourhood and it'll be interesting to see how the concept grows into the niche that calls out to it.
Make your reservations here.
Elixir Coffee & Wine
Website | Facebook | Instagram
Address: 24 Holland Grove Rd, #01-18, Singapore 278803
Hours: (Sun, Tues–Thurs) 8.30am–10pm, (Fri–Sat) 8.30am–11pm
*This was an invited tasting.