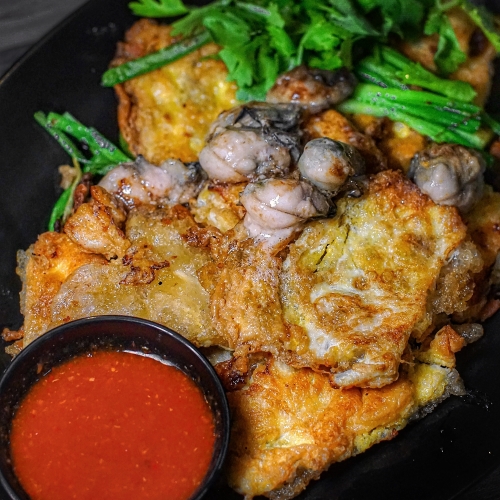 Hidden Gem Maddie's Kitchen Cooks up tasty Comfort Flavours & Stunning Oyster Omelettes
Orchard is a district that doesn't appear up top on the list of the best zichar restaurants in Singapore but to me, Maddie's Kitchen at Far East Plaza deserves all the plaudits for setting up a space serving tasty comfort flavours, slightly elevated but still kept reasonably affordable for its prime location.
Every restaurant will find peaks and troughs throughout its lifetime. At one point, I'd argue that Maddie's Kitchen already shed off its hidden gem status, drawing in packed dinner crowds.
Perhaps it was the move from its original spot in the same building but dinner occupancy at the new location seemed rather sparse on my two recent visits. It's equal parts poignant and galvanising since that means no need to jostle for seats like at its older location.
Some Say Best Orh Luak in SG
Here's a really audacious claim. The Oyster Omelette ($11.80/17.80/23.80) that comes out of Maddie's Kitchen remains one of the most astonishing plates of Orh Luak I've had in Singapore even till today. Unless you prefer the sloppier variation, then you need to bookmark Lim's Fried Oyster at Berseh Food Centre.
There are inconsistencies but I'll refrain from invoking the trite Singaporean remark of "standards dropped" since indulgent plates still come flying out of the kitchen. For me, the star is those golden-brown, biscuit-like shards of egg-starch amalgam, which shatter with a thundering ferocity unmatched by any other place.
Besides the gratuitous crunch though, it also received strong support from a backing cast of plump Korean oysters that explode with umami brine. There's no doubt it can get a little greasy —unsurprising when you hear it crackle— but it's a health hazard worth putting your aorta through.
Another dish that I think Maddie's Kitchen does marvellously is Hainanese Curry Rice, which I feel is close to or on par with the plates of legendary names like Scissors Cut. Surprising considering curry rice is something that looks haphazard and simple but it's tricky to calibrate strong congruence.
At its base, the curry is as comforting as you'd expect — it's admittedly not flawless and also slightly thin but is nonetheless fantastically rich and features a nicely complex bouquet of aromatics and spices. Surprisingly, the fried component in the Pork Chop Rice ($6.80) was the weak link, being decent but not memorable.
The star in this dish is an unexpected one. The luscious Nyonya Chap Chye included in this plate is unbelievably superb, boasting a dreamily soft and tender mouthfeel and also brimming with a robust shrimp umami depth — comparable to Michelin-star quality renditions.
Besides these two gems, I'd also had my fair share of standard zichar dishes at Maddie's Kitchen throughout the years and staples like White Bee Hoon were rock solid in execution. Still, the excellent Oyster Omelette and Hainanese Curry Rice deserve extra spotlighting since these are dishes that usually only perform well at the hand of specialists who perfect their skills with just one single dish.
It's not made to be glamorous, nor is it particularly accessible compared to some popular haunts in the area, but Maddie's Kitchen is one of the few places in Orchard where I feel like the price tags were fully justified. It went from hidden gem to known and now — it's basically a hidden gem, again.
Make your online orders here.
Maddie's Kitchen
Website | Instagram | Facebook
Address: 14 Scotts Rd, #02-10/11/12/13 Far East Plaza, Singapore 228213
Hours: (Monday to Sunday) 11am to 9pm