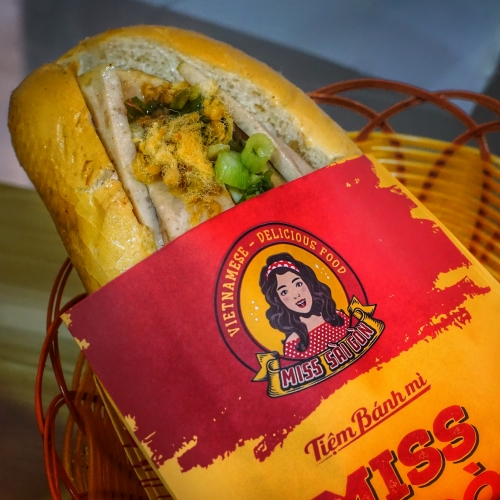 Miss Saigon is Somerset's 24/7 Banh Mi sanctuary for Those Sinful Sandwich Fixes
As cliched as it is to claim, the dogmatic hallmark of good authentic Vietnamese food is dinginess. Even the biggest brands start off as seedy hole-in-the-wall joints before falling prey to the glitz of shopping malls, leading to the slip into mediocrity. The new Miss Saigon at Orchard Plaza is a strongly convincing argument for this hypothesis.
Sprouted from the hidden-gem-gone-viral Banh Mi Saigon at Ang Mo Kio, Miss Saigon is its newest outpost that, besides being more accessible, is operational around the clock.
Don't mistake the Somerset location to translate to polish and shine though. The cramped little hideout is surreptitiously situated in an inconspicuous corner inside Orchard Plaza, a place not known for glamour and elegance.
What is though, is a cute little Bodega-esque space accented with dirty red neon lustre and has most of the space swallowed up by the kitchen itself.
However, unlike Banh Mi Saigon, Miss Saigon actually allocates a sliver of real estate for those who wish to dine in.
If you're ever in the area for the woozy night and need somewhere to catch your breath and get a respite from relentless debauchery, this is the 24/7 supper spot to head to in Somerset.
The same Banh for your buck
It's become a bit of a bad habit that when anyone asks me to point them towards the best Banh Mi in Singapore, my mind only jolts to Banh Mi Saigon and nothing else.
Hence, even with an expanded menu that comprises a slew of non-sandwich items that are only found at Miss Saigon, my attention was monopolised by the decadent sandwiches.
The million-dollar question is obvious: does the Somerset progeny live up to the titanic standards? To me, Miss Saigon is still a smidgen off from the real McCoy.
There's no mistake Miss Saigon makes the best Banh Mi in Orchard Road and is perhaps one of my absolute top picks on this island as well. Alas, that love comes in a paler shade of ecstasy.
Going head-to-head, the Traditional (S$8.90) here does a good emulation of the OG — a plethora of quality cold cuts, and a generous slathering of liver pate, all sandwiched between bisected halves of a crunchy baguette loaf.
It's simple, it's classic, it's tremendously hearty and most importantly, it is goddamn satisfying. That said, it is a tad more expensive —though still highly affordable— and the crackle on the bread seemed mildly subdued here.
Then, venturing past my tried-and-tested, I gambled on a Grilled Meat Pork Rolls (S$8.90), a sweet-and-savoury fiesta focused around a smattering of juicy diced-up pork roll morsels.
Great for a bit of piquancy with that extra charsiew-like zing but not one of my recommended orders at either establishment.
Does it live up to expectations? Perhaps not for me — I can't get another maiden experience with these sandwiches again. But Miss Saigon no doubt makes one of the best Banh Mi in Singapore.
It's got everything to succeed — an authentic and homely set-up, fine ingredients made from scratch, a much more accessible location, and 24/7 availability. Now all it needs is just a bit more word-of-mouth recognition.
Make your orders online.
Miss Saigon
Address: 150 Orchard Rd, #02-56 Orchard Plaza, Singapore 238841
Hours: Open 24/7