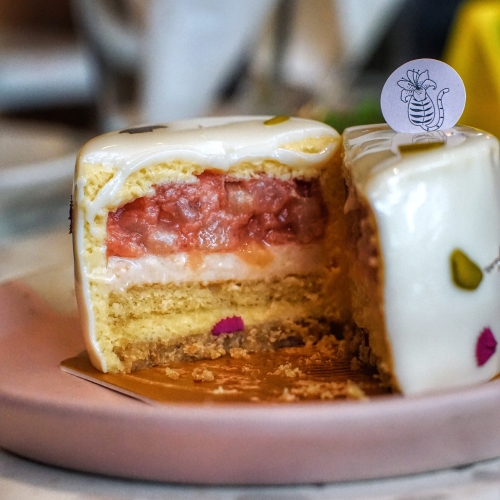 Tigerlily Patisserie & The Simple Artistry of Maxine Ngooi's Desserts
The craft of a patissier is an artful calling where even the most understated pieces demand finesse. If fastidious ratios and intricate plating are points of appeal, then Tigerlily Patisserie's resplendent creations will certainly make your heart skip a beat.
The heart and soul of Tigerlily Patisserie is one Chef Maxine Ngooi, a pastry chef whom the Michelin inspectors had previously deemed worthy of a Michelin Star. Departing from the spartan fine-dining kitchens, her Joo Chiat cafe is saliently more laid back and casual in scope.
Swathes of vibrant colours and a whimsical botanical theme set up a relaxing space, where deep viridescent trimmings and chic oranges imbued a youthful tropical jungle vibe that tied in seamlessly with the flourishing cafe scene of Katong,
Furniture is kept simple, mostly just in shades of light birch to blend into the warm oranges. The most striking feature is an array of glitzy terrazzo tabletops that lent a tasteful, voguish touch to the decor to keep it from feeling too blandly minimalist.
Art To steal Your heart
In fact, Chef Maxine seems carry a deep infatuation for terrazzo and dolled up one of Tigerlily Patisserie's signature desserts, Pear and Guava ($12), with an enveloping cream white and appliques of pastel botanicals peppered throughout.
Gorgeously elegant, dulcet, and lusciously floral from cream and elderflower while laced with sprightly pink guava and pear — such a gracefully balanced entremet.
Another stunning item from Tigerlily Patisserie's entremet selection was Pistachio Marimo ($12), a fuzzy moss-hued sphere that can be pried open to reveal a salacious scene of oozing pistachio praline and frangipane.
Pistachio is one of those flavours that shines even without comolexity and nuance, a trait which comes through articulately in this pastry that floods the mouth with a moderated nutty richness and intoxicating aroma.
The Simple Things
One thing that's evident is that Chef Maxine doesn't overcomplicate her concepts. As elaborately crafted as these pastries are on the facades, the flavours are kept uncluttered and easily palatable.
In some cases, like with Tigerlily Patisserie's iconic Beehive ($15), that might prove a little underwhelming. There's no doubt it's a pleasurable and zesty dessert, alas the lightly floral and citrus-forward base profile isn't quite as bright or honey-dominant as its appearance would lead you to believe.
Going past the entremet selection, I also found the viennoiserie at Tigerlily Patisserie to be rather middling. Perhaps overall decent but the Chocolate Hazelnut Croissant ($6.50) didn't leave much of an impression both texture and flavour-wise.
Albeit not matching the ravishing intricacies of exterior sculpting, the simple and focused composition in flavours is still plenty endearing. There aren't any technical flaws to pick, it's just a little less fearless than I'd expected — though understandably, few thriving pastry cafes can be dauntless.
Everything said though, Tigerlily Patisserie's price points can be seen as inordinate, especially on the entremet. Still, I think Chef Maxine Ngooi's creations are a rock-solid safe bet when searching for a confluence of expressive craftsmanship and easily appreciatable taste profiles.
Make your online purchases here.
Tigerlily Patisserie
Website | Facebook | Instagram
Address: 350 Joo Chiat Rd, Singapore 427598
Hours: (Tues–Sun) 9am–5pm
*This was an invited tasting.