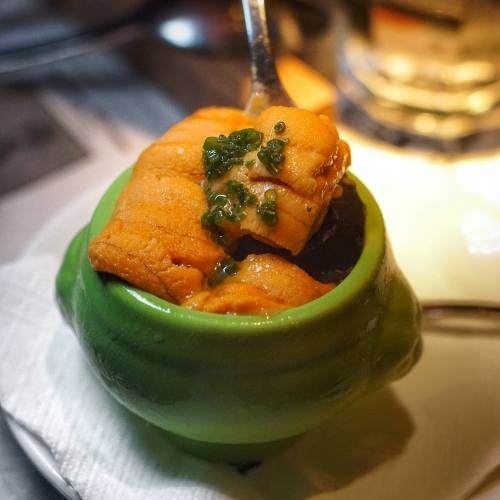 Lolla's Small Intimate Kitchen Dishes out Strong Massive Flavours
Standing before Lolla's shopfront before your dinner is a slightly quizzical experience. The facade suggests a small, cramped shophouse space that feels more apt as the setting for a modishly bohemian speakeasy than one of Singapore's most beloved hidden restaurant gems.
Stepping inside does little to change the mind as it is set up exactly like that. There's the main counter, a small open kitchen, and a scramble of seats encircling it. While open kitchen concepts are in vogue, few have it so condensed into so small a space, with the kitchen swallowing up the bulk of the real estate.
In a way, there's an odd appeal to it. There's intimacy and there's the experience of witnessing the team at work, ala chef table — just with less pomp. The benefit of the front row seats also entitles excited diners to the theatrics of fire, smoke, and a smorgasbord of temptatious aromas wafting towards you.
While there is a charm to the set-up, there does feel to be slight redundancy since the kitchen team generally eschewed interaction with me and my dining partner. There's still a personable, rustic, almost-hipster charm to Lolla, nonetheless.
What's more — this quaint dwelling, which is more known to discerning gourmands than the general public, recently celebrated its induction as No. 75 amongst Asia's Top 100 Restaurants. Size doesn't matter, after all.
The Holy Trinity
Ultimately, food is still the deciding factor so we'd let the food do the talking. Lolla actually started off on an immensely strong foot, almost delivering a knockout with three blockbuster hits.
The opener of Toasted Sourdough ($8) with Kombu Butter ($12) was stunning. Each butter molecule was ingrained with the most sapid, most gratuitous umami that left us on cloud nine as we chomped down on the crusty sourdough slices in an involuntarily ungraceful manner.
Despite Lolla's hidden gem status, one dish from their menu has garnered quite a reputation through word of mouth — the Sea Urchin Pudding ($38/65). Keeping with the trend of massive, assertive flavours, it similarly hit ferociously like a raging tidal wave.
Oceanic and briney in profile, it's built up starting from a salty squid ink pudding base while smears of Uni bolstered it with that iconic sweet richness. Atop the flavours, you're also pampered with sublime textures as the silky Uni melded into the airy custard-esque base. The price is a touch exorbitant but this is a luxury indulgence.
Three strikes and you're out — Lolla came really close to blowing our minds with another stunner, the Burnt Cabbage ($22). As austere as a head of cabbage may sound, not many produce hit as satisfyingly as a well-cooked cabbage.
Breaking the urban myth of vegetables being healthy, they drown the cabbage in a lavish deluge of butter and crispy capers. Be prepared for a decadent blitz on the plate as hefty umami and smokiness come rushing in, before the lighter, daintier touches of balsamic and ricotta balance it out.
More importantly, Lolla gives the cabbage the star treatment it deserves, leaving every inch tender and succulent while frayed edges are coloured with provocative shades of brown and gold.
The Magic Wears off
If the meal had ended there, Lolla would be in contention for one of my all-time favourite restaurants in Singapore. Alas, things don't always end well — enter the Hand Torn Pasta ($39).
This is one of the most shoddily prepared plates of pasta I've had, candidly. As a whole, it had little nuance, and it was flooded with butter to the point of unctuous tedium. To cap it all off, the pasta was even soggy. As I always say: "I'm easy to please, just hard to impress." And this struggled to get remotely close to a passing grade.
They salvaged the situation slightly with the subsequent heavy proteins in the Tongue n' Cheek ($38), featuring sticks of pork cheek and beef tongue.
Undoubtedly tricky proteins to handle, texture-wise, but these were rendered tender and juicy, if slightly too fibrous. That said, the sweetness of yakitori sauce was fettering the full richness of the skewers — toning it down a little will allow them to shine.
Lolla is a unique experience. In a busy city where even the quintessentially intimate restaurants are getting aggrandised, it feels like food is the main focus and you don't feel the pressure of a Michelin star looming over them.
The food is sincere, the flavours are bold and with a few tweaks, it could become one of my favourite restaurants for a casual dinner in Singapore.
Make your reservations here.
Lolla Restaurant
Website | Facebook | Instagram
Address:22 Ann Siang Rd, Singapore 069702
Hours: (Mon–Thurs) 12pm–2:30pm, 6pm–11pm, (Fri–Sat) 5:30pm–11pm