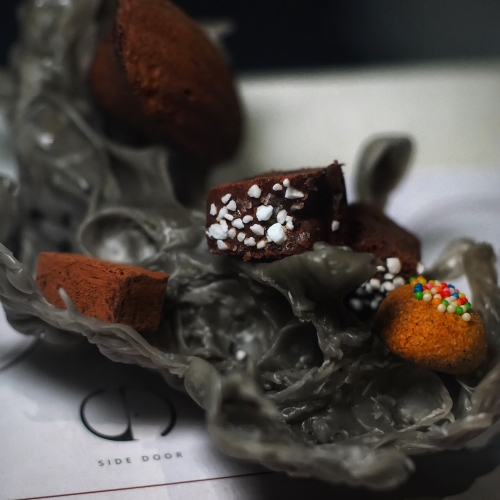 Ameising x Side Door sets up another Ingenious Flavour Playground for Tryson Quek & Bannie Kang
Diners know they're in for some gastronomical bliss when the billing states "Side Door", a home dining concept by power couple Tryson Quek & Bannie Kang. This time, the award-winning bartender and chef partnership are bringing their Side Door to Ameising Bar for the months of July and August.
Having had a taste of their whimsical flavour spins and hitchless chemistry when bridging food and libations, this return collaboration with Macallan had my interest piqued.
Settling in at the cosy premises of Ameising, located right across Lau Pa Sat, the Side Door pop-up will feature a Course Menu ($158++) with a series of pairings and will be running every weekend for a two-month stint.
Tipples are crafted in collaboration with The Macallan, while Ameising gave Side Door free rein over the culinary experimentations Tryson seeks to bring into their kitchen.
Start of Side Door's Magical Ride
Upon being seated at the counter, I'm met with a warm welcome from Tryson while Bannie pours out a refreshing highball welcome drink to set the mood for the night.
Shortly, the Side Door show was underway at Ameising and a duo of tartlets were gently rested upon two makeshift plates fashioned out of dry seaweed tendrils. Apt, since the Salmon Tartlets featured oodles of ocean richness.
This marks the return cameo of Tryson's infatuation, salmon textures. This time, it's a congruent mixture of different textures built upon a sapid cauliflower puree, magically welded together into a one-pop flavour WMD.
Trailing behind that was the Peanut Tofu dish that featured a smooth, creamy beancurd endowed with a nutty earthiness.
Shovel the accompanying sidekicks of chives and confit duck and you'd be greeted by a punchy mishmash of heavy flavours — hitting synchronously with assertiveness and oomph.
Another mystifying aspect of Side Door's tinkering behind Ameising's counter is the ability to churn out simultaneously inventive yet undemandingly straightforward dishes, such as the Spot Shrimp.
Tom Yum is indelibly an iconic Thai staple but at Ameising, Side Door managed to flip the dish completely. The amalgamation of Tom Yum frost, coconut gel, and pickled cucumber made for a homely seafood tom yum profile, albeit quirkily translated into something frigid and refreshing.
Between this and the next course, is also one of the crowning jewels of Side Door's tipple arsenal, the Greenland, reintroduced from their last stint at 50Fifty,
I fondly allow the drink to sit on my tongue, before spreading it out to fully grasp the complex but well-layered medley of flavours — herbaceous fernet, aromatic curry leaf, and a tasteful pepper spice note to end.
Slight Inertia Downslope
To herald in the headliner is the penultimate hot dish of the night, a beguiling Chicken Butter Broth that feels like an elevated take on the familiar cream of chicken soup with croutons.
Utilising the buttress of potato foam, this Side Door version performs a little food alchemy making it blissfully silky but given a deft luxurious touch — maybe not the best dish of the night at Ameising, but that feeling of comfort was unmatched.
Unfortunately, there was a little lack of chemistry between the Side Door and the Ameising crew when the headliner arrived. What appeared to be a succulent slab of Beef Short Ribs was perhaps given a tad too much stove love.
Taste-wise, there's nothing much to fault though — rich and decadent, as the foie gras and beef combo normally come. Alas, the pre-sous-vide beef was rendered slightly dry from the ala minute cooking.
When we come to the desserts —since Tryson admits he's "not quite Janice Wong"— the sweet coda is kept from being too ambitiously elaborate.
Still, though, the dessert course of Cheese Mousse with passionfruit was just the right touch of fun and lively that it fits in seamlessly with the rest of the meal.
Bearing in mind that Side Door's pop-up at Ameising is a course menu, brace yourself for desserts, post-dessert. There weren't any outstanding pieces within the array of Petit Fours but they were enjoyable, plus the intricate serving beeswax structure was quite the spectacle.
So, Tryson and Bannie have done it again — Side Door presents yet another great fleeting experience, this time at Ameising Bar. Sure, there are limitations but I wouldn't have any other duo whipping up a food-and-drinks pairing for me. Their chemistry is a real treat for the palate.
Make your reservations here.
Ameising Bar x Side Door
Website | Facebook | Instagram
Address: 16 Raffles Quay, #01-02A Hong Leong Building, Singapore 048581
Hours: (July and August Weekends) 6:30pm–10pm