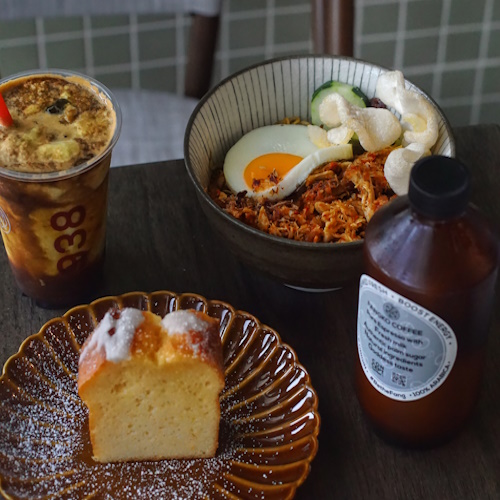 petit fangko: Cosy Margaret Market Cafe doling out some of the best indomie in Singapore
Built on a marriage of heritage and modernity, Margaret Market is a recent addition to the quaint Queenstown, preserving an iconic coffin-shaped facade dating back to the '50s while populating the interior with an eclectic mix of trendy concepts — including a rather peculiar "Indomee bar", Petit Fangko.
Petit Fangko may be a more diminutive offshoot of Fangko Coffee, but it adheres to the classic flavours that drove the original Hong Kong Street outlet's success, just with a little more pizzazz.
Moderately jazzed up from the original's homely and simple stylings, the Margaret Market space is lush with calming verdant trimmings, retro tiles, and a scramble of vogueish overhanging light blocks.
Barring its Indomie speciality, Fangko's displays are also littered with a plethora of pastries, cakes, and, of course, their speciality coffee.
In many ways, it's an appropriate addition to the repurposed hawker centre, doling out a humble dish that many consider comfort hawker food but with a touch of elevation and incorporating interior design sensibilities a little more a la mode.
Same comforting Indomie
As with the original outlet, every visit to Petit Fangko is normally informed by a craving for the Smashed Chimken with Indomie Goreng ($9.50), a bowl comprising noodles and a motley of chopped-up chicken, fried in their special homemade sambal chilli with intensity catered to your tolerance.
That disorganised melange of chilli and chicken provides the most raucous umami and, at the same time, every springy, wavy strand of Indomie comes stylish cloaked in the rich, dark sheen of kecap manis, delivering maximum flavour to your tastebuds while you excitedly slurp everything up.
Exploring newer parts of Petit Fangko's menu though, led me to the rather interesting Avocado Grilled Cheese ($14). Despite its misnomer and flurry of cheese shavings, it presented itself more convincingly as an avocado sandwich than as a decadent grilled cheese.
And it's a hella satisfying of an avocado sandwich. Underneath the cheese stack and chewy sourdough slice lies an abundance of clean, velvety avocado mash, deftly enlivened with a splash of piquant balsamic vinegar — extremely addictive and hearty.
Returning to the tried-and-tested classics, coffee lovers ought to furnish their spread with a bottle of the brand's unimitable Gula Melaka Coffee ($6).
Even with a deluge of newfangled flavoured coffees flooding the cafe scene —including some brown sugar offerings too— Petit Fangko still stands tall above everyone else.
Smooth, robust, and firmed up in profile with a fragrant gula melaka inflexion, the beans used endow a stronger acidity to skew the taste slightly towards the familiar domain of kopi, but with speciality coffee refinement.
Another go-to, usually when caffeine is off the cards for me, is the Blue Pea Lemonade ($7) — simple, refreshing, and photogenic. Not too ambitious of a drink but never disappoints.
As far as I can tell though, Petit Fangko keeps up the standards of the Clarke Quay cafe. The difference is just skin deep — trading off size for chicness. And that's great if you're an Indomie goreng connoisseur, because this under-the-radar cafe still dishes out one of the best Indomie in Singapore.
Make your pick-up or delivery orders here.
Petit Fangko
Website | Facebook | Instagram
Address: 38 Margaret Dr, #01-09 Margaret Market, Singapore 141038
Hours: (Tues–Fri) 9am–11pm, (Sat–Sun) 9am–9pm
*This was an invited tasting.