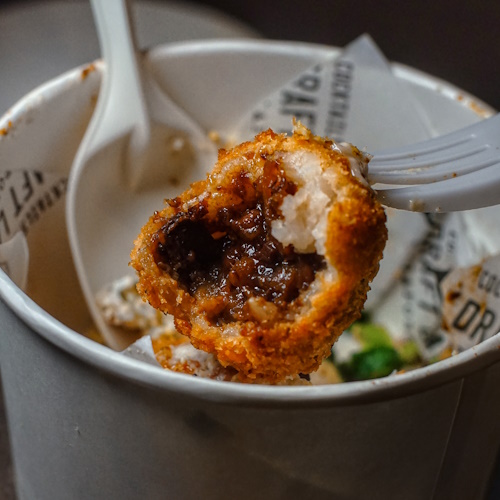 Cocktails on Tap: Draft Land's Singapore debut is Decent fun for one and all
It's 7:30pm and the rustic bar along Purvis Street is already packed. The space is awash in a sea of chatter and laughter and walking space becomes more scarce as eager guests start swarming the counter. That's the scene at Draft Land's Singapore outlet, early into its maiden Friday service.
Originating from Taipei, Draft Land is a trailblazing concept lauded for crafting a unique niche for itself — pre-batched cocktails poured straight from taps. That means the entirety of the menu exists in the form of wall-affixed taps and a craft-beer-bar-esque series of overhanging signs.
This cramped little Purvis Street hotspot is only the brand's second outside of Taipei, after Hong Kong, as founder Angus Zou finds himself in fraternity with local scene veterans Nutmeg & Clove Group.
Much of the aesthetics at Draft Land's Singapore outpost follows the brand's patented rustic simplicity,
The space is understated, slicked in mucky earth tones, and built around a rough-hewn clay-tinted counter, backgrounded by twenty-four taps connected to a cold room.
Truthfully, a farrago of questionable tiling and kitschy distressed walls give off the feeling of a rush job —possibly to welcome the imminent industry friends for World's 50 Best— even in comparison to the previous "dive bar" concept at the spot, Fizzy Dayz.
That said, refined decor is probably not high on the priority list, especially considering the casual slant of Draft Land. If anything, that unpretentiousness —rawness even— lends itself to the imminent din when the crowd spills in.
Taps that slap
When you head to order, you'll immediately notice one of Draft Land's virtues: It allows for sampling, which almost completely removes the potential for regretted orders.
Another is the staggering selection of twenty-one cocktails ready to cover the most diverse palatial preferences, carefully curated to be unchallenging but with enough nuance and finesse to set them apart from your usual dive-bar poisons.
Impressively, the curation contains a decent number of guest concoctions from industry friends ranging from legendary Japanese statesman Ueno-San to Demie Kim, co-founder of Korea's hottest bar Zest.
Those who enjoy light and sweet shouldn't hesitate to make a beeline for Oolong Tea Collins ($18, $15/happy hour) by Antonio Lai, who also heads Draft Land Hong Kong — it's predominantly sweet and floral with a vivid oolong fragrance, tasting almost alcohol-free.
It's just as delightful without trying to delve into its nuances but if you focus your tastebuds hard enough, you'll be able to notice some osmanthus and plum in the mid-body.
Contrastingly, the C&T ($20) crafted by Shingo Gokan of Shanghai's Speak Low is a drink that's a bit punchier but feels all too tame with the potent Calvados elegantly melded into tonic and softened with the balmy aroma of cinnamon. A soothing sipper for sure.
At the same time, Draft Land Singapore's own concoctions also proved reliable with my braggadocious 24% ABV Popcorn & Coke ($20) proving potent but also candied up enough with caramel notes to remain vibrant throughout.
Sure, the Fernet Branca did imbue too harsh of a medicinal astringency in the finish but Draft Land isn't really about pristine mixology and Fernet drinks are tricky to balance — the overall profile is more than enjoyable.
A taste of Taiwan
As with the other outlets, food is served unassumingly in disposable bowls. That's not to say the food menu is an afterthought, however.
Following Draft Land's origins, many items bore shades of Asian influences. One was the Braised Pork Arancini ($14), a quirky twist on lu rou fun packaged into stuffed and battered spheres.
Hearty with a nice dose of that distinct braised-pork richness, it's not going to blow your mind but is more than respectable for bar grub quality.
The story of the Wagyu Cold Noodles ($16) went roughly the same — comforting toasted sesame sauce and luscious slices of A4 Wagyu carpaccio. Tremendously simple but also quite satisfying.
After having run through an assortment of the food and drinks, I can say with, utmost candour, the slight lack of refinement doesn't quite appeal to me as a more demanding bar-hopper.
However, if you ask me if I think Draft Land eventually grow into one of Singapore's most popular specialist bars in the long run? I think it's simple, earnest, and knows it doesn't have to awkwardly masquerade as any kind of profound concept.
I think it's also the intimate no-frills party sought by experienced scenesters who have outgrown the need for fastidious mixology. And, if the opening weekend is any indication, I think it's also a volume-pusher that undoubtedly will have pull with the masses and be comfortably sustainable.
Hence, my straight answer is this: The team might have finally found a hit with Draft Land's Singapore outpost, for that hyped-up party spot they were attempting with Fizzy Dayz.
Make your reservations here.
Draft Land Singapore
Address: 24 Purvis St, Singapore 188601
Hours: (Tues–Fri) 4pm–12am, (Sat–Sun) 2pm–12am