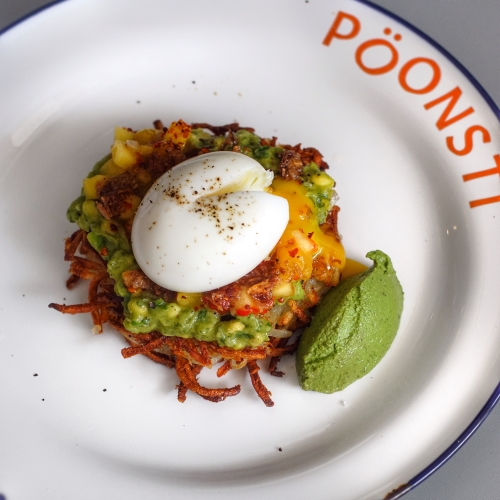 The newly opened Poonsti at Farrer park Might be the best Rosti Cafe in Singapore
Despite its popularity amongst Singaporeans, it's surprising that there hasn't been a cafe devoted to making the perfect rosti, at least before Poonsti burst onto the scene.
Everyone is well aware of Marche as one of the go-to spots but there hasn't really been any worthy contender for the throne, at least not in the cafe sphere.
But unlike your run-of-the-mill cafes, this hyped-up new outfit only has one thing on its mind — it's the obsession with making the best rosti in Singapore, from scratch.
In fact, Poonsti's menu is monopolised by the Swiss classic, with five different permutations on the menu. No other food items. No distractions. Only rosti.
The fledgling concept hasn't quite found its own legs yet to operate on its own — that's why it's currently operating out of Old Hen Kitchen's space at Owen Road, similar to popular artisan pizza joint Chooby.
However, recent weeks have seen the Farrer Park cafe ramped up in operational intensity — while originally only a weekend pop-up, Poonsti has recently gone on to open for weekday service.
Rosti Infatuation

Golden brown, crackling with fervour, and cracks open to reveal a glut of fluffy potato strips — that's what it's like when you dissect a perfect Swiss rosti.
And that's exactly what you get here at Poonsti, where their potato pancakes are made from scratch and with tender loving care to ensure the best quality, which is honestly a marked upgrade over the usual.
Immaculate base aside, what makes Poonsti's rostis so damn alluring is actually the novel flavour combinations. Other than the basic Sour Cream and Chives ($12) and another version paired up with Beef Sausage and Brown Sauce ($17), they do buck the trend quite creatively.
For one, the House-Cured Salmon ($19) is a well-executed riff on the classic lox bagel, loaded with all the works of cured salmon, ricotta, capers, pickled onions, and dill. The quality is comparable to top bagel cafes, merely transposed onto a different base.
First instinct would tell you that the clean flavours would translate well and it was no surprise that they complemented the rich and crunchy rosti perfectly, especially with the sharpness of the pickles and dills as a contrast.
Rosti ReImagination
Similarly, Poonsti's willingness to experiment with more unorthodox and contrasting flavours also culminated in a home run in the Smashed Avo and Mango Salsa ($17) creation, which has a twinge more South-American influences.
While the jammy egg would steal most of the attention, it's really the ebulliently zesty and earthy combination of mango salsa and avocado that introduced such a delightful counterpoint that helped to elevate the base.
If you're looking for hearty umami though, Poonsti's menu also has a more offbeat alternative to your usual sausages and gravy, skewing more towards sinful American flavours with House-Cured Bacon, Fried Egg, and Hot Tomato Jam ($18).
This is a medley that sounds more simple than it is. The gloriously thick and fatty bacon is enriched significantly with a glut of spices while the hot tomato jam adds a sweet and tangy pasta-like red sauce depth — it's a hefty but well-balanced combo that hits the spot. Hard.
Initially, I was admittedly somewhat sceptical about the feasibility of a cafe laser-focused only on rosti. As scrumptious as the crispy potato pancakes were, would it be enough to carry an entire menu?
I'm glad to admit that Poonsti proved me wrong. With expertly crafted rosti bases and a diversity of well-executed ideas, this new cafe might just be one of my surprise favourites for the year in Singapore.
Poonsti
Website | Facebook | Instagram
Address: 127 Owen Rd, Singapore 218931
Hours: (Mon–Sun) 9:30am–3pm (Or until sold out)
*This was an invited tasting.