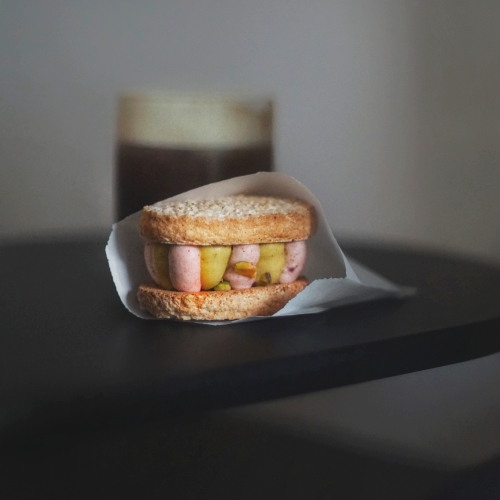 Abseil is like A Warm Hug embodied by Coffee and Minimalism
It takes some time to find your way to Abseil, sited on the quiet periphery of Tanjong Pagar and just barely out of sight of the frenetic mobs of the CBD.
When you eventually locate it, you'll be drawn in by a prepossessing facade which seemed to hint at some manner of a quaint boutique specialised in crafts or fragrances.
Stepping past the tall glass panes and obfuscating white drapes, you're met with a refined ambience brought on by svelte whites, balmy lights, and soothing dream pop that reverberated through the tall, cavernous ceilings.
As cryptic as "Abseil" is for a shop name, its focus is apparent as soon as your eyes meet the array of gooseneck kettles and origami drippers resting on the protracted counter.
That is Abseil's charm. It's a sophisticated, stripped-down pocket of space where you can unhurriedly sip on meticulously brewed coffee. It's where you can fall into the warm embrace of a plush lull that feels a tad more profound than the overt snazziness and bustle endemic to Singapore's cafe scene.
There's nothing inherently wrong with chic and trendy brunch spots — this is just a different, more soothing experience for those who seek it.
Kinfolk for Keen Folks
Lest you profile me as a pretentious coffee snob — yes, yes I am. Your garden-variety, linen-shirt-wearing, silver-ring-encumbered, Comme-des-Garcons-obsessed coffee hipster.
Quite simply, Abseil's sedate vibes feed right into my limerence for aesthetics which fit snuggly into a Kinfolk issue or Scandinavian catalogue. Moreover, the thoughtfulness in their brews is equally enchanting.
Abseil places a focus on curating a menu of filter coffee that isn't tediously trite. Despite the clean stripped-down profile its stylings maybe allude to, the assortment does extend beyond delicate roasts. A good example is the Nicaragua Santa Maria de Lourdes.
This brew was well-balanced with touches of both funkiness and depth. There's a pronounced juicy acidity at first that's rounded up by a deep nutty musk that gave it an extra dimension.
On the other hand, their namesake Abseil ($8.50) is an inspired experiment of cream-drenched coffee that will suit both regular palates and those seeking some furtive intricacies in their speciality coffee.
While carrying whispers of Einspanners and Dalgona, the Abseil is a double-shotted espresso creation adorned with velvety ropes of whipped cream that was mesmerisingly balanced in a unique way.
At its base, the coffee sung with vivid citrus notes while also asserting itself with a plunging depth. But it's that cloud-like cream layer that distinguishes it by adding a soft attenuating twang and a fuller mouthfeel, though not getting cloying at all.
All the Small Things
Speciality coffee is where the pride of Abseil mainly lay but on the side, there's actually a fleshed-out pastry program with a keen eye for pairing with their coffee.
Built around Dacquoise, a style of Korean meringue cookie sandwiches daintily snapped onto each other, while sandwiching light buttercream fillings.
Tragically, the Injeolmi Dacquoise was sold out but the Pistachio Dacquoise ($8) was a match made in heaven for the Abseil.
When your teeth sink into the meringue layers, they answer with a meek, spongy chew almost like a weaker Macaron shell but the magnificence was in the harmonious profile, where nutty pistachio was gracefully made bedfellows with tangy raspberry.
Conversely, the Passionfruit Dacquoise ($8) also provided a good account of itself with an intense spiritedness though it felt more one-note compared to Abseil's more layered approach to the Pistachio.
But Abseil, at its core, isn't intrinsically about any one facet of operations. It's a beatific reverie where thoughtful coffee, dainty pastries, and soothing minimalism meet in an immensely pleasant cafe experience. It's a warm hug for your soul in the disarray of the CBD.
Abseil Coffee
Address: 70 Shenton Way, #01-14 Eon Shenton, Singapore 079118
Hours: (Mon, Wed–Fri) 8:30am–5:30pm, (Sat–Sun) 9:30am–5:30pm