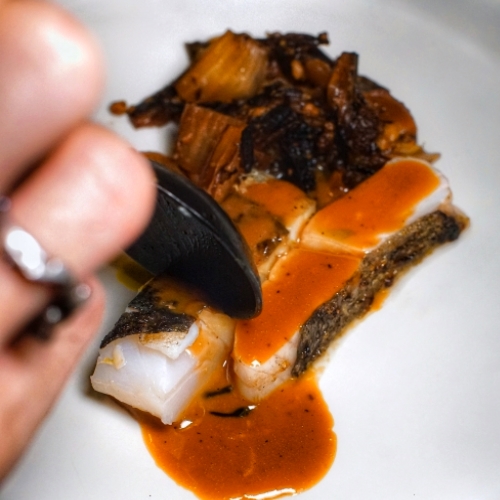 Magic Square Is a Sleightful SHow that Unveils The Spellbinding Potential of Singapore Fusion Cuisine
In the distance, we could faintly make out the familiar silhouette of the iconic Colbar by Portsdown Road. Beside it, a detached house stands by its lonesome, overlooking a spacious parking lot. It's a picturesque sight, as the genial twilight sun's rays fondle the terracotta-lined crown of the cottage, the venue for our Magic Square experience this evening.
For a semi-elevated dining experience sequestered in a quiet nook away from the centre of Singapore, there is surprisingly no lavish furbishing given to the cottage.
The compound is kept clean and uncluttered, both inside and out— the only indication of its concept is imprinted onto the entrance-facing wall, represented by a backlit two-by-two magic square insignia.
Inside, its focus is entirely rested on an understated open kitchen, enclosed within a striking black counter that comfortably seats 21, already fully occupied with pairs of beaming eyes. Eyes anticipating the start of an epicurean journey, one that changes monthly as the young chefs on the team take turns to flaunt their unique ideas with their own bespoke menus.
Settling down onto the counter seat filled me with overflowing nostalgia. My memory travelled back to 2018 where I was feted by a 9-course menu designed by the then-up-and-coming Abel Su who later went on to star at the lauded Ensue in Shenzen, before returning to a position at his previous home, the Michelin guide darling Odette.
Back then, Magic Square was plainly a promising pop-up concept beloved for its whimsical fusion flavours, monthly-rotating menu, ad-hoc kitchen, and austere single communal table set-up.
It almost fills me with pride to see how bossman Ken Loon's pet project has managed to stage a revival with such refinement after its poignant dissolution in 2018.
Man of the Hour: Jonathan Gan
As fate has it, my first return in more than 4 years features a menu by Jonathan Gan, a former Junior Sous Chef who coincidentally also hails from Odette. My visit coincides with his final month at Magic Square, preceding a new challenge at Naked Fin.
His choice of introduction for his concluding 9-course Menu (S$98) presents itself in the form of an ensemble of Cantaloupe, Curry Leaf, Tamarillo, and Meyer Lemon. It comes together congruently, boasting bright Tamarillo zest as the foundation while a cloud-like foam imbued a distinct curry leaf funk and bits of cantaloupe provided an endearing bitter depth.
Its follow-up, a Brown Crab, Burdock, and Eggplant amalgam arrives as charmingly layered — silky foam, luscious eggplants, and a crunchy base make up an excellent medley of textures. The complexity of its profile is also very persuasive, being a muddle of twang and umami with aromatic undertones.
The third feature of the night is perhaps my favourite from this Magic Square menu, a Shiro Ika tartare dish that also features Oyster, White Beetroot, and Ginger Flower and best showcases Chef Jonathan's finesse in layering.
There's ingenuity to pairing the brackish squid with a scoop of oyster ice cream for additional brine, one that's slow-mounting and mellow, while also introducing the earthy depth of white beetroot to round off the mix.
Showcasing the interplay between potent umami, nostalgic Asian-inspired acidity, and light chilli prick, the next dish is one that mixes up Spanish Mackerel Sashimi with Pink Guava, Pickled Green Chilli, and Fennel. Comforting and simple fusion but not as adroitly layered as the other dishes at Magic Square thus far.
The Potential We Expected
The ensuing dish of Congee —spruced up with Grilled Maitake, Peanut, Olive, and Bonito Oil— keeps to that trend of comfort. Deep, raucous smoke drives the show alongside an assuasive umami from the condiments and juicy mushrooms, all while the velvety congee warms up the tummy.
While comfort and robustness can be great, I found the first main of Aged John Dory a little too heavy-handed and monotonous. That's not a slight to the Magic Square team's cooking though, since it's technically sound and both the burnt cabbage and oceanic catch itself exhibited fine textures.
The awkwardness more likely stems from a cumbersome touch of butteriness on the mild fish which, paired with the rich classic Albufera sauce, pushes it past the brink of surfeit. Slightly disappointing since Chef Abel's Soon Hock from 2018 can still be found swimming in my memory as the standout from that night.
Subsequently, Magic Square's final main of the night is centred around a rather divisible protein, Veal Sweetbread. While I have no complaints about the tender but slightly firm sweetbread, it also doesn't feel like it alone changes the dynamic of the other ingredients.
Instead, wok hei turned out to be the x-factor in this dish, as a scramble of wok-fried bitter gourd helped elevate the rest of the plate, proving to be the perfect foil to the sweetbread's gentle funk, Buah Keluak sauce's complexity, and lemongrass's plucky zing.
An Unexpected Finale
Magic Square's inspired flavours and heartiness eventually culminated in two desserts, the first of which is a rejuvenating potpourri of Candied Kumquat, Osmanthus, Chrysanthemum, and Lemon Verbena Foam.
This is a sublime rejig of familiar Chinese restaurant motifs and delivers a mixture of bright floral levity and citric zest, masterfully layered together with a beguiling, unexpected complexity.
Alas, I think the finale, a wholesome Porcini Ice Cream, Nashi Pear, Fig, and Gingseng may be a miscalculation, since the potent mix of distinct savoury notes and porcini umami roused the palate, already relaxed from the previous dessert.
While it is decently balanced by a light touch of ginseng and the dulcet kiss of pear, the overall profile doesn't manage to provide the satisfying closure expected from the finishing dessert.
As much as there are hiccups in pacing and a few near-misses in Chef Jonathan's final Magic Square menu, it also provided more than an ample peek into the young chef's affinity for deftly layering eclectic flavours. There were more than enough highlights for my heart to swell with satisfaction at the coda.
Perfection is overrated, after all — what I adore about Magic Square is that proclivity towards dauntless choices. Perhaps it's not as splendorous as my original visit all those years ago but I think the concept still excels at what it advertises — constructing a sanctuary where young local chefs are given carte blanche and allowed to unlock their potential.
Make your reservations here.
田 Magic Square
Website | Facebook | Instagram
Address: 7 Portsdown Rd, Singapore 139298
Hours: (Tues–Sat) 6pm–8 pm (1st Seating), 8:15pm–10:15 pm (2nd Seating)