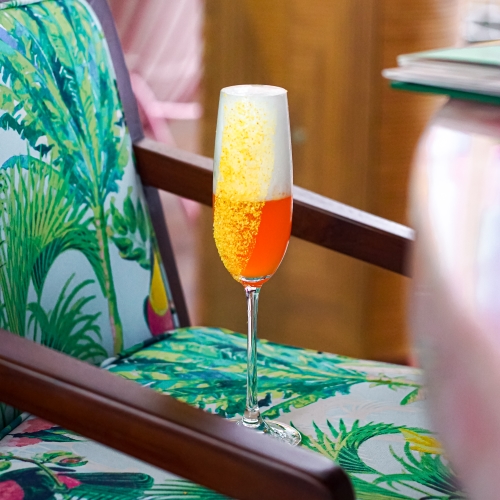 Las Palmas Rooftop Bar is a Glamorous breath of Tropic Vibrance for Singapore's cocktail scene
Aloft at the thirty-third level of somewhere in Novena, I observed as shards of the auburn evening glow dipped into a radiant cerulean pool, one that stretched to the far edges of the rooftop. A genial breeze rustled my loose collar while I studied the uneven cityscape that peeped out from within a flourish of clouds.
This idyllic scene belonged to Las Palmas Rooftop Bar, a chicly designed slice of paradise that rests atop Marriott Courtyard Singapore, daubed in splashes of saccharine pastels and flamboyant motifs — whimsical and almost Wes Andersonesque.
Its main bar area, where the magic happens, plays host to a glossy coral tabletop and bartop chairs emblazoned with vibrant tropic-themed prints. All these fixtures are built around a pale birch shelf array and positioned commandingly with access to both the interior and poolside.
Pulling yourself away from the enveloping cosiness of its vogueish lounge, you'll find yourself in the midst of the poolside splendour where Las Palmas earns its keep as one of the best rooftop bars in Singapore.
On this side of the bar, an al fresco space pampers us with clear-sky vistas from the comfort of plush recliners and rattan-weaved cabanas sitting by the pool. A gorgeous ambience to revel in, befitting of its namesake, Palm Springs, a known regular escape for Hollywood Stars.
Idyllic Intoxication
Associations with the gilded ages of the States don't just peter out when you move onto the menu. Las Palmas Rooftop Bar's mostly-riff-focused menu pays as much homage as the decor does, with pop culture references routinely surfacing.
For example, Fear & Loathing in Las Vegas ($25) is named after Hunter S. Thompson's seminal novel and takes a page out of his work — literally. A scrap is torn out from the novel and then clasped to the side of the glass, stylishly acting as makeshift garnish.
This concoction can be interpreted as a mellowed-out alter ego of the Mezcal Last Word —featuring Mezcal, Maraschino, Citrus, Grapefruit, and Demerara Sugar— that absolves drinkers of the esoterically herbaceous sting of Chartreause.
On the other end, Las Palmas Rooftop Bar has the eccentric Nighthawks ($25), an eccentric drink loosely inspired by Edward Hopper's magnum opus. As per its inspiration, the drink is cutting-edge and seemingly alien, featuring chilli and root beer reduction as two of its constituents.
Despite being an amalgamation combining Rye Whiskey, Rosso Vermouth, Pastis, Strawberry, and Bitters with the aforementioned two, it wasn't absurdly jarring. Slightly uncanny, acquired taste, yes — but with intriguing, layered complexity and a lightly-spiced kick in its finish.
Local Spice-Up
The food menu might appear a bit less focused than the cocktails but some enthralling flavour flings can be found in the food section of Las Palmas Rooftop Bar, such as the Churros ($13).
To be blunt, the base itself lacked finesse in execution. However, despite an offputtingly goopy interior, I was still enamoured by its creative local inflexions. The Five-Spice Sugar injected a unique personality while the nostalgic sweetness of the Kaya and Salted Peanut Dip provided absolutely intoxicating elevating touches.
Regardless of how vapid it may seem to place a strong emphasis on ambience and decor, it feels effective in gauging the bar's potential, as a newborn still trying to find its footing in the scene. Certainly, Las Palmas Rooftop Bar looks to be one of the upcoming cocktail spots to watch out for in Singapore.
The promise is discernable, factoring in its tasteful resplendence, decent debut menu, and promising backbone filled out with talent such as head bartender Ron Aransay, who's coming off a 6-year stint at The Macallan Bar & Lounge in Macau. We can only be excited to see what is in store.
Make your reservations here.
Las Palmas Rooftop Bar
Website | Facebook | Instagram
Address: 99 Irrawaddy Rd, Level 33 Courtyard Marriott Singapore, Singapore 329568
Hours: (Tues–Fri) 5pm–1am, (Sat–Sun) 11am–1am