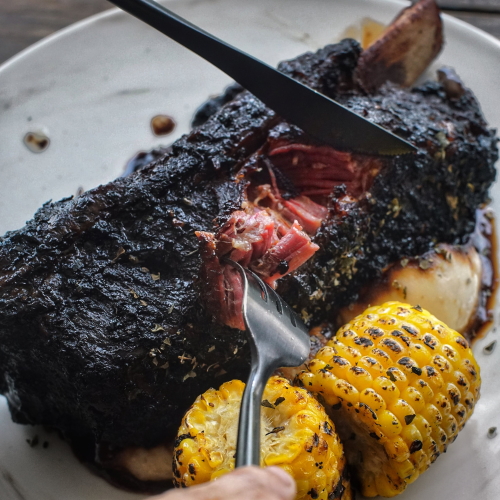 Manic Pixie Dream Grill at The Social Outcast's New Grandstand Home
The Grandstand — it's a name not often associated with food adventures. We're talking about making an irksome journey all the way down to the far-flung suburbs of Bukit Timah, after all. However, if there's one thing that can sell you on the arduous voyage, it'll be the Japanese-fusion grill restaurant, The Social Outcast.
As a former operation based out of hawker stalls, this new Grandstand space is The Social Outcast's first full-fledged restaurant concept and it's a rather chic upgrade considering their humble beginnings.
The space is plastered in fatigued posters, edgy scribblings, and plenty of wooden accents to give it that rustic smokehouse touch. Unfortunately, like with their old open-air location, customers will have to make do without AC here too.
Moving up the rungs also means shedding some of their iconic menu staples for a more refined overhaul.
The new iteration of the menu is more attuned to high-quality meats and Japanese flavours at this snazzier, more elevated alter-ego of The Social Outcast while their popular burgers have gone the way of the dodo.
Tidy Japanese Flavours Infused
Most of our perceptions of a smokehouse generally involve heavy flavours and potent spice rubs, ala Burnt Ends, but The Social Outcast doesn't follow the mainstream expectations as its name suggests.
Given that Chef Mint is an ardent fan of Japanese Omakases, he saw fit to inject some of his fascinations into his food here. The results are generally quite positive, starting with the Japanese Scallops ($20).
Doused in a ridiculously rich Dashi Butter to complement the base smoke, this was a flavour bomb in partnership with excitedly popping Ikura. Getting the citrus in is imperative though since the Dashi Butter can skew towards the salty end even with the levity lime provides.
It also shared tablespace with a lushly green bowl of Fire Grilled Burrata With Salad ($24) which is one of the best "salad" dishes The Social Outcast could have dreamt up.
Cheese lovers will have their gaze arrested by the pale Burrata mound ornately adorned atop a sea of green, comprising of crunchy broccolini and juicy Padron peppers. The charcoal grill imbued the greens with oodles of smoke, making them the perfect simple foil for the creamy Burrata.
In contrast to the first two items, the third appetiser was perhaps one of the more forgettable items on The Social Outcast's Grandstand lineup.
Despite its impressive list of ingredients that included caviar, Ikura, and truffle egg yolk sauce, the Smoked Deviled Eggs ($18) were just enjoyable bites of richness with a silky core to underscore it all. Tasty, sure but memorable? Maybe not.
The Manic Pixie Dream
You'd have noticed my contrived pun on the manic pixie dream girl film trope but that is not an unpurposeful parallel. In a lot of ways, The Social Outcast does embody a devil-may-care, unfiltered, but unconventional approach to the smokehouse experience.
It's worth mentioning that the establishment actually has a well-curated secret menu out of plain sight which requires a bit of shameless enquiry — a rather endearing quirk, all things considered.
Off the secret menu, I was absolutely bewildered by the Foie Gras Unagi special. With two stupidly decadent stars, the palate gets nuked with the most moreish dose of richness while hiding a great depth of smoke. An unadulterated intoxicating flavour bomb, in summary.
Ultimately though, many veteran customers and those who looking for traditional grill flavours will also find that they possess a pretty deft touch for the conventional too, best exemplified by the Moluccas Beef Ribs ($38).
Injected with a more Indonesian-style spice profile, the tender ribs were still caroused in plenty of welcoming spices reminiscent of American style grilled meats, albeit triggering a much more radiant, much more robust explosion of spice notes. More importantly, the alluringly pink fibres oozed juice and really split apart effortlessly when bit upon.
Alas, there's one thing that The Social Outcast does that I cannot fully endorse even if I ultimately enjoyed it. Their "Amy Winehouse" Pizza ($24) while still decent, is more of a flatbread than a bona fide pizza.
Of course, there are limitations with their setup but the texture couldn't quite catch my fancy. Not least when the jarringly sweet sauce managed to obscure even the dense and distinct earthy musks of Century Eggs and Mushrooms.
While not a huge issue for me as someone who rarely enjoys dessert at the restaurant itself, it's also worth noting that The Social Outcasts' kitchen doesn't have the best capability for producing desserts.
Still, commendations to them, because the Chef's Salty Tears ($10) was relatively decent with what they had to work with. A nice chewy base, a rich, salty caramel — simple as it comes.
Like the manic pixie dream girl trope, there are shortcomings visible in The Social Outcast's philosophy. But if you're looking for a wild ride though? There aren't many smokehouses that can be as wacky and off-the-wall, while retaining a premium edge to it, as this Grandstand gem over here.
Make your reservations here.
The Social Outcast
Website | Instagram | Facebook
Address: 200 Turf Club Rd, #01-35A The Grandstand (Facing The Car Mart), Singapore 287994
Hours: (Wed–Fri) 5pm–11pm, (Sat–Sun) 11am–11pm
*This was an invited tasting.