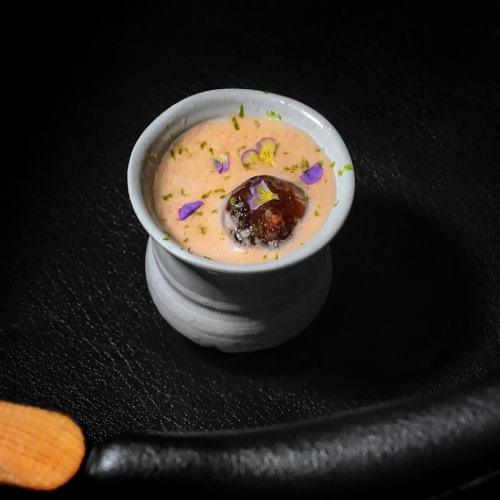 A Sense of Wonder, born of the bespoke craft at bar stories
Jouncing with a frenetic rhythm, an icy avalanche rung out with lyrical resonance as each wrist flick sent them flying through hollow metal receptacles. As soon as the frenzy subsides, a mellifluous transition guides the mouth of the container, mesh strainer now affixed, to the rim of a chilled glass and the concoction rushes in to fill the concave bed. Behold, the first cocktail of the service at Bar Stories.
As to why I found myself affixed to a bar stool so early in the evening? It was a serendipitous affair where I inexplicably found myself in the area as the golden glow of the sun started to dull.
My palate had been yearning for a robust hug from a well-concocted Mezcal Last Word and I decided to usher myself up the unassuming flight of stairs at Haji Lane that leads to Bar Stories.
It was my virgin foray into this esteemed bespoke cocktail bar —somehow, despite my familiarity with parts of the Singapore bar scene— and I was enthusiastically awaiting my turn to place an order.
There isn't any pomp to the cosy, if slightly cramped, loft space which exuded an almost homely conviviality. Everything felt like it was in the right place but didn't stand out, Bar Stories wasn't one of those pretty bars, it's a bar profoundly dedicated to the art of mixology.
Bar Stories is an iconoclastic concept — it does not have a menu. It's more of an incubation space for ingenuity, also presented through bites from its offbeat "Japanese-Mediterranean Izakaya" roommate.
After a short wait and it was my turn to request a bespoke drink, I excitedly hurled out my tasting notes of "experimental, spirit-forward, and complex".
Poetry in a glass
Alas, the opening concoction, floral but potent, didn't hit the mark. However, Bar Stories' bossman Dave promptly stepped in and offered to craft my replacement personally, a Mezcal Last Word riff.
Built on Mezcal, Tequila, Yellow Chartreuse, Yuzu, Vertivier Gris, and Luxardo Cherry Liqueur, this was a thoughtfully balanced, nuanced beauty.
It was a spin where minute complexities were harmoniously blended together while abstaining from audaciousness. Last Word's characteristic punch and herbaceousness were stripped of their spotlight and instead, focus fell on the balmy blanket of dry acidity that's suavely complemented by a smoky depth.
Following that, I quickly ran through my mental list of cocktails for my next and, at my behest, Bar Stories' bossman racked his brains for a very unorthodox order.
Some will consider this a rare sighting but he was compelled to decant the remainder of an Angostura Bitters bottle — to eke out a smoky Trinidad Sour.
As farcical and esoteric as this order seems, it actually helped open a tiny window into the sophisticated flavours-tinkering process at Bar Stories. The aptest way to describe this twist would be "sexy as fuck".
A compelling bitters complexity is the first thing that welcomes you but that medicinal zing soon melds seamlessly into the funky orgeat, all while lashings of citrus and agave bleed into a gently smoky background.
Complex, dry grassy, floral, deep and with a rumour of smoke — an impressively congruent example of everything, everywhere, all at once.
Just these three drinks are pretty telling of what Bar Stories aims to provide. It strives to please all palates and doesn't merely strive to dazzle with haute mixology.
"Poetry in a glass" might be misleading. Bar Stories is more like slam poetry. The ideas are louder, clearer, and come with underlying showmanship to make it more easily appreciatable.
Make your reservations here.
Bar Stories
Website | Facebook | Instagram
Address: 55-57A Haji Ln, Singapore 189248
Hours: (Tues–Thurs, Sun) 5:30pm–11:30pm, (Fri–Sat) 5:30pm–12am