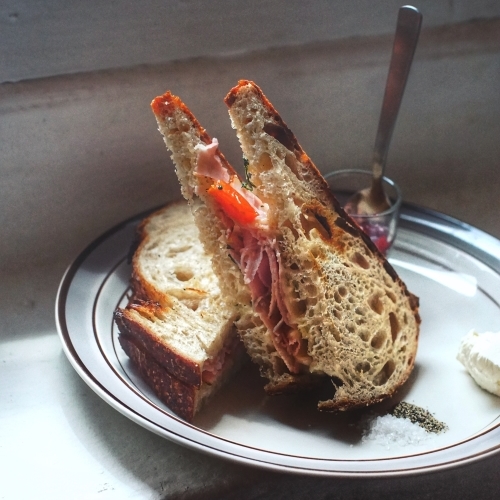 Minimalist sanctum Ceres Haus revels in ethereal lighting and traces of wistfulness
A gentle gloom envelops you the moment you step into Ceres Haus' clandestine hideout. Sequestered on the second floor of one of Circular Road's rustic shophouses, this minimalist cafe overflows with an ethereal air.
Darkness drapes across most of the conservatively decorated space, save for sporadic areas stained by dim yellow lights or the daylight spilling in through pellucid glass windows.
The majority of the palette is taken up by either subfusc neutrals or ruggedly greys, creating an immersive, incense-perfumed bubble where the hectic pace of the day gracefully decelerates.
Ceres Haus isn't conventionally beautiful but its mood, a mix of assuasive and wistful with a hint of reticence, stirs up profoundly distinct emotions from the effulgent pure whites ubiquitous to Singapore's cafe scene.
It can feel like a soothing daydream for you to seek reprieve from daily trivialities. Or a tranquil sojourn to gather focus within the calm, while huddled around the communal table, bathed in the forgiving warmth of sunlight. Regardless, the gorgeous ambience serves as the perfect way to spirit you away from the chaotic flow of mundanity.
Less is more

As you're getting intoxicated in the atmosphere, it seeps in better when you ruminate with a cuppa in hand.
My first visit's Iced Oat White ($7.50) left quite an impression. Ceres Haus' blend is robust and nutty while adroitly incorporating the oat maltiness into the espresso base — a blissfully silky and balanced cuppa. A second visit yielded a cuppa that was still decent but lacked that je ne sais quoi.
There is a degree of epicurean delight to be found at Ceres Haus but just prime yourself for a menu of slightly inflated dollar figures vis-a-vis the food you'll be served. Like its fittings, the food ethos here is exceedingly understated.
Be that as it may, lacklustre value doesn't equate with mediocre taste. As simple as many of the items are, the a-la-minute preparation of its Madeleines ($8/3pcs) is a respectable approach to providing artisan quality and the lightly crispy and fluffy treats were decent, benefiting from being made fresh.
The menu at Ceres Haus is rather blinkered, comprising mainly fuss-free brunch items and sweets but the Ham & Cheese Sandwich ($18) proves the exception in case anyone has a churlish stomach that has to be satiated.
It's hard to claim it justifies its value, being an uncomplicated sourdough sandwich dressed with nothing but a smattering of ham slices, melted cheese, and caramelised tomatoes. There is a tale of two sandwiches here — starting with an introductory story of a surprise hit.
All the parts came together flawlessly and congruently, satisfyingly savoury but punctuated with pops of vivacious tomato and feisty pokes from the mustard mayo. At the same time, Ceres Haus' smart curation of accoutrements also elevated the straightforward profile, especially the moreish whipped butter and tangy jam — amplifying or attenuating the base richness, depending on your preference.
Alas, the second time came with a noticeably tougher chew on the toasted sourdough bread that made it harder to enjoy the overall ensemble, especially with the mustard zing being a languid non-factor this time around.
I have been offered differing third-party views of the standards here and my two visits, while somewhat limited, also provided corroboration on inconsistency. However, there is one facet that has obtained universal acclaim — its ethereal vibes, clearly rivalling the most beloved minimalist outfits in the scene.
No doubt the food might seem to provoke too strong a feeling that it lacks intricacy. But the reticence and simplicity are also the greatest charms of Ceres Haus, where it doesn't feel like a flavour-of-the-month contender entangled in a glamour rat race. Less is more — and this gorgeous cafe articulates all its virtues without having to say much at all.
Ceres Haus
Address: 18A Circular Rd, Singapore 049374
Hours: (Mon, Wed–Thurs) 10:30am–5pm, (Fri–Sun) 10:30am–10:30pm