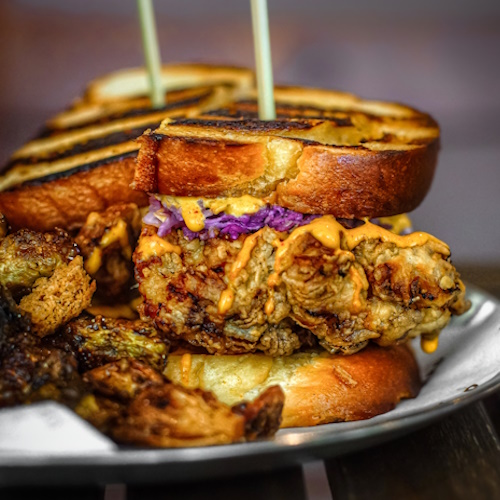 Folk Yard: are the Coffee and hearty sandwiches good enough reasons to travel to Potong Pasir?
As neighbourhoods come, Potong Pasir is hardly ever researched when looking for the best cafes in Singapore. Still, some folks may have heard the buzz coming out of the area last year as Folk Yard popped up, bringing quality coffee and bites to the sleepy vicinity.
First opened in September of 2022, Folk Yard had drawn in mobs of cafe hoppers looking to indulge in its rustic vibes and eye-catching sandwiches.
If you're paying attention — yes, the cafe just celebrated its first anniversary, hinging on a cheeky slogan of "one year of bare necessities". Hey, they've got to be doing something right for the customers to keep flowing in.
And it's not hard to see why when you get seated down in the welcoming space.
It's immensely cosy and laidback, trimmed with simple and rustic wooden fixtures, raw concrete floors, and the most understated white paint job — though an off-kilter neon orange sign at the door screams out to passers-by to check it out.
A mere stone's throw separates Folk Yard and Potong Pasir MRT too, making it one of the most convenient spots to add to an itinerary in case you're on a cafe-hopping visit from parts of Singapore usually too far detached from the quaint Northeast.
A Potong Pasir Attraction
Ultimately though, it's the food that draws people in — specifically, Folk Yard's tantalising sandwiches, such as this Buttermilk Fried Chicken Sandwich ($16), a hefty beast that's straightforward but satisfying.
Constructed with buttery shokupan, coconut slaw, buttermilk fried chicken and curry aioli, the succulent chicken and robust aioli were undoubtedly delightful, especially with the buttery touch of the shokupan.
That said, the chicken's marinade was markedly lacking and the coconut slaw's acidity was rather tame as well, and not fully adequate as a contrasting element.
So, yes, Folk Yard's sandwich is an indulgence but —at least to me— the overall level of richness didn't quite deliver on the tremendous burger-like decadence some might expect from its golden-brown appearance.
Some might find this opinion dubious but I think the star was the Fried Brussels ($10, add-on as side for $5) which was remarkably prepared and trumped more established cafes and even restaurants.
The charred rubble might attract more blase expectations at first sight but came loaded with insanely addictive flavours and textures.
Juicy and gratifyingly crunchy, smoky and clean of any of the unwelcome bitterness, then accentuated with a treacly and tangy glaze — Folk Yard genuinely serves up one of the best Brussels sprouts in Singapore.
Run by experienced baristas, Folk Yard's coffee is very reliable as well. Gravitating towards the anniversary special filter of Ecuador Finca Soledad Gesha ($10), I was very pleased by the balance, perfectly dialled in between the delicate fruity notes and clean acidity.
So, the underlying question is: does Folk Yard justify a visit to Potong Pasir? It's not a resounding yes but I feel like the quality can justify a visit, compared to the N-th visit to whatever trendy new spot getting hyped on social media.
Solid food, coffee, service, vibes — everything is more than satisfactory. So if you're planning to visit the Northeast and want to maximise your trip, I think this is a prudent choice as long as you know what to expect.
Folk Yard
Address: 51 Upper Serangoon Rd, #01-59 Poiz Centre, Singapore 347697
Hours: (Wed–Sat) 9am–12am, (Sun–Mon) 9am–5pm