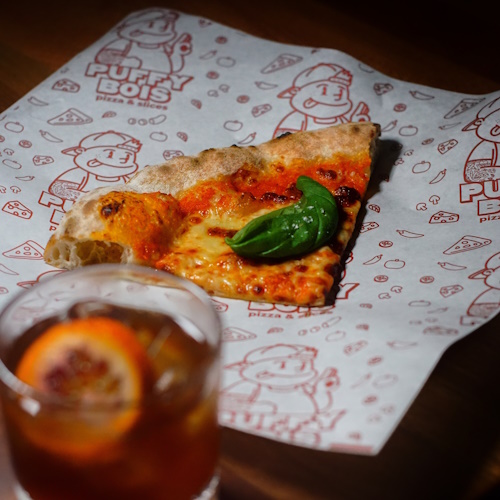 hidden gem Puffy Bois Pizzas throws out sinful, affordable pizzas by the slice
Make Bali Lane great again — at least, that looks to be what Puffy Bois Pizza, a brand-new hidden bar and pizza slice shop, is planning for the tepid mood in the hood.
Once a frenetic bubble of nocturnal hubbub and a blur of memories, the narrow street and the adjoining Haji Lane have waned in their splendour and been superseded by the more voguish locales. It still has many regulars — but it's just not the "it" spot anymore.
Still, the area has things to offer, with cafe-hopper magnet Margaret recently opening and stalwarts such as Good Luck Beerhouse and Bar Stories holding the fort.
Now, there's Puffy Bois Pizza which opened its doors for the first time in late May of this year, helmed by Zul Zaba and Sam Ng, more widely recognised as a former brand ambassador for Monkey Shoulder.
The pizza-focused bar is not exactly hidden but takes some finding — you'll first need to locate the seedy KTV lounge on the ground floor before you make your way up the conspicuously lit-up stairway leading to the second floor.
slice with size
Puffy Bois Pizza's actual space itself has nothing much to speak of. Simple wooden counters, cluttered rustic trimmings, and a cluster of bottles — no-frills, no thrills.
It seems the bar's focus is entirely on its good pizza, good drinks, and good times. As far as classic Margherita ($6/slice, $22) pizzas go, the slice here gives a good account of itself.
The sauce is rich and simple, not too cloying, and easy on the palate when paired with the fresh twang of basil.
As with most similar places, the key is in the pizza's sourdough base and Puffy Bois Pizza does a pretty respectable job — chewy with some pleasant air pockets, though on the brink of being too dense. Still, $6? No complaints.
In contrast, though, the Black Clam ($7/slice, $26 full) hit the spot much more gratifyingly with a seemingly more supple dough that's more pleasant to work through and, more importantly, the toppings were immaculate.
It might have taken some kind of black magic to conjure but the Black Clam oozes rich briny richness, robustly bolstered with copious amounts of garlic fragrance — simply addictive.
At the same time, Puffy Bois Pizza also brings on their mixology a-game with the Solaris ($22), a Negroni riff so bewitchingly sumptuous that an unassuming pizza shop would not be where you're expecting it.
The ingenious interpretation incorporated Averna and Braulio into Campari and the amaros impart a magical complexity while keeping the balance tight. Not only is there greater depth but the extraordinarily silky mouthfeel also blows even renditions from some of the best bars in Singapore out of the water.
If you ask me, the Negroni is more than sufficient reason to descend upon this cramped little funhouse for a night out. But great affordable pizzas by the slice? Those are just the pineapple on top.
Puffy Bois Pizza
Address: 20A Bali Ln, Singapore 189856
Hours: (Thurs–Mon) 6pm–12am