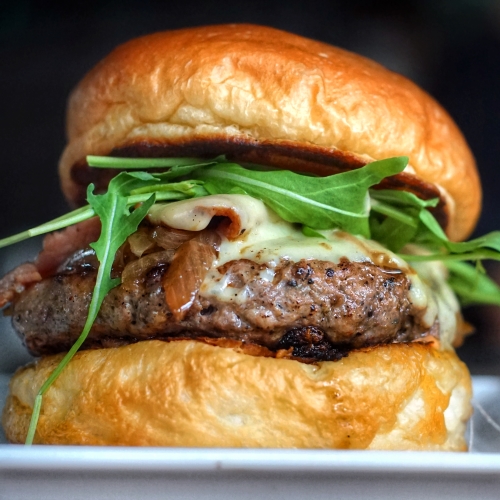 25 Degrees Is A Gem That Occassionally Makes the Best DamnED Burger in Singapore
I'd just come to terms with my frightening rate of ageing, as I sit here writing this introduction. Damn, my first visit to 25 Degrees was in 2016 when I still sussing out Singapore's busy food scene and before Indulgentism was even an idea in my head.
Needless to say, 25 Degrees is one of the places in Singapore that safe-keeps some of my best memories, particularly those of decadent feasts filled with juicy burgers and fun snippets of life.
The furnishing at its Rochor space is simple — you have an array of seats spread throughout its narrow scarlet-walled, L-shaped interior but the main focus is on the convertible counter.
It's the most distinguishable trait of 25 Degrees from afar, parties of people seated around the hollowed-out frame as the windows are folded up — half staring forward while the other half kept their backs against the chaotic cross junction, in a unique partial al fresco setting.
We'd been through many ups and downs but till today, this icon of Singapore's F&B scene faithfully awaits my next craving-driven return visit.
The Number 1?
My main recommendation for anyone headed down to 25 Degrees for the first time is the Number 1 ($14), possibly my favourite burger in Singapore — when they are on their game.
It certainly isn't the most technically astute version but it certainly got a certain je ne sais quoi. Pillowy buns thiccer than any Kardashian's, combined with crunchy bacon, luscious caramelised onions, and a hefty juice-loaded patty. Damn.
Not to mention, 25 Degrees built this feisty dynamite out of a unique ingredient ensemble out of the left field, mainly anchored by sharp punchy Gorgonzola and piquant Thousand Island Sauce that add boisterous personality to the colossal patty.
But see, the issue with the Number 1, and perhaps 25 Degrees in general, is a frustrating inconsistency — discrepancies can get a bit exaggerated here. Sometimes, it's just the most harmonious big bang of massive flavours.
But other times? A slipshod package with messy ratios and balance, like on my most recent visit. That hasn't stopped me from returning but honestly, it has impacted the regularity of visits.
Another option I gravitate towards once is 25 Degrees' Number 2 ($14). Another rather unique creation luring you in with classic Italian flavours of Prosciutto, tomatoes, and Burrata. While there's a rueful absence of complexity, the ruthless umami punch will knock you to cloud nine — if you're into heavy-handed salinity, with a slight helping of monotony.
Classic Malt Shakes ($12) here are pretty solid too, a timeless representation of good ol' sweet, thick, and creamy American milkshakes, with a good myriad of choices including Marshmallow, Vanilla, Chocolate, and Strawberry.
At the end of the day, 25 Degrees is undeniably one of the biggest highlights of my gastro-adventure in Singapore. Let's be honest — consistency is a glaring issue here… But I'll be damned if I don't continue chasing that inexplicable high of an occasional perfect burger like a hapless junkie.
Make your online orders here.
25 Degrees Singapore
Website | Facebook | Instagram
Address: 200 Middle Rd, Hotel G, Singapore 188980
Hours: (Wed–Mon) 12pm–12am