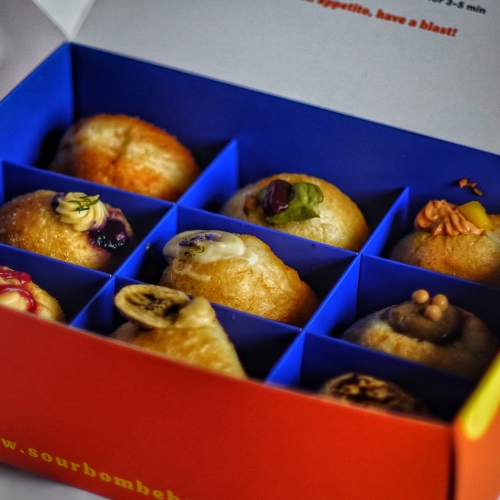 Singapore's Sourdough Donut Maestro Sourbombe Bakery opens a new dine-in Cafe at Jewel Changi
The narrative of Singapore's F&B's previous two years had been noticeably dominated by home-based concepts and celebrity chef debuts. Even after reaching what can only be described as a critical mass of trendy new openings though, there's still no cafe in Singapore that embodies the dining paradigm as profoundly as Sourbombe Bakery.
Conceived by former Master Chef runner-up Gen Lee as her Covid baby, its sourdough doughnuts exploded into the scene and stood at the vanguard of the artisan bomboloni frenzy which washed over Singapore.
The foundations for the start of Gen's imminent pastry empire have been laid in the latter half of this year as Sourbombe Bakery comfortably settles into a ritzy and fully-equipped new cafe space without much toothing issues, finally allowing cafe hoppers to dine in.
What a way to introduce its first sit-down cafe, too. Sourbombe Bakery's outpost at Jewel Changi is impossibly vogueish and unique in its design, beset with svelte fixtures and immaculate palette choices matching their iconic colours.
The operation is segregated into a kitchen area, cooly dyed in cascading blue ombre, and the main cafe area, exuberantly covered in lush shades of coral pink while small splashes of colour join in the party through the vibrantly-hued crockery and even q-pole sashes.
At its epicentre is an encircling counter, where all the bomboloni are displayed and beckoning for customers while an arrangement of rose gold tubes fixed to the middle divaricates into a blossoming floral structure, adorned with dainty mesh petals and gently illuminated orbs.
Bold, arresting colour contrast, whimsical silhouettes, and careful planning make the Jewel Changi Sourbombe Bakery a positively memorable experience. It's not your run-of-the-mill white minimalist cafe but it's a photogenic sight nonetheless.
Best Sourdough Donuts in Singapore
My very first order of Sourbombe's Box of Doughnuts ($29/6pc) was etched deep into my memory — they came at a time when they'd just burst into the scene and were the most sought-after doughnuts around. Succinctly put, the doughnut textures were simply the best I've had despite, quite honestly, somewhat high price points.
On its own, the bomboloni came dreamily fluffy and rebounded hastily whenever pressure is applied to its bouncy gluten structure. However, magic happens within a few minutes inside an air fryer — blasting it with the sweltering convection resurrects the crust into an airy layer capable of the most unearthly crackles.
As with many pastries, the crux of Sourbombe Bakery's remarkability lay in the dough but the fillings were quite a breath of fresh air as well — each one was injected with novel flavours such as Lavender Lime Mascarpone and Basque Burnt Cheesecake instead of the then-ubiquitous curds, ganaches, and, god forbid, Nutella.
Burnt Cheesecake, gloriously decadent as it may be, is functionally a whipped-up concoction of velvety liquid so it worked hitchlessly as a filling, especially when given some love from the blowtorch. On the other hand, the Lavender Lime Mascarpone featured a plush cream that exuded plenty of floral aromas, bolstered by a controlled zest.
Many within their legion of fans would already have tried most of the mainline but Sourbombe throws in a handful of seasonal flavours to keep things interesting. Drawn to the Blood Orange ($5.60) flavour, my expectations were high but actually ended up being exceeded. This was one sensationally piquant bomboloni, loaded with fresh spirited citrus and given a delicate touch of acidity for complexity.
The Jewel Changi Special
Enhancing the mostly carb-centred dessert repertoire, Sourbombe Bakery also adds two soft-serve ice cream selections to Sourbomb Bakery's lineup — a choice between Hay Honey ($8.50) and Lavender Lime ($8.50), which can be mounded gratuitously atop an OG Sourdough Bombe (+$3).
The silky Hay Honey was quite the delightful treat, being tastefully dulcet and kissed by gentle florals. It's bright and sweet while not being excruciatingly cloying, splendidly suited to the balancing twang of the doughnuts. Alas, you do have a natural timer of sorts since an overly soaked-up bomboloni runs the risk of a texture somewhat redolent of wet bread.
Yes, Sourbombe Bakery can be a little overrated but, hyperbole as it may sound, no other sourdough doughnut has replicated my virgin experience with that bewitchingly crusty bomboloni. It's another debate on whether the doughnuts live up to their slightly steep price tags —justified due to an excruciatingly time-consuming process— but these are the best to me, so far.
Not many other doughnut shops in Singapore have as successfully ventured into this fashion of calculated playfulness in fillings. Then, married with immaculately proofed dough and a beautifully conceptualised cafe space, what's not to love? If anyone ever finds a reason for a journey to the East, please make a pit stop at Jewel Changi for these babies if time allows.
Make your online orders here.
Sourbombe Bakery
Website | Facebook | Instagram
Address: 78 Airport Blvd., #02-237 Jewel Changi, Singapore 819666
Hours: (Mon–Fri) 11am–9pm, (Sat–Sun) 11am–10pm