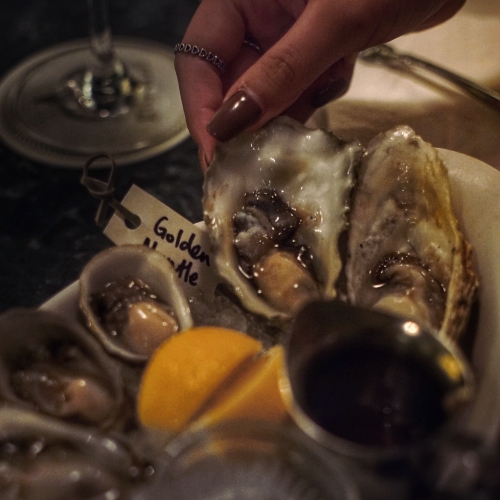 Gibson's new Chimera Menu Proves it's Still the liveliest Bar in The Jigger & Pony Family
When you think of a bartender, most people would either think "stoic professional in a classy waistcoat" or "hipster showman emblazoned with tattoos". What if I told you, there's a place where the bartenders are a hybrid of the two? Introducing Gibson, a hidden bar that's a member of the Jigger & Pony family.

Well, it's not immediately apparent upon entering and getting seated. But there's a curious revelation when the bartenders step out from behind the snazzy bar stations — their uniforms are a preposterous marriage of blazers with shorts.
While its oldest sibling made a name for itself as the gold standard of classical Japanese bartending, Gibson is a bar that doesn't take itself too seriously.
In a way, the tongue-in-cheek aspect is apparent with the shorts and the fact that its logo is literally an onion, the key ingredient in the drink that its name is derived from. Not to mention how it's juxtaposed against Live Twice on the first floor, which leans heavily into its refined aestheticism.
Regardless, there is still a certain tastefulness and modest charisma to Gibson and that was very eloquently mixed with their adulation for the whimsical in their latest Chimera menu.
The Chimera Era
Throwing in something more familiar to start the night is the namesake of Gibson ($25), concocted with Gin and Sake-Vermouth, served up with an unusual triad of a seasonal pickle, pickled onion and smoked quail egg.
At its base, it came out with a fierce sharpness that's rounded with a surprisingly bright touch of floral sweetness. While onion is the garnish, the seasonal pickled tomato popped in this combo.
Moving onto Gibson's new Chimera menu proper, the Urban Farmer No. 4 ($25) is the latest in line of a long-running series that's stayed with the bar through quite a few menu iterations.
Staying true to the concept, this was an elegant potpourri of hibiscus florals and herbaceous aromas crafted from locally grown produce — it's refreshing with pronounced raspberry tartness but still remained relatively nuanced.
A drink that really showcased Gibson's love for quirky mixology was the Sugarcane Spritz ($25) which was a mishmash of flavours focused on a familiar Southeast Asian comfort.
Gibson made this taste curiously Asian —though also not quite, at the same time— by giving it plenty of nuance ranging from savouriness and funkiness to a dry acidic depth.
However, the Back to the Roots ($25) was the tipple that really showed where Gibson shone in comparison to the more technically-sound and traditional drinks of its siblings.
This exceedingly complex mix featured a bold hit of liquorice that's complemented by mild tomato richness and plunging cacao notes. Everything is jazzed up at the end with this sultry touch of basil and pepper spice that bestowed a distinct dimension to it.
BitIng Complements
The silent stars at Gibson though, actually don't exactly come from the bar itself but from the downstairs neighbour, Humpback — Oysters ($8/pc) carefully curated from all over the world.
Given these aren't cheap happy hour oysters, one would expect more. Some variations, like one from NZ, impressed through a briny yet refreshing creaminess and the rest were good quality, though not quite as sumptuously creamy.
Other small bites also provided a nice intermission from the flurry of drinks that started acidifying our tummy, with one standout, in particular, being Gibson's Octopus ($24) on a potato taco.
This was an eccentric but endearing take on tacos, where the rosti-esque potato "tortilla" added a light crunch to complement the smoky burnt eggplant and octopus.
Cheese lovers would also relish in the rich cheesy innards of Gibson's 5-Cheese Croquette ($22), buried under a thin layer of breadcrumbs, where an earthy truffle sauce builds on the dairy richness while adding contrast. Solid bar grub, for sure.
Alternatively, the Mussel Spaghetti ($34) is the heartier option that provides some carbs for those who need a more sizeable buffer while they imbibe in Gibson's tipples.
It's pretty comforting with a nice touch of briny depth from the mix of mussels and anchovy gremolata, though it can get surfeit if you're not particularly fond of funky and heavy flavours.
Nonetheless, Gibson is a bar where the cocktails are the star. The accompanying food may be solid but if there's a reason to lock it in for a Friday night over its other siblings, it's for the fun drinks, lively vibes, and convivial team that will make it a blast.
Make your reservations at Gibson Bar here.
Gibson
Website | Facebook | Instagram
Address:20 Bukit Pasoh Rd, 2nd Floor, Singapore 089834
Hours: (Sun–Mon, Wed–Thurs) 6pm–12am, (Fri–Sat) 6pm–2am
*This was an invited tasting.