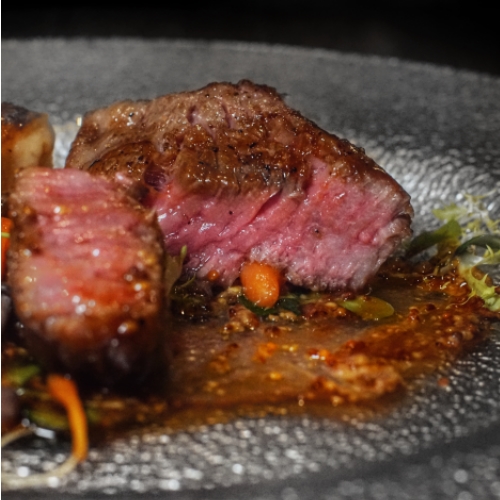 Uplifting Festive Flavours & a stunning Wagyu Steak at Gary's Restaurant
I maintain that the most interesting restaurant set-ups can only be found at the most arbitrary of locales which elude the public with a certain twinge of inaccessibility — after all, real estate is a disproportionately exorbitant luxury in Singapore's F&B scene. But the community always finds a way to congregate in cosy little alcoves like at Rochester, where Gary's Restaurant is located.
Rochester can't be described as far-flung by any means but it's also not where most have been trained to look for the top restaurants, far removed from the spiffy vicinages of the CBD or Dempsey Hill. Most of the public's perception of Buona Vista's food scene comes in two simple words, "Star Vista."
Yet, there exists this idyllic little nook under the dreary shadows cast by sombre industrial edifices, but also heartfully filled with colonial charm, and where refined restaurants such as Les Bouchons and Gary's were nestled comfortably in.
Gary's, in particular, is an establishment built with mischief and idiosyncrasies that feel a little mismatched for its touted Italian restaurant concept. At its core is a well-maintained colonial bungalow, where al fresco dining tables are strewn out about its rangy outdoor premises and an old-school second-floor dining room oversees the compound, where light trickles in through the balcony onto spreads of clean white linen.
It's not as boring as it sounds since splashes of personality are added to that dated rustic interior. Firstly, with an archway at the entrance with hanging pink flora, then with a litter of animal statues populating its surrounding greens. Wire-fashioned reindeer even join the extended family for Christmas.
Some might argue of kitschiness but it feels like a faithful replication of Western bistros from ye olde Singapore before an incessant, commerciality-driven demand for ostentatiousness took over. What better restaurant to spend your festivities in than one that exudes sincerity and jovialness?
The magnificent seven
If that's what you're inclined to do, Gary's has crafted up a special 7-Course Christmas Dinner ($198) menu for that special time of the year, only available on 24th and 25th December 2022.
Honestly, the dinner was off to a slow start but gradually picked up. Two appetisers started off the meal — a Coned Escargot sadly marred by dissonance as a thick cone tainted the lighter chew of the escargot and a by-the-books but nonetheless silky and clean Scallop Carpaccio.
Subsequently, a sleekly plated US Giant Asparagus charmed us whereby the tremendously tender and juicy stalk of green was rested upon a buttery fontina sauce and daintily dressed up with light truffle perfume, spherified olive oil, and crispy parm chips.
While simple in execution and little in the way of elaboration, Gary's did a respectable job in letting the produce shine individually instead of obfuscating it with the unnecessary clutter of premium ingredients.
Going by conventional pasta wisdom, the Alaskan King Crab Pasta called out for improvements to emulsification since the sauce struggled to cling to the spaghetti. Besides the issue of sauce retention though, Gary's sweet-tangy sauce was solidly rendered to velvety consistency and then topped up with a confetti of luscious King Crab.
In contrast, the penultimate main of Baked Cod Fish was graced by better execution, presented with a nice flakey moistness, sexily-browned edges, and given a spurt of umami from a mellow anchovies sauce.
Ultimately, Gary's seven-course Christmas dinner culminated in one sublime beef specimen in the adroitly seared Arita Wagyu, helping push the festivities to a climax with its splendorous picturesque pink centre.
Steaks rarely lie about the quality of meat used, especially when only shallowly bolstered by a thin film of wine jus. As plain as day, you could tell it was a gorgeously marbled beaut blessed with scores of fat — the only explanation for its obscene juiciness and wealth of exquisite richness.
They then seal the deal with a homely Panettone Pudding, meant to wash over you with that quintessential, familiarly dulcet taste of the Holy Night then you can be on your merry way.
Undoubtedly, this is a meal that has both highs and lows but remains generally consistent in execution. If you're in the market for some stunning beef and a quaint little al fresco spot to spend your Christmas, this wouldn't be a bad idea at all.
Make your reservations here.
Gary's Restaurant
Website | Facebook | Instagram
Address: 41 Rochester Drive, Singapore 138582
Hours: (Tues–Fri, Sun) 11:30am–3pm, 6pm–11pm, (Sat) 6pm–11pm
*This was an invited tasting.