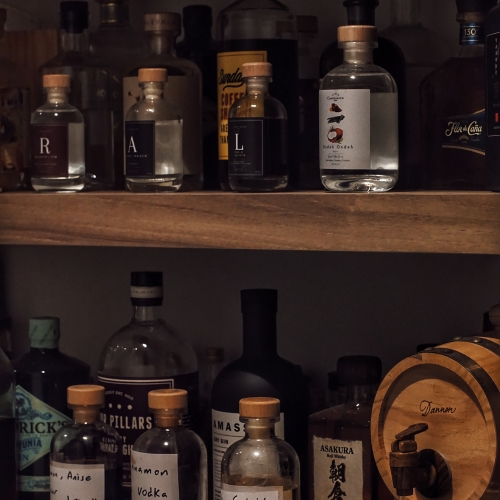 Section D — A couple's Love for Cocktails Distilled Into A Home Bar in Quiet Sengkang
I first met Dannon, co-proprietor of Section D with his wife Jamie, during his tenure as Editor of SG Magzine. Built on a wealth of experience at multiple lifestyle magazines, including his new baby Spill Mag, his profound understanding and deep-seated love for all things alcohol are deeply infectious.
Home-based kitchens and bars have limitations — you can only work with what the powers that be allow, save for radical renovations. But that also contributes to the unusual charm of Section D since it's the most intimately friend-party-like bar experience out there.
Many bars can attempt to replicate a house party but none can recreate the actual "simply-gathered-around-the-living-room-dining-table" setup as vividly. As stripped down as it is, this isn't an experience steeped in austerity though.
For one, there aren't many outside disturbances because of its rather serene locale. Then, the comfortable living room setup and the breezy balcony, festooned with fairy lights, go towards an immersive and cosy night, filled with plenty of imbibing.
My first visit to Section D was just a short period after lockdown when the pandemic project was barely out of infancy but the bar already has its feet firmly on the ground. Now, two years later, it's grown even more.
D Bespoke — Dannon Bespoke
One apparent area of growth was the bottle family's expansion, joined by premium expressions, some rather esoteric choices, and even exclusive brews done in collab with partners like Compendium.
Though the most enthralling liquid library at Section D is actually hidden in their kitchen, littered with an array of liquors and a fridge crammed full of special homebrews and infusions.
Bespoke Cocktails (from $18) are the greatest litmus test for a bartender's feel for flavours and Dannon sometimes does some magic with his liqueurs and spirits. My first ever at section D, quirkily named The Mexicans Are Coming, passed with flying colours.
An intrepid cocktail that draws from bold Mexican flavours, built on the unique foundations of the Habanero-tinged Empirical Spirit Fuck Trump and His Stupid Fucking Wall, then mixed with Mezcal and jazzed up with layers of sweetness from the grapefruit and honey to give some balance.
Interestingly, bespoke requests can be spiced up with your personal stash if you wish to donate them to the cause, like when someone donated swigs of the incredibly smooth Cava de Oro Extra Añejo Tequila.
When presented with a bottle of Yellow Chartreuse, Dannon also fixed up a potent riff on the Last Word, one of my all-time favourites at Section D. The tipple blitzes with a spirit-forward punch where the herbaceous notes and complexity melded harmoniously into Chrysanthemum floral sweetness.
All Original
Besides the range of bespoke cocktails that Dannon can concoct with his myriad of spirits, there are also some intriguing original creations on Section D's regular menu where things are changed up regularly with the latest being Omakase Cocktail Flights ($70/3 drinks) inspired by different countries.
Drawing inspiration from Canada, Korea, and Singapore, it's chock full of whimsical flavours and ideas — there's a Sour Plum tipple based on good old dive chaotic dive bar days for Singapore and also a fun take on the Korean classic of Somaek enlivened with the levity of apple vinegar.
One of the most memorable creations was from Section D's first menu, the Bottled Up ($16), a drink made for delivery in bottle form during the lockdown — dazzling with a vibrant plum profile while Intoxicatingly fragrant Rojak gin notes and coconut weaved in and out of the palate.
An enchanting ensemble exploding with local inspiration, it was splendidly complex but not excessive. Always heart-warming to see our local flavours given an innovative spin.
Maybe not a place waiting to get on any World's 50 Best Bars rankings anytime soon, but Section D is nonetheless a splendid good time. It's got that homely, charm, it's wallet-friendly, and it's filled with quirky ideas and meticulously crafted infusions. It's good as any bar — just less fancily dressed up.
Make your reservations for Section D here.
Section D
Address: The Vales,

85 Anchorvale Cres, Singapore 544627

Hours: By Appointment only