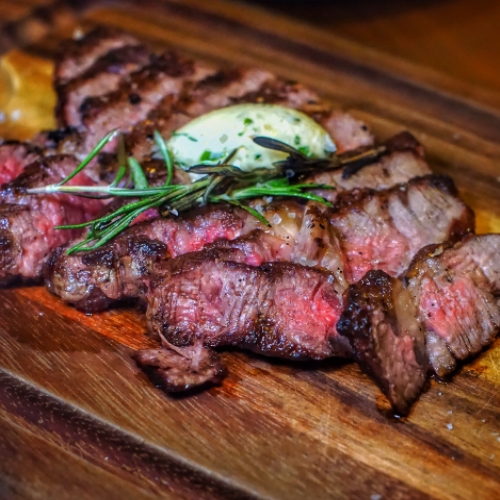 Supperman Speakeasy & Grill is the New Katong Date Spot for Flame-Grilled Meat Lovers
Joo Chiat is a street that truly only bursts into life when the sun goes down and the lights turn on. Joining this nocturnal street is an aptly named Supperman Speakeasy & Grill, a grill concept where the common man can let up after a hard day's work.
With a name that sounds like a play on the iconic superhero, it's not surprising to find Supperman Speakeasy & Grill's facade illuminated in a blend of red and blue from the neon sign at its entrance.
The decor is an interesting mix. Half of it is set in a laidback al fresco setting jazzed up with whimsical paintings with a small bar corner hidden out of sight. The other is an airconditioned lounge, no-frills and just slicked in cosy wooden tones and rustic touches.
This looks like a job for…
For an area with as much buzz as Katong, there is an unexpected lack of upscale smokehouses which had been extensively featured in the limelight in recent years.
The chic Supperman puts a lot of focus on meats and seafood, adding a different intensity by assiduously working the proteins over a flame grill to draw out those luscious juices.
I cannot overstate how important bread is to a wholesome meal experience and the bread and wine combo for Supperman's Great Start ($15) is a more-than-satisfying way to start off, toasting crackling restlessly while bolstered by slathers of silky and herb-rich beef fat butter.
There's no doubt though that the highlight was the grilled items. Even if meats are the likely crowd-pleaser, I actually highly recommend the Open Fire Crayfish ($32) for some immaculately smoky and succulent strips of flesh.
Deliberating between the beef options at Supperman is a little trickier, with a few different steak cuts to accommodate all palates. The safe choice is obviously the ubiquitous classic cut of the Black Angus Ribeye ($38/300g), though theirs comes crowned with a dollop of anchovy butter.
It is probably the most easily appreciated due to it being uncomplicated in general, with a good mix of rich fats and tender lean meat. The anchovy butter just bolsters it with some raucous oomph.
What caught my attention, however, was the immensely tender specimen of Angus Top Blade ($32/200g), with a blanket of chimichurri layered over it. In contrast to the former, this cut is leaner and skewed towards being mostly muscle.
Due to its leaner properties, it was less decadent but also more blissfully soft in texture and the accoutrement of chimichurri also endowed it with a sharp, earthy zing that complemented its robust beef flavours — quite a delightful treat for those less partial to fatty cuts.
Trusty SideKicks
Looking past the spade of grilled meats on the menu, one of Supperman's surreptitious stars was actually the side dish of Beef Fat Smashed Potatoes ($15).
Moist fluffy texture aside, that whiff of garlic and chives seasoning just makes it an insanely moreish snack to nibble on between bites of the heavy meats. Conversely, the mushy Sofrito Rice Pilaf ($12) was a skippable dish.
If you're wondering where the "speakeasy" portion of Supperman Speakeasy & Grill comes into play on the menu, there's a section of curated in-house tipples on the flip side, featuring spins of classics such as Espresso Martini and Negroni.
Personally, I found the concoctions slightly lopsided in sweetness but that also works better in the context of certain drinks like the sour-plum-enriched Shoddy Man's Balls ($21) and the exuberant sweet tooth favourite of Kopi Peng ($23).
Katong is, in many ways, a close approximation of trendier hotspots such as Keong Saik and Telok Ayer — but in the East. The hustle and bustle of hyped new openings have swept across it and it's become quite an electrifyingly trendy food haunt now while also housing many classic hawker gems.
Perhaps not quite a cocktail aficionados' speakeasy hideout, but Supperman hits all the right notes for a casual grill restaurant — it's affordable, laidback, and more importantly, it has decent booze to go with your meats.
Make your reservations here.
Supperman Speakeasy & Grill
Website | Facebook | Instagram
Address: 458 Joo Chiat Rd, Singapore 427671
Hours: (Tues–Sun) 5pm–11pm
*This was an invited tasting.