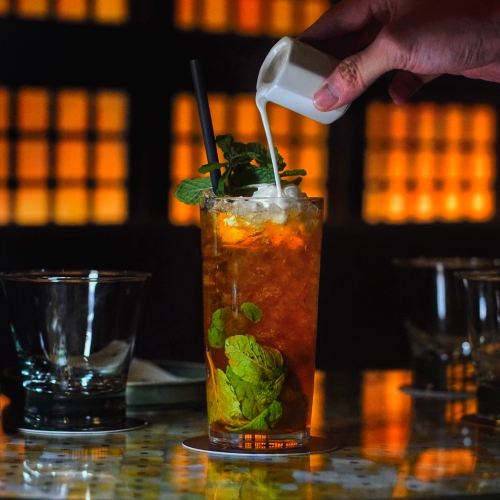 Quaich Bar Wanderlust is Singapore's newest Glitzy Hotel Bar Sensation
Once upon a time, people associated hotel bars with paying lavish prices for mediocrity. But in Singapore, that has become patently untrue with the multitude of lauded bar concepts found in our hotels and the latest addition, Quaich Wanderlust, once again shows the quality of our hotel bars.
The Wanderlust offshoot at InterContinental Singapore, in stark contrast with the original Quaich Bar, flirts with more than just exquisite whisky expressions.
This swanky new outfit that takes over the space vacated by the now-defunct Idlewild is much more ambitious with its tipple program.
In cahoots with the mixologically inclined experts at cousin The Other Room, Quaich Wanderlust presents an exhilarating curation of whiskeys together with an enthralling lineup of cocktail concoctions.
The retro ballroom getup, tastefully glitzy with echoes of suave datedness, had little fragments of different locales peppered throughout. Japanese Shoji decals, plush red curtains, and a regal blue wall that chaperones any incoming guests — everything lends to the wanderlust the bar hopes to instil.
Wanderlust Satiated
When I say ambitious, Quaich Bar Wanderlust really has its sights set far and wide — while many bars prefer to laser in on regions, their virgin menu promises to guide you all over the globe.
Understandably, that sprawling scope does induce some kinks in the overarching picture but it also produces some moments of brilliant chemistry.
A good example is the Sawajito ($25) wherein Quaich Bar Wanderlust mashes two massively popular drinks from two ends of the world, Thailand's Chai Yen and Mexico's Mojito.
The resulting explosion is a flamboyant drink that perfectly encapsulates the conviviality of both cultures. It's skewed a tad saccharine but aromatic tea undertones are still easily found beneath — good for those who enjoy the sweeter things in life.
As the bar scene's trajectory has it, many new entrants have to start off with a few refined classic riffs and the mellowed-out spin on my beloved Last Word here was rather entrancing.
In crafting the Final Say ($25), Quaich Bar Wanderlust exchanges the potency of Green Chartreuse and Cherry Liqueur with the restrained poise of Yellow Chartreuse and Aperol.
All that tinkering creates an alter ego with much more elegance and subtlety, along with a long but gentle dry finish which is beautifully accented by the crimson Campari lollipop at the side.
Solid Gastronomical Affair
More than the mixological potential here, it's perhaps Quaich Bar Wanderlust's gastronomical offerings that turned out astoundingly solid.
While bars have gradually brought up the quality of bar food, many establishments still lag behind full-fledged restaurants — however, that's not the case here.
I'd refrain from extolling the food as anything exceptional but as accoutrements to the alcoholic stars, bites like the Nanlu Pork Belly ($16) managed to absolutely hit the spot.
The sinfully juicy fried pork is perhaps my pick off Quaich Bar Wanderlust's food menu — the luscious scores of fatty segments and that titivating umami seasoning, hiding a sultry funk, make these dangerously addictive.
When it comes down to it, Quaich Bar Wanderlust isn't necessarily a dazzling sensation in either the food or tipple departments — it is, instead, a reliable example of how sophisticated our hotel bars can be even in nascency.
For an ambitious foray into metaphorical globetrotting through tipples, I think the fellas did a pretty standup job. There's always room for improvement but I'm already liking what I'm seeing.
Make your reservations here.
Quaich Bar Wanderlust
Website | Facebook | Instagram
Address:80 Middle Rd, Level 1 InterContinental Hotel, Singapore 188966
Hours: (Mon–Thurs) 6pm–1am, (Fri) 6pm–2am
*This was an invited tasting.