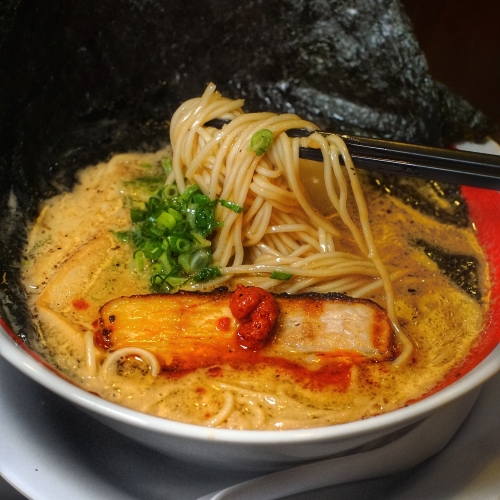 Hidden Gem Bari Uma Serves the most Underrated Tonkotsu Ramen in Singapore
That first love always lingers around the corners of your heart for the longest. To me, Bari Uma is that first love — one of, if not the, very first restaurants I went to and showed me what culinary bliss felt like.
There are many firsts in a voyage in food. First Michelin Star meal, first fancy cocktail bar, first proper Omakase — but all these luxuriating experiences still don't yield that same intense nostalgia as the first restaurant which bestowed upon you the revelation that a life where Saizeriya is a highlight is simply a tragedy.
At this point, it has almost become a pilgrimage for me. A year isn't properly fulfilled without at least a visit to Bari Uma for a bowl of their stupendously hearty Ramen.
Some might wonder "if Bari Uma is so good, why haven't I heard of it?" The answer is simple — authentic Japanese restaurants in Singapore are almost always clandestine operations in places out of public sight.
Like with the whole stable of rowdy and austere Izakayas at Cuppage Plaza, this Tanglin ramen joint has just been left in the wake of glitzy mass-market brands. But it's got its rustic charm in all its simplicity, propped up merely by sparse token lanterns and red curtains.
Unreal Tonkotsu Ramen Broth
"Bari Uma makes the most intense and gratifying Tonkotsu Ramen in Singapore," is probably one of the few audacious claims I can throw out without batting an eyelid and I am quite the contrarian.
Forget your Keisukes and Ippudos. Tonkotsu is meant to be full of vigour, unapologetically robust, and inexplicably viscous– the exact traits personified within this essential hidden gem of Singapore's food scene.
A bowl of Nori-Tama Uma ($16.80) is an imperative order after getting seated down in Bari Uma's homely shopfront, which sits half a notch below street level in a snuggly fitted alcove at the feet of Tanglin Mall.
Hyperboles may be liberally applied within this review since Bari Uma's broth, at least to me, decimates the competition. Imagine this — heaven as your mouth fills up with a sensual creamy viscosity, your palate gets pampered by streams of euphoric pork richness ad infinitum, but it never feels unwelcome or unctuous.
The broth is assured in its status as the component paramount in a bowl of ramen. However, the rest of the ensemble is executed as reliably, if not exceptionally. Snappy threads of noodles, tender and smoky slabs of Chashu, well-soaked seaweed, and delicately acidic bamboo shoots — everything is in order, save for the sometimes underwhelming Ajitama.
Being overly perfect is, naturally, a glaring red flag. No place is that perfect. Those doubts are understandable and ring true because Bari Uma's Tori Ajitama Uma ($14.90) massively underdelivers vis-a-vis the stellar Tonkotsu.
At its base, the broth is undoubtedly creamy but in jarring dissonance. It skews more toward cream soup than collagen-enriched chicken broth — inevitably obscuring and hindering the chicken sweetness from hitting its stride. Not to mention how the texturally inconsistent Chicken Chashu feels like an inferior substitute for its pork-based counterpart
Despite this fowl deviation, Bari Uma has still yet to fail me on account of their Tonkotsu Ramen. As I said, this Tanglin secret has become a yearly pilgrimage for me and the magic lies in how it's never noticeably foundered in quality. All the more impressive when I realise I'd been patronising since 2016.
Bari Uma Ramen
Website | Facebook | Instagram
Address: 19 Tanglin Rd, B1-01/02 Tanglin Mall, Singapore 247909
Hours: (Mon–Sun) 11am–9:30pm
Address: 273 Thomson Road, #01-03/04 Novena Gardens, Singapore 307644
Hours: (Mon–Sun) 11am–9pm