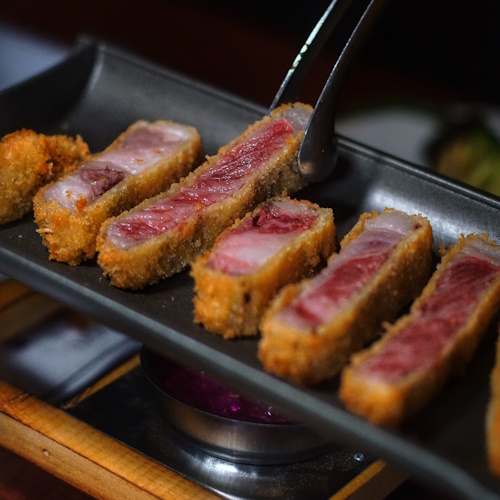 Wagyu Aburiya's sizzling Hot-Stone Wagyu Steak & Gyukatsu Turns up the heat at Robertson Quay
For the past year, those who found themselves at The Quayside while wandering through the bustling Robertson Quay enclave might have noticed Yamakita, a quaint and easy-to-miss Tempura bar.
It might not be widely known but it was actually a concept under the Aburiya umbrella. In case you were looking to visit, however, Yamakita officially rebranded as Wagyu Aburiya in October.
The new concept will see the quaint diner focus more on Japanese Wagyu beef, specifically the renowned Kaghsima Wagyu that has been the receipeint of many awards.
Here, the beef will be showcased in a myriad of permutations and styles to enrich their customers' beef experience — running the entire gamut from gyozas to a medley of sizzling hot-stone spectacles.
Simple Does it
To start off the Wagyu feast came an assortment of lighter bites, with the Wagyu Roast Beef Salad ($20) being a particularly solid appetiser that came with slivers and slivers of soft roast Wagyu beef jumbled into a motley of fresh, crunchy greens.
Contrastingly, Wagyu Aburiya's Wagyu Gyozas ($15) felt like there was an insufficiency of fillings, making it slightly hard to eat around the gyoza-skin-skewed parts.
In contrast to the two, the follow-up of Hotate Butter Yaki ($26) did not feature any beef and still proved immensely enjoyable.
Prepared table-side, the griddle is cramped up with an assortment of ingredients — half of the real estate was taken up by juicy mushrooms and vegetables while the other featured plump Japanese scallops.
As the butter sizzles, brown sauce is poured in to give it a bit more pep which, while satisfying to watch, can turn somewhat vexing with incessant splatters of hot oil rushing towards your skin.
Still, there are hardly any complaints to be made about the actual food itself. The vegetables, upon the lightest pressure, were all left obscenely leaking juices whereas the supple Hotate would charm most scallop aficionados — though I would prefer a touch more seasoning.
To have beef with everything
Wagyu Aburiya's ultimate mission though, is to have beef with everything. That means not merely classic steaks and gourmet burgers but also unique cooking methods, and the Kagoshima Wagyu Katsu ($38) is one such experience to pamper yourselves with at least once.
One small caveat: this tasting was held before the actual rebranding. Ergo, the final planned beef cut wasn't ready and there were bits where the meat proved too fatty even after grilling.
Other than that though, the lean sections —closer to the final product— proved a fantastic indulgence where you could control your beef doneness to your liking. Sinking your teeth into it will communicate tactile delight to your senses — it's a splendid contrasting mix of the airy panko outer layer and succulent beef.
However, the spotlight at Wagyu Aburiya is still conspicuously trained on one particular aspect — the Wagyu steaks, cooked on lava-stone plates, with a staggering choice of 14 different Kagoshima Wagyu cuts ranging from chuck to sirloin.
The Kagoshima Sirloin ($75/200g, $145/450g) will probably hit the spot for any steak lover as the lava stone sweats out all the luxurious juices in the cut, well-balanced between fatty and lean, to make it superbly full-bodied while also developing a nice smoky crust on the surface.
On the other hand, there's also the Wafu Hamburger Steak ($25/180g) that gives you a simpler, less decadent profile but also takes advantage of the lava stone to give it plenty of textural pizzazz, as the soft dredges of mince are soon enrobed in an immaculate crust.
Built on a crescendo of fervently spurting lava-stone plates and impressively juicy slabs of meat, there's no denying the meal here at Wagyu Aburiya is an entrancing spectacle. Not only that, it's also hard to pick out any fundamental flaws with the new concept.
Especially not with its bread and butter of Wagyu steaks. It's as good value as you get for authentic Kagoshima Wagyu without going deeper into artisan territory. Plus, you get to try the IG-viral Gyukatsu here too!
Wagyu Aburiya
Website | Instagram | Facebook
Address: 60 Robertson Quay, #01-03 The Quayside, Singapore 238252
Hours: (Mon–Sat) 6pm–11pm, (Sun) 6pm–10:30pm
*This was an invited tasting.